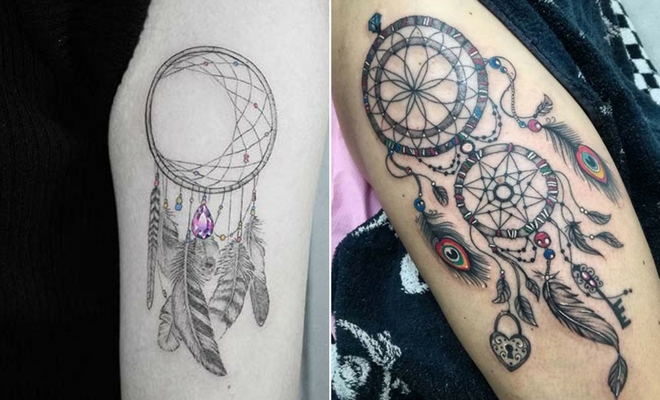 Instagram
Lifestyle
63 Amazing Dream Catcher Tattoo Ideas
By
|
41. Moon Dream Catcher
Love the mystical tattoo ideas? If so, you need to check this out. This tattoo features a dream catcher with a half moon instead of a hoop. The design also features stars, another moon, flowers and feathers. It is a delicate and beautiful design and the moon just makes the dream catcher look even more magical.
42. Unique Compass Design
Next, we have another unique design. This tattoo features a dream catcher where half of the hoop is actually a compass. We love this because it can symbolize how dreams can provide guidance for us or how we can sometimes receive spiritual guidance. It is a tattoo that shows that you feel guided on your path and it looks super stylish too.
43. Delicate Dream Catcher
Looking for a subtler tattoo? If so, this could be perfect for you. Here we have quite a small tattoo that is placed on the lower half of the leg. It has a very elegant design with beautiful flowers and beads. This tattoo is not as big as some of the others and it can be easily covered up. Body art like this will suit everyone and will never go out of style.
44. Large Floral Dream Catcher
Next, we have a large floral dream catcher. The design is tattooed on the leg and features a natural looking dream catcher with beautiful feathers and stunning white flowers. This is a pretty and statement making tattoo. Recreate this or you can use any flowers for the design.
45. Colorful Dream Catcher with Birds
Prefer a more colorful design? If so, this could be perfect for you. This tattoo is placed on the side where the ribs are and it features a bright dream catcher. We love the feather design used because they look like Peacock feathers. The tattoo is complete with small flying birds. This is unique and beautiful tattoo that will suit everyone.
46. Stunning Spine Tattoo
We love this next tattoo and it is another one of our favorites. This tattoo is placed down the spine and it features different patterns and a dream catcher near the top of the back. It is a stunning tattoo and the placement is unique and gorgeous. Try a similar design or you can use any dream catcher, maybe a more colorful one.
47. Magical Tattoo with a Moon
The next tattoo idea looks magical and beautiful. So, here we have a dream catcher that is tattooed on the back. The design is simple and stunning and it is complete with a mystical moon. This is an easy to wear and timeless tattoo and it can be placed anywhere on the body.
48. Pretty Floral Tattoo
Next, we have another floral tattoo idea. This one is a more unique version of a dream catcher because the frame is made of flowers and there is only half the frame with no web in the center. The design is complete with feathers. This is a pretty and unusual dream catcher design. Recreate this or you can have the full dream catcher and web with the floral frame.
49. Unique Dream Catcher Design with a Fish
Love the more unique designs? If so, you need to see this tattoo. This version of the dream catcher features two fish in the center. We have never seen a design like this one before and it is so unusual and amazing. Try something similar or use your favorite animal for the center instead of the fish.
50. Watercolor Dream Catcher with Butterflies
If you want a bold and statement making piece of body art, then this is for you! Here we have a large arm tattoo that features a dream catcher with watercolors and butterflies. The watercolor technique looks amazing with the dream catcher and the butterflies look magical. Recreate this or use different colors and maybe a different pattern on the butterfly wings.