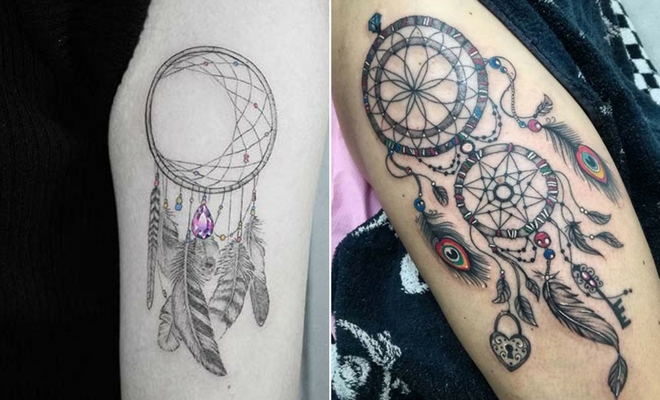 Instagram
Lifestyle
63 Amazing Dream Catcher Tattoo Ideas
By
|
11. Dream Catcher Thigh Tattoo with an Intricate Pattern
If you like the dream catchers with mandala patterns, then you may like our next idea too. This amazing thigh piece features a dream catcher with a mandala pattern. The shading and detailing on this dream catcher is stunning. A tattoo like this is perfect for someone who wants a large statement making design.
12. Cute Heart Dream Catcher Design
Our next tattoo is a heart shaped dream catcher with a pink heart in the center. There are also pink beads and feathers too. The use of hearts makes the tattoo look pretty and cute. You could recreate a similar tattoo but use a different color instead of pink.
13. Delicate Dream Catcher with Jewel
Next, we have a stunning dream catcher tattoo idea. The dream catcher is delicate with a dainty woven net. There is also a selection of feathers dangling from the hoop. You may also notice a beautiful purple gem which is a birthstone. You can have a similar dream catcher created but use your birthstone instead.
14. Large Dream Catcher Tattoo on Arm
Arm tattoos have become very popular and look great on men and women. This arm tattoo features a double dream catcher with beads and feathers. A design like this will create a statement making arm piece. However, you could also have a smaller dream catcher placed on the arm. You could even add some color.
15. Watercolor Dream Catcher with Skull
If you are looking for a unique tattoo, then our next idea could be what you are looking for. You have a double dream catcher with the classic design. The top dream catcher has a watercolor skull in the background. Watercolor designs on tattoos look amazing and the technique is beautiful and artistic. A tattoo like this would look awesome on anyone.
16. Beautiful Dream Catcher Tattoo with Gems and Flowers
Our next tattoo is stunning, elegant and feminine. The design features one large dream catcher, a heart shaped gem and a small dream catcher at the bottom. There also delicate gems, beads and flowers. This really is a beautiful design and it would look great on anyone. We love this dream catcher tattoo!
17. Double Dream Catcher Tattoo
Double dream catchers look beautiful. This tattoo has two dream catchers with a floral net design. Each one has been created in black ink and features amazing shading. A tattoo like this would look great on the arm, leg or ribs. You could even add some color to the gems and beads.
18. Moon Phase Dream Catcher
Dream catchers are spiritual symbols and so is the moon. So, it is no surprise that the two have been put together to create an amazing tattoo. The tattoo features the phases of the moon on the dream catcher hoop, feathers, beads and a galaxy net design in the center. Moon phases have a lot of different meanings, but they do represent life, eternity and reflection.
19. Dainty Dream Catcher with Flower
Earlier in the post we featured a dream catcher with a flower added to the woven net. Here is another example of that type of design. This one is more delicate and uses a pink color scheme instead of blue. It is an elegant and pretty tattoo that would suit anyone.
20. Colorful Dream Catcher Tattoo
Flowers look beautiful on dream catchers. This dream catcher design features a colorful floral hoop with bright feathers dangling from it. The use of color and flowers makes the tattoo look pretty and feminine. You can have a tattoo like this placed almost anywhere.