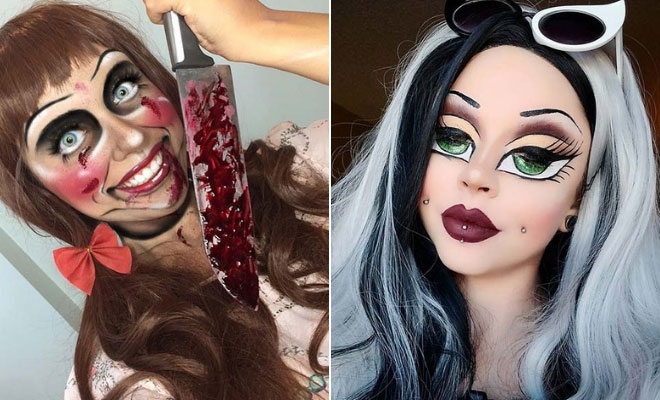 Instagram
Lifestyle
25 Doll Makeup Ideas for Halloween 2019
By
|
11. Bratz Inspired Makeup for Halloween
If you like the Bratz makeup looks but want yours to be a little darker for Halloween, then this idea is for you. Here we have a Gothic Bratz doll which would be perfect for Halloween. The makeup artist has created the illusion eyes and the look is complete with dark lip color, a wig and cool sunglasses. We love this unique version of the trend. You can see a tutorial and the products used to create the look on the page below.
12. Unique Wooden Doll Makeup
Looking for a more unique makeup idea? If so, you need to check this out. Here we have a wooden doll design! For this look, the artist has created a wooden effect on her face complete with a doll like jaw. This is such an awesome idea and it has Pinocchio vibe. You can find wooden doll makeup tutorials online. Recreate this or you can try a more spooky doll look, maybe wear some contact lenses.
13. Doll Makeup with Pretty Bows
This next idea is cute and creepy too. The doll makeup features the illusion eyes with beautiful pink eye makeup, pink lip color and there are also stars on her face. This look is complete with pigtails and pretty bows. Makeup like this will definitely look scary if worn with a doll like dress. You could also wear contact lenses to which will give people a real fright.
14. Shattered Doll Illusion Makeup
Next, we have another shattered doll design. The cracked face illusion has been painted on her face and neck. We love this look because the cracks are very detailed and her eye and lip makeup captures the creepiness of dolls perfectly. There is a YouTube tutorial for this makeup look down below.
15. Super Glam Doll
Love the stylish doll makeup ideas? If so, this could be perfect for you. This is another Bratz inspired look and it has the cool eye design and bold lips too. The costume and makeup is great for those who want to be fun and glam for Halloween. You can check out what products were used to create the look on the makeup artist's page.
16. Creepy Doll Makeup with Fake Blood
The next idea features another creepy doll inspired by Annabelle. She has the wooden doll look with the black eyebrows, blue eyes and pigtails. Of course, the scary, killer doll would not be complete without a little blood. Finish off your costume with an old-fashioned dress to really give you the terrifying Annabelle look.
17. Cool Illusion Makeup
Next, we have another fashionable Bratz look. This time the makeup artist has created the illusion eyes and doll like lips. The look is complete with a purple wig. This is a chic and cool version of the Bratz trend. You could make this more suited to Halloween by choosing darker colors for your eyes and lips.
18. Monster High Doll
This next makeup idea has been inspired by the Monster High dolls. Monster High dolls are based on monsters and horror movie characters. This makeup looks like the Frankie Stein doll. The makeup has the classic Frankenstein design with the face paint, stitches and hair but with a fashionable twist! We love this idea because you get the spookiness for Halloween but you also look quite stylish too. Recreate this or choose a different Monster High doll.
19. Ventriloquist Doll Makeup
Another type of creepy doll is a ventriloquist doll. The next makeup idea doesn't look a traditional ventriloquist doll but it just has that vibe because of the big eyes and jaw design. It is like a pretty and glam version. This is a unique doll makeup design and if you wear the makeup with contact lenses and a frilly dress, you will give people a scare. Recreate this or use the jaw design with different doll makeup.
20. Pretty Doll Makeup with Illusion Eyes
Next, we have another pretty doll idea. This one features large illusion eyes so when your eyes are closed, the doll eyes are complete. The look is finished off with doll like lips. This is a simpler version of the Bratz look which is great because you have the freedom to add scarier features such as blood and you can have fun with the costume too.
21. Cracked Doll Makeup with Glitter
Looking for a more unique cracked doll design? If so, this idea could be perfect for you. Here we have a cracked face and some of the larger cracks are covered in glitter. This creates the illusion that chunks of her face are no longer there which has revealed glitter underneath. If you want a more gory and scary look, then you could make the missing areas of skin look like a wound instead.
22. Bloody Doll Makeup Idea
The next makeup idea features a Bratz doll more suited to Halloween. This makeup artist has created a Bratz look but she has added wounds, blood and a plaster. By adding these gory features, it just creates a scarier and more creepy look. You can recreate this or you can try the blood and other designs on different Bratz makeup.
23. Creepy Snow White Doll
Earlier in the post we shared makeup with a Snow White vibe. If you loved that idea, then you need to see this one too. Here we have another Snow White inspired look. The makeup artist has created a wind up doll design. She has a Snow White costume complete with cracked doll makeup and the wind up mechanism. This is a very unique idea and it will definitely look very creepy at a party or other Halloween event.
24. Stylish Bratz Doll Makeup
Next, we have another stylish Bratz idea. This looks like a classic Bratz doll with the big eyes, bold lips and fashionable outfit. A costume like this is fun and easy to wear. There is a full makeup tutorial on the page below. You can also watch the tutorial but use different colors to create a more unique look.
25. Easy Cracked Makeup and Costume Idea
We're ending our list with this simple and easy makeup look. Here's a short Instagram tutorial where you can see how you can achieve this look and what products were used.
We hope you have been inspired by these doll makeup ideas!