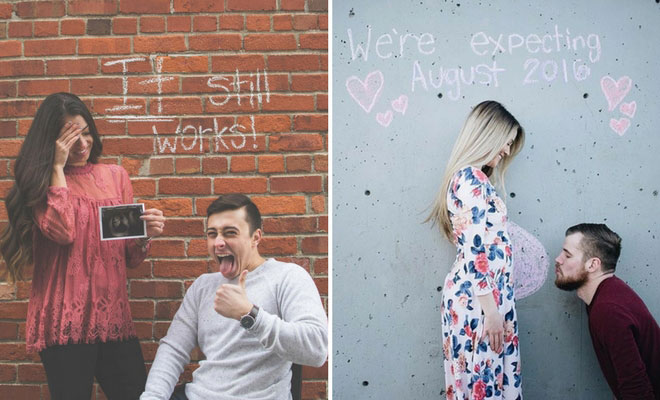 Instagram
Lifestyle
21 Cute and Creative Pregnancy Announcement Ideas
By
|
11. Converse Trainers Announcement
Those Converse trainers again, but what a great idea. Do Mommy and Daddy have matching Converse trainers? If not, we think it's the perfect opportunity to go and do some shopping. Not like you needed an excuse, of course.
12. Onesie (Bodysuit) Announcement
Do you remember that we discussed using a photo app on your phone to edit photos to make them look super cute? Well, cute and creative pregnancy announcement ideas like these enable you to use these apps. With a simple white babygro, a pregnancy scan picture, and perhaps some cute baby booties, you have the basics for a photo that would be complete with that hashtag date.
13. Funny Pregnancy Announcement (Paraplegic Man)
A sense of humor is a great idea, especially in otherwise serious situations such as this one. This man is clearly celebrating that everything "still works" despite his wheelchair-bound state, and in a world full of bad news, we think some funny good news is definitely necessary.
14. Cute 2nd Pregnancy Announcement
There are a few things you will want to take into account before you go announcing your big news, and one of the first things you should work out is, at what point during your pregnancy are you going to announce it? And are you going to tell certain, closer family members before you tell others, or friends? There;s a pregnancy-political agenda with such things these days, and it's best to discuss the matter with your partner beforehand. Are you ready for those Facebook notifications to start dropping in?
15. Bodysuits + Due Date
Most people would suggest that waiting until you are 12 weeks, or three months, pregnant before making the big news public is a good idea, because you are passed the point at which certain things, such as miscarriage, could occur the most. The first rimester of your pregnancy is a very special time, and it's the time you should be taking the most care of yourself. Worry about your big announcement later on – you've got nine months to break the news after all. Well, around three or four months, at least, until you start showing the hint of a bump.
16. 1, 2, 3
1, 2, 3 chairs – a simple idea, but one that definitely worlds. An empty chair spells one hell of a message, especially if you add a balloon in the shape of a number, #2, #3, etc. You could add a babygrow, pair of baby booties, or even a pregnancy scan picture if you wanted to, but with the cute-factor of cute and creative pregnancy announcement ideas like these, we don't think it's necessary.
17. Beach Pregnancy Announcement
Do you live near the sea? Perhaps you just so happen to be going away on vacation at the same time as your 12-month announcement stage? We think using the sand at the beach is a brilliant idea. You can write your big news in the sand, and add your feet – mommy and daddy – for added effect. We especially love the way the smaller pebbles have been used to create baby-feet imprints.
18. Simple, Onesie and Ultrasound Announcement
The ultrasound scan is a classic pregnancy announcement idea, and sometimes going back to the simple basics really works. Your legs, your first child's legs, and other children, if you have them. Add the baby grow, and perhaps a child's stuffed toy also, and you have something that works because of its beautiful simplicity.
19. Funny Chalkboard Twin Pregnancy Announcement
Chalkboards are an inexpensive way to make a brilliant baby announcement, and you can write pretty much whatever you like on them. This gives you the perfect opportunity to add lots of different funny pictures together, for a collage of new baby announcement prints. We love this idea, and we think it would also make for a great canvas series on the wall too … What do you think?
20. Family Announcement
Speaking of chalkboards, sometimes just a number can say everything, and that's definitely the case here. It's one of the simplest cute and creative pregnancy announcement ideas, but one that packs a massive impact. That kid in the middle looks utterly adorable, don't you think?
21. Future Best Friend Coming!
We all wish our kids could be best friends as well as siblings, and maybe if you push the idea from as easy a point as possible, it might just be possible. At least you'll get the cutest of cute and creative pregnancy announcement ideas out of it!
And then you have them – 21 cute and creative pregnancy announcement ideas that we think are brilliant and adorable in equal measures. How did you announce your pregnancies? Did you have adorable ideas like this, or did you come up with something different? We can't wait to hear all about it, of course, and you know what to do … Leave your comments below!