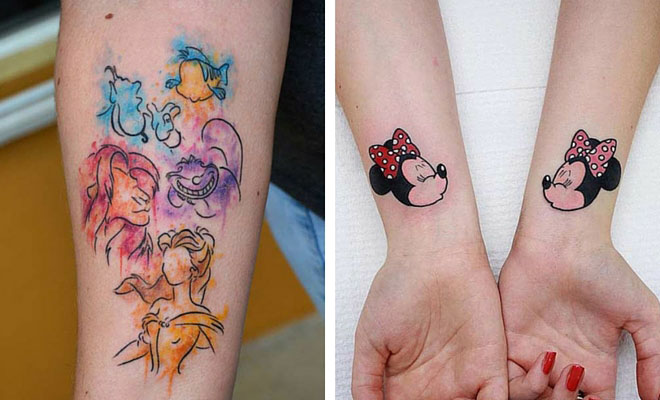 Instagram
Lifestyle
25 Cute Disney Tattoos That Are Beyond Perfect
By
|
21. Simple Mickey Mouse Wrist Tattoo
Don't forget the vintage Disney films too like Mickey Mouse.
When visiting Walk Disney land, the legends of Minnie of Mickey Mouse will be there to greet you, I'm sure so why not have a Mickey Mouse tattoo!  Sometimes the classic characters are the best.
22. Small and Subtle Snow White Tattoo
Small and subtle is the key with this tattoo.
No need for any big and fancy tattoo when you can spread the love and message by having a small and delicate masterpiece.  You can see the apple and immediately your thoughts turn to Snow White!
23. Seven Dwarfs (Bashful) Tattoo
Which of the Seven Dwarfs describes you best?
This is Bashful and we love the subtle colour and adorable design.
24. Small Watercolor Peter Pan Tattoo
This is another Peter Pan tattoo that you may be attracted too.
Watercolour is only added for the moon and for the magical dust around Peter Pan.  He, himself is all black and this creates a gorgeous tattoo.
25. Watercolor, Disney Castle Wrist Tattoo
Do you think back to the Disney music when this appears before the movie starts?
It's magical and this watercolour Disney Castle tattoo looks stunning and cute.  It's ideal for the wrist and can be any size.  This photo above is the perfect size for the wrist.  The colours make the tattoo stand out and you are in owe of the beautiful castle.
Which Disney tattoo will you choose? Whatever character or quote you love, make it memorable and meaningful to you.