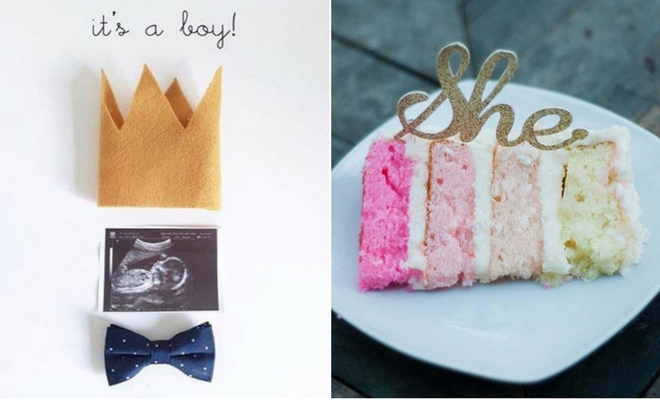 Instagram
Lifestyle
21 Cute and Creative Gender Reveal Ideas
By
|
11. Confetti Cannon
Confetti cannons are great for parties and will make a great photo opportunity. Using one of these is simple for a gender reveal. Pink confetti for girls and blue for boys. Something like is simple, fun and will be a hit with family and friends.
12. Family Shoes
Next, we have a cute way to get the whole family involved in the gender reveal. Just place the family's shoes in a line and attach a colored balloon so blue for dad and pink for mom etc. Then add some baby shoes with a pink or blue balloon. It's a simple idea but has an amazing result.
13. Scan Photo Reveal
Many parents-to-be like to share the scan picture with loved ones. Here is another fun way to do it. This scan picture has had it's a girl added to it as well as little message "Hi mom and dad". You could take inspiration from this and add a personalized message to all your family and friends.
14. Scratch Card
Scratch cards a fun game that will surprise family and friends. These cute little cards are scratched to reveal the gender. You could have anything from it's a …, to little symbols such as a pink bow or blue rattle. Everyone can keep the card as a reminder of the special day.
15. Brother and Sister Reveal
Here is a fun way to involve the big brother or sister to be. Have them get involved with the gender reveal by creating something like this. The numbered balloons show who was born first and the colors show boy or girl. Then the missing chair has a little sister baby grow and pink balloon. It's a fun way to show the gender of the new arrival.
16. Adorable Reveal With Pet
Our four legged friends are a big part of the family. So, why not include your pets in your gender reveal. We have seen a funny pet photo but this one is super cute. The gorgeous dog is sat with an it's a boy sign. It's a great reveal that everyone will love.
17. Mommy and Me Shoes
The next reveal is both stylish and cute. This one features a mom-to-be with pink sneakers stood with a matching pair of baby shoes. The matching pink shoes are just adorable and show everyone that she is having a girl. If you're expecting a boy you could do this with blue shoes to.
18. Fun Balloon Photo
Balloons are a popular choice when it comes to gender reveals. This one has a creative twist. Instead of just the one balloon this mom has taken some fun photos that eventually show the balloon blown up. Something like this would be great in a photo album.
19. Pink Smoke
Smoke fountains are fantastic ways to reveal the gender. Not only are these fun but also make a great photo opportunity. It is a bold and statement making way to say whether you're having a boy or girl. It would be great at a party to.
20. Party Poppers
If you're having a gender reveal party then consider having awesome party poppers like these. You can have both pink and blue to keep your guests guessing. Then pop the right color when you're ready to share your announcement. These will be a hit with all the guests.
21. Surprise Box
Last on our list is a secret reveal box. These are so cute! You can use one for a photo opportunity or on a table at a party. You can put whatever you like in a box like this, maybe consider the scan photo and something pink or blue.
We hope you have been inspired by these ideas and congratulations on your baby boy or girl!