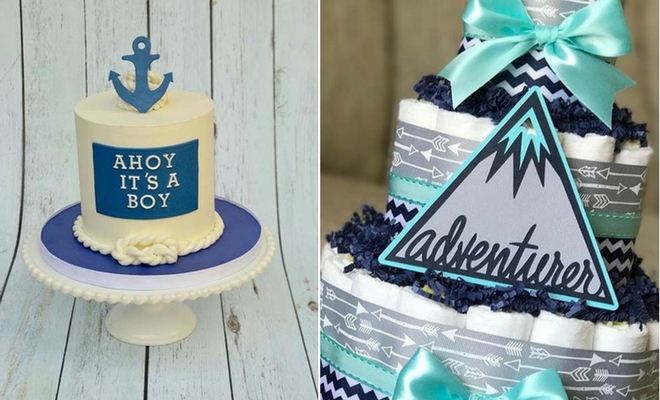 Instagram
Lifestyle
21 Cool and Creative Ideas for a Boy's Baby Shower
By
|
Organizing a baby shower is no easy task! There can be a lot to think about from food to invitations to games. So, we have done some of the hard work for you and found 21 cute ideas perfect for a boy's baby shower. These are unique and creative ideas that will help you throw the best shower of the year.
1. Invitation Pack
Invitations are a must have. Your guests need to know where and when the shower is taking place. You could make your invitations special by adding in some little extras. These invitations come with a book request and a raffle token. The book token asks guests to bring a book for the little one and the raffle is a fun game to play on the day. Invitations like these are a cute example.
2. Baby Shower Cookies
These little treats are perfect for a boy's baby shower! Each cookie is inspired by builders and features a funny saying. The idea is Mom at work and the builders theme would be great for a baby boy. Cookies like these will be a big hit with all the guests.
3. Mustache Cake
Mustaches are a very popular theme for boy's baby showers. If this is the theme you're thinking about then you need to check out this cake. This cake has a mustache topper and different blue tiers. The design has a trendy vibe and it would be a great way to shower the mom-to-be in style.
4. Decorated Table
You need a place to put your food and cakes, so consider a decorated table like this. All the little touches like baby blocks, teddy bears and blue colors create a buffet table perfect for a boy's baby shower. There are so many ways this can be done from adding pictures to personalized names. The possibilities are endless.
5. Balloons
Our next pick is a gift idea that features balloons in different shades of blue mixed with white and a teddy bear. This cute little design would be a creative gift but could also be used to decorate the room. You could create something like this with any bear and any balloons to suit your theme.
6. Photo Booth
A photo booth is a great idea for a shower. It is a fun way to take photos that the guests will love. If you're having a photo booth consider props like these. Each prop is baby boy inspired and will create unique and funny pictures. Something like this is a great way to remember the special day.
7. Decorating Station
Add some fun to the shower with an activity like this! It's a game that has all the guests decorating baby bibs, hats and bodysuits. This not only gets everyone involved but the new arrival will have cute and unique clothes to wear. The mom-to-be will have a trendsetter from birth.
8. Woodland Decorations
Woodland theme baby showers are a popular choice for boys. It's like the start of the adventure. If you're having a woodland theme have a look at this to get inspired. This decor features a mountain garland and animal sign. Something like this would be a beautiful way to decorate the shower, the sign would make a great gift to as it could be hung in the nursery.
9. Floral Cakes
Floral cakes and wooden stands create a gorgeous buffet table. Something like this would be perfect for a glam shower or a woodland themed one. The gold adds style and glamour while the wood and floral designs give it a natural look. This is a beautiful image to get some inspiration.
10. Adventure Diaper Cake
Diaper cakes make fabulous gifts. It looks amazing and is practical, what more could you want? Making our next pick this adventure diaper cake. The blue shades used look great and the adventure theme suits a little boy. If you're a bit crafty you could create your own unique gift.