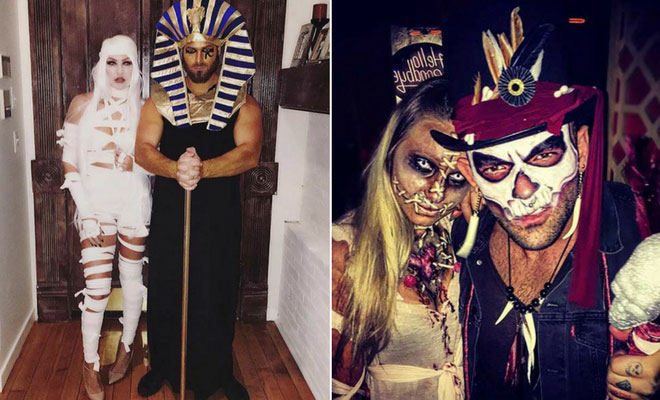 Instagram
Lifestyle
51 Creative Couples Costumes for Halloween
By
|
When it comes to Halloween, celebrating it by dressing up is one thing but celebrating with your other half or friend is amazing.  There are so much couple costume ideas for Halloween, so there's no excuse not dressing up. There's an idea on here for everyone, even if you're wanting a simple yet effective costume.  Halloween doesn't have to be all about makeup and costumes, sometimes the most simple look is the best.
Having a partner in crime is always a good idea, they can help you with your makeup and vice versa.  It's not just about the party you're attending together, it's also about getting ready and having a good time.
Whether you both enjoy the same things or if you just love to dress up, take a look at our 51 creative couples costumes for Halloween. Enjoy and don't be frightening too much!
1. Witch Doctor + Voodoo Doll
If you two will look like this, you will both look amazing. Witch doctor and a voodoo doll is perfect for Halloween.
2. Little Red Riding Hood + Big Bad Wolf
Have your own horror fairy tale story on Halloween night… By going as Little Red Riding Hood and the Big Bad Wolf!  Costume is easy but the wolf makeup might take a little while to achieve.
3. Mad Max + Furiosa
Do you love the Mad Max films? Go for something slightly different and opt for Mad Max and Furiosa. In terms of the costume, think GI Jane and the makeup is far from pretty and perfect.  Smudge your makeup all over you face and you  have nailed it!
4. Mummy and King Tut Couples Costumes
Shock all of your friends by turning up as a Mummy and King Tut. Simple costumes with a little makeup can look mind-blowing.
5. American Gothic
This is pure evil and great for Halloween. This is freaky to another level, are you ready for this?
6. The Purge
Go for the horror film The Purge. Yes, this is freaky and scary but with minimal effort.  It's all about the masks and costumes so you don't have to spend a lot of time applying your makeup.
7. Freddy Krueger + Her Victim
One, Two Freddy's coming for you! Make Freddy look sexy by swapping roles!  This is one of our favourites!  Let your other half be your victim and the costume couldn't be easier… if you have an old pair of pajamas and slippers, this will work perfectly.  If not, a sheet or pop to your local discount store and I'm sure you can grab something cheap.
8. Frankenstein + Bride of Frankenstein
Looking for two classic scary characters? Look no further, this is Halloween classic!  Everyone will immediately know who you both are, without having to explain!
9. Skeleton Couple
Go stylish but ghostly! No need to think about you skeleton costume if you have this face.  You can wear whatever you like, your face will tell a thousand stories alone.
10. Ash and Pikachu Couples Costumes
For all the Pokemon lovers… It's 2020 and many people are hooked on the Pokemon game.  I know it may be annoying to some people but it is huge right now.