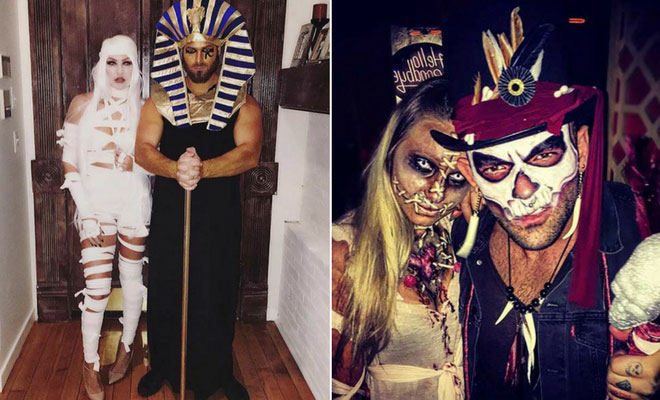 51 Creative Couples Costumes for Halloween
When it comes to Halloween, celebrating it by dressing up is one thing but celebrating with your other half or friend is amazing.  There are so much couple costume ideas for Halloween, so there's no excuse not dressing up. There's an idea on here for everyone, even if you're wanting a simple yet effective costume.  Halloween doesn't have to be all about makeup and costumes, sometimes the most simple look is the best.
Having a partner in crime is always a good idea, they can help you with your makeup and vice versa.  It's not just about the party you're attending together, it's also about getting ready and having a good time.
Whether you both enjoy the same things or if you just love to dress up, take a look at our 51 creative couples costumes for Halloween. Enjoy and don't be frightening too much!
1. Witch Doctor + Voodoo Doll
If you two will look like this, you will both look amazing. Witch doctor and a voodoo doll is perfect for Halloween.
2. Little Red Riding Hood + Big Bad Wolf
Have your own horror fairy tale story on Halloween night… By going as Little Red Riding Hood and the Big Bad Wolf!  Costume is easy but the wolf makeup might take a little while to achieve.
3. Mad Max + Furiosa
Do you love the Mad Max films? Go for something slightly different and opt for Mad Max and Furiosa. In terms of the costume, think GI Jane and the makeup is far from pretty and perfect.  Smudge your makeup all over you face and you  have nailed it!
4. Mummy and King Tut Couples Costumes
Shock all of your friends by turning up as a Mummy and King Tut. Simple costumes with a little makeup can look mind-blowing.
5. American Gothic
This is pure evil and great for Halloween. This is freaky to another level, are you ready for this?
6. The Purge
Go for the horror film The Purge. Yes, this is freaky and scary but with minimal effort.  It's all about the masks and costumes so you don't have to spend a lot of time applying your makeup.
7. Freddy Krueger + Her Victim
One, Two Freddy's coming for you! Make Freddy look sexy by swapping roles!  This is one of our favourites!  Let your other half be your victim and the costume couldn't be easier… if you have an old pair of pajamas and slippers, this will work perfectly.  If not, a sheet or pop to your local discount store and I'm sure you can grab something cheap.
8. Frankenstein + Bride of Frankenstein
Looking for two classic scary characters? Look no further, this is Halloween classic!  Everyone will immediately know who you both are, without having to explain!
9. Skeleton Couple
Go stylish but ghostly! No need to think about you skeleton costume if you have this face.  You can wear whatever you like, your face will tell a thousand stories alone.
10. Ash and Pikachu Couples Costumes
For all the Pokemon lovers… It's 2020 and many people are hooked on the Pokemon game.  I know it may be annoying to some people but it is huge right now.
11. The Mad Hatter + The Queen of Hearts
If you're both crazy about Halloween, then go as the Mad Hatter and the Queen of Hearts. We all know that Alice in Wonderland is a strange and wonderful story so add your character and enjoy the mad night!
12. Super Mario + Princess Peach
They are saying that retro games are back in fashion… So why not go as the two most memorable characters, Super Mario and Princess Peach.  These two look so cute.
13. Mary Poppins and Bert
How sweet are these? Mary Poppins and Bert look so good together.  If you are a sweet and lovable couple, then this maybe for you!
14. Scary Couples Costume
Keep to traditional with a scary Halloween couple costume. Inspired by the Saw movie and clowns.  Majority of people hate clowns and you can understand why looking at this costume.
15. Old Couple
Think outside the box. Go as an old couple.  This will surprise everyone and it will show off your makeup skills.  Not sure where you would get a walking frame from… hmmm.
16. King Kong Couples Costumes
Easy and simple. King Kong is probably the easiest and most popular Halloween costume of all time.  It's easy to find and you don't have to worry about your makeup.  The downside is that you'll probably get a little hot during the night so wear minimal clothing underneath!
17. Monochromatic Couple
This monochromatic couples costume is easy, cheap and insanely clever. It's the perfect last-minute couples costume, too!
18. Elvis + Marilyn Monroe
Why not team two of the most famous people in the world? Elvis and Marilyn Monroe.  Everyone will instantly know who you both are and they make a cute couple.
19. John Snow + Ghost
Game of Thrones characters provide a ton of costume inspiration. Make your partner the King in the North for a one night, with this amazing Jon Snow and Ghost costume idea.
20. Popeye + Olive Oyl
You have to love Popeye and Olive Oyl. Popeye the sailor man and his beloved Olive Oyl are classic characters and quite an easy look to achieve.  Focus on the costumes and makeup is minimal.
21. Tooth Fairy + Tooth
OK, so these aren't scary or freaky but something different. Tooth fairy and a tooth maybe worth thinking about.  At least you'll know that nobody else will come as a tooth!  At least you hope not… that could be awkward!
22. Batman + Poison Ivy
Is he your hero? Why not go as Batman and Poison Ivy?  Batman and Robin are so last year, Poison Ivy is the next big thing!
23. Pop Art Couple
Pop art has becoming increasing popular over the years and even as Halloween costumes. Your first initial thoughts about going as pop arts would probably be how?  It's not as hard as it seems.  It's all in the makeup techniques and your costume can be anything you wish.   A little tip, bright colours work better, this applies to costume and makeup.  If you're still not sure about how to apply your makeup, look at this picture and use it as your guide.
24. The Exorcist
If you're going as Regan, be prepared to act strangely all evening. You can start practicing angling your head in weird positions.
25. Breaking Bad Costume (Walter + Jesse)
Are you a Breaking Bad fan?  We are and we are loving this simplicity couple idea. This is the prefect combo!  You could mix it up a little by dressing the girl as Walt and the boy as Jesse.
26. Chucky + Bride of Chucky
This is a little freaky! Dolls are freaky at the best of times and to go as Chucky and the Bride of Chucky is screaming Halloween.  Perfect for couples that love horror movies.
27. Home Alone Couples Costumes
Want to make your friends laugh? Then go as the Wet Bandits from Home Alone!
28. Pulp Fiction
If ever there was an easy-to-put-together couples Halloween Costume… it's Vincent Vega and Mia Wallace characters from Pulp Fiction.
29. The Addams Family (Gomez + Morticia)
A classic family that everyone knows. Oh cara mia!
30. Struck by Lightning
This is a last minute idea that anyone can pull off. You don't need any makeup or costumes, only a piece of large card for the lightning and an umbrella that you don't mind destroying. If you have an old shirt, perfect!  Team with a pair of ripped jeans and enjoy!
31. Mona Lisa Painting + Burglar
This is funny! The only thing we would say, make sure you get a light frame because your poor partner needs to be able to carry this majority of the evening and you need to be right beside him!
32. Catwoman and Batman
Next, we have Catwoman and Batman. Both are wearing painted masks and body art. This is a fun idea and it is great for the couples who are fans of the comics. You can hand-paint the masks like these or you can buy the outfits online. Either way, you will look amazing!
33. Cute Pirate Costumes
Ahoy there matey! This next costume is perfect for those who want something fun. Here we have a couple dressed as pirates. One looks like Captain Hook and the other looks like Smee from Peter Pan. You can try costumes like these or be any pirate you like. Maybe be a spooky skeleton pirate. The choices are endless.
34. Indiana Jones and Lara Croft
Want to look like a fierce and fun couple this Halloween? If so, this is for you. These two are dressed up as Lara Croft and Indiana Jones. These couples costumes are easy to create and wear. You can easily DIY them and these are great if you want to try something different.
35. Jack Skellington and Sally
The Nightmare Before Christmas is a classic and popular movie. So, this couple have chosen to dress up like Jack and Sally. You can find Jack and Sally costumes online and there are tutorials for the makeup online as well. Jack's illusion makeup is super spooky, so give that a try!
36. Purge Costumes
If you want to give people a fright, then this costume is for you. These two have based their costume on the Purge movies. They have light up masks complete with fake bloodstained clothes. This is a scary couple's costume. You can buy masks like these online and you can wear any outfit with them.
37. Scary Beauty and the Beast
Love Beauty and the Beast? If so, you need to see this costume. This couple have given Belle and Prince Adam a Halloween Makeover. As you can see, Belle is all bloody with claw marks. While the Beast stands tall and looks quite scary. This is a unique version of the popular couple's costume and it is perfect for Halloween.
38. Skeleton Clowns
This next idea has combined creepy clowns with spooky skeletons. Both are wearing matching makeup which includes classic clown eyes with skeleton illusion makeup. This is a unique and scary idea. These costumes will look great when you are together as well as when you are apart. You can find tutorials online for skeleton illusions like these.
39. Plastic Surgeon and His Patient
Plastic surgery costumes have become very popular and here is a scary way to wear it. One is dressed up as the surgeon and the other is the patient. Both are bloodstained and spooky. Recreate these costumes or you can create a different bandaged look if you want to cover up more. As this may not be an easy look to wear at Halloween events.
40. Zombie Couple
If you both love zombie movies and TV shows, then these costumes are for you. As you can see, each person is dressed up as a zombie with scary illusion makeup. This is a gory and spooky makeup idea. You can find illusion makeup like this online. Recreate something similar or you can try the look without the illusion to make it easier.
41. Victor and Emily
Love the movie Corpse Bride? If so, this is for you. This couple have dressed up as Emily and Victor. Fans will love these costumes and the makeup used is amazing! You can find Corpse Bride makeup tutorials online and you can buy the costumes. Of course, you can also DIY the costumes if you want to go all out.
42. Clown and Skull Makeup Ideas
Your costumes do not have to match as a couple, you could try something like this. As you can see, one is dressed as a scary clown and the other as a skeleton. This shows that you both can wear awesome and spooky costumes. We love these because skeletons and clowns are terrifying and they are Halloween classics.
43. Day of the Dead Couples Costumes
The Day of the Dead has inspired many Halloween costumes and here is a cool one for couples. Both are wearing the traditional clothing with skeleton makeup. Hers is more pretty, like a sugar skull. This is an awesome idea and it is great for those who love the holiday and want to celebrate that.
44. Lion Tamer and Lion
Next, we have costumes for those who love the circus. One is dressed as a lion tamer and the other a lion. This is a fun costume idea and it is great for those who want to try something different. You can buy similar costumes online. These costumes are easy to wear and they will suit all Halloween events.
45. IT Couples Costumes
The next costumes are inspired the movie IT. One is dressed as Pennywise the clown and the other is Georgie. We love this because even the dogs have dressed up. This is a scary idea and you can buy costumes like these online. There are Pennywise makeup tutorials online.
46. Skull Makeup for Couples
Looking for something more classic and spooky? If so, this is for you. These two have used illusion makeup to make themselves look like skeletons. This is a fun and scary idea and it is perfect for any Halloween event. You can find skeleton makeup tutorials online. Any costume can be worn with this makeup.
47. Zombie Prom King and Queen
This next couple's costume is so unique! Here we have a prom king and queen! But of course, they have a Halloween twist because they look like zombies. This is a fun and quirky idea. It is a great excuse to wear amazing outfits. You can recreate this or you can even have a skeleton prom couple. We love this one!
48. DIY Robber and Loot Costumes
The next couple have a unique costume idea. One is dressed as a bank robber and the other is dressed up as the loot bag. This is a fun idea and it is an unusual take on the classic robber costumes. Both costumes are easy to create and both are great for parties and nights out.
49. Witchy Couples Costumes
Bring the magic to Halloween with costumes like these! Both are dressed up as witches with mystical makeup and pointed hats. This is such a fun idea. You can recreate something like this or create spookier witches by using darker makeup. Either way, you will look like a magical couple.
50. Tooth Fairy and Tooth
We love this next idea because it is so fun and quirky! This couple have dressed up as a tooth and the tooth fairy. If you want to show off your sense of humor this Halloween, then this is the way to do it. A costume like this would be perfect for dentists too! You can buy tooth and tooth fairy costumes online.
51. Cartoon Barbie and Ken
Next, we have a cartoon Barbie and Ken. Both have the same makeup style that makes them look like a comic or cartoon. This is such a unique take on the classic couples costume. You can find tutorials for this makeup style online and then you can adapt the colors to suit Barbie and Ken.
We hope you got inspired by these amazing couples costumes and found a look for you and your partner!