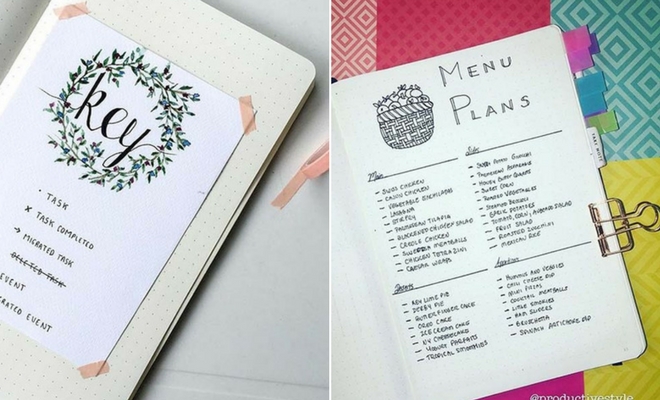 Instagram
Lifestyle
21 Creative Bullet Journal Ideas
By
|
11. Creative Multi Use Bullet Journal Ideas
We love this page! It is a creative double page that not only looks great but also has many uses. It features a weather forecast, weekly planner and weekly tasks and projects. You can write down everything you need to know about the week so you can be super organized.
12. Washi Tape Swatch Page
Like crafts? Then chances are you love washi tapes! These tapes come in many prints and colors. The uses for these tapes is endless from gift wrapping to journal decorating. If you do have these tapes consider a swatch page like this. You can keep track of what tapes you have and it creates a unique page for your journal.
13. Vibrant Monthly Calendar Page
A bright calendar like this will catch your eye every time you read through your journal. It isn't just the vibrant yellow we like but also the quote. "You can do anything but not everything" this is a great quote that is a reminder that you can't do everything in one day. A calendar like this is a must have for any journal.
14. Vacation Theme Page
Going on vacation? Then design your planner for your week away with a holiday themed page. This cute double page features the days of the week with the city on it and a cute little paper airplane. A page like this will be a great reminder for when you get home to, you'll be able to look back on the week and think of the fun time you had.
15. Creative Month Page
When creating your journal, you will design some beautiful pages. Sometimes when you are designing mistakes can happen. A simple spelling mistake or error can make you feel like the page is ruined. This page proves it is not the case, it features a gorgeous hello July with "ups its June". This is a funny and creative way to correct the mistake so the page you worked hard on can stay in place. These journals do not have to be perfect!
16. Cute Weekly Planner Page
If you want a journal that is creative and colorful then take inspiration from this idea. It features the days of the week with a colorful checklist underneath. Not only that but there are cute pictures of ice creams and pencils. You could re-create something like is in your favourite colors.
17. Monthly Wishes and Goals Page
We love this next pick! It features wishes and goals for the month. Something like this is just a fun and creative way to write down what you want to happen, what you would like or what you want to do. A reminder of your wishes and hopes is a great way to keep you motivated as you want to achieve these.
18. Trendy Weekly Planner
If you prefer minimal bullet journal ideas then you will love this page. It is a simple and clean style with a black and white palette. Something like this would be great if you want a journal that looks funky but is very organized. A page like this would be great for a work journal or one used for studying.
19. Weekly Cleaning Log
Here is another cool way to design a cleaning log. It features the days of the week and a list of cleaning tasks. When you have completed the task just color in the square on that day. A page like this would be great if you are sharing cleaning chores to. You could add your roommates or family members tasks in a different color. This simple design is a must have for any journal.
20. Periodic Table Page
Pages do not have to be all about planning and organization. You can also have fun pages or just things you need for hobbies, studies and more. This page has an awesome periodic table. This is useful for people with an interest in science but this is just an example of the many bullet journal ideas you could create.
21. Bright and Organized Bullet Journal Ideas
Last on our list is a double page layout that combines quite a few of the ideas we have talked about in one design. It features a weather forecast, weekly calendar and to do list and a meal planner. With bullet journal ideas like these you will be super organized in no time.
We hope you have been inspired by these bullet journal ideas!