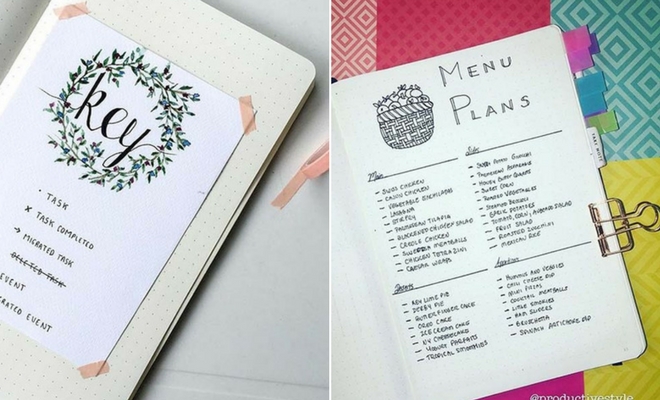 Instagram
Lifestyle
21 Creative Bullet Journal Ideas
By
|
Bullet journals are a creative way to keep organized. These journals can be used to plan your week, month, year, meals, cleaning routine and more. The best thing about a bullet journal is that is completely unique to you! You can fill yours with whatever you like in whatever style you like. It is a planner just for you. If you haven't started a journal yet or are looking for some new pages or layouts, then check out our 21 coolest bullet journal ideas. There is something for everyone.
1. Bullet Journal Key
First up we have a bullet journal key page. The key page can be placed at the beginning of your journal. The idea is to create a list of words such as task, event etc. and to place a little symbol next to it. Then when you write to do lists or add events you can clearly see what they are and if the task has been completed or moved and more.
2. Birthday Reminder Page
Next, we have this cute birthday page! Never forget a relative or friend's birthday again with a useful page like this. Just add the months in the year and write the person's name and date of their birthday underneath. You could re-create this in any way you like.
3. New Month Page
When a new month comes along you can create a new intro page like this. You could re-design it however you like. Cute fruit like this suit the summer mood. Try adding the days of the month to. You could even have themed ones throughout the journal like a pumpkin one for Halloween etc.
4. Simple Monthly Log
If you just want something simple to keep your organized, consider a minimal monthly log like this one. It just features the days of the week with a space for events. A page like this will keep you up to date on your tasks and special events all year long.
5. Gratitude Page
A popular page to have in bullet journals is a gratitude page. This one features the days in the month with a space next to it. Then every day you just write something simple that you are grateful for. It can be anything from a chocolate bar to watching your favourite movie. It can be a great reminder for what makes you happy.
6. Bookshelf for the Books You Have Read
Love to read? Then this next page is for you. This layout features a bookshelf and then every time you read a book you can draw the book on the shelf. Something like this cute and creative. It is a great way to keep track of what you have read and what books you have enjoyed.
7. Pretty Monthly Calendar
Here is another creative example of a monthly calendar. You can see how beautiful writing and a splash of color can transform the look of the page. Something like this looks trendy and is simple to design. You could use this same format throughout the year and just change the colors for each different month.
8. Cleaning Checklist
Keeping on top of the cleaning when you are busy is no easy task. Make things easier for yourself and create a checklist. You could do a weekly one, monthly one or both. Just tick off the tasks as you complete them. Something like this is great for keeping you organized and can be created in any design.
9. List of TV Shows Page
There are so many awesome TV shows to watch. It can be confusing keeping up with what episode and season you are on. So, keep track of all your favourite shows with a TV schedule. Record what show your watching and what season and episode you are on. It is a fun and unique page to have in your journal.
10. Meal Planner
Meal and menu planners are great for some many things! You can plan your meals for the week or month. It is also a great way to record what dishes are your favourite and which are not. Something like this would be great if you are organizing an event like a birthday party to. You can plan all the food well in advance. A page like this is a must have.