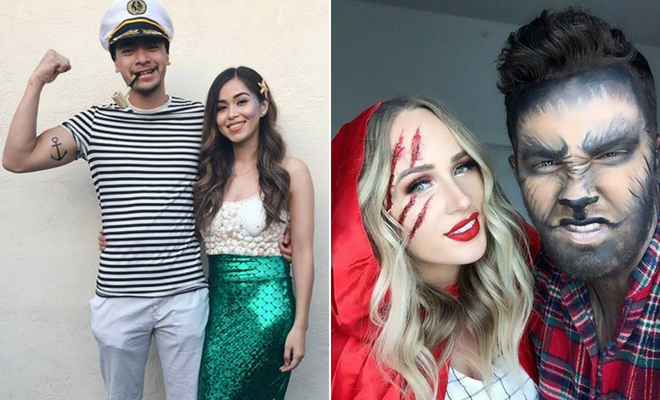 Instagram
Lifestyle
65 Genius Couples Halloween Costumes
By
|
21. The Handmaid's Tale
The Handmaid's Tale is another popular show and these two have dressed up as characters from the series. This is a clever costume because it involves the ladies baby bump. Costumes like these will be a hit at parties as fans of the show will love your outfits.
22. The Purge
Our next Halloween costume is scary in a different way from ghosts and ghouls. This costume has been inspired by The Purge. You wouldn't want to come across these two at a party, what a fright! Costumes like these will look great on photos and give everyone chills.
23. Up Inspired Costumes
We couldn't have a costumes list without mentioning Disney! This couple have created costumes inspired by the movie Up. One is dressed as Carl Fredricksen and the other is Russell. This is a cute costume idea and you can recreate outfits from any Disney movie.
24. Sexy Couples Halloween Costumes
Next, we have a zombie bride and groom idea. The couple have dressed in outfits inspired by a bride and groom with fake wounds and scary contacts. This would be great for newly weds or for the couples due to be married. You can recreate a similar look for the bride or wear a white dress.
25. Game of Thrones Inspired Costumes
The next couples Halloween costumes on our list were inspired by Game of Thrones. The couple have created costumes and makeup that make them look like they were infected with Greyscale. As fans will know, this causes the skin to become like stone. This is an awesome costume idea, perfect for fans of the show.
26. Spooky Skeletons
Next, we have a couple that look like spooky skeletons. The outfits are kept simple and one of them has full face makeup while the other has only half. This is an easy to wear couples costume that would be perfect for a party. Recreate this look or you can both have matching skeleton makeup. Either way, you both will look cool and creepy.
27. Beetlejuice and Lydia Deetz
Love the movie Beetlejuice? Then this idea is perfect for you! Here we have a couple dressed as Beetlejuice himself and Lydia Deetz. You can recreate this look or choose to wear your favorite costume from the movie – the striped suit is very popular. We think this idea is awesome and all the other fans of the movie will love your costume too.
28. Creative Corona and Lime Wedge Costume
If you love beer and want a fun and unique costume, then you need to check this out. This couple have created a Corona and lime wedge costume. We love this because you can't have a Corona without a lime wedge which can also represent how you can't have one of you without the other. This would be perfect for a party or if you are celebrating Halloween out on the town.
29. Frankenstein and His Bride
Frankenstein is one of the most popular Halloween characters. This next couple have chosen to be Frankenstein and his bride for Halloween. It is such a fun and spooky look. This is perfect for those who are a fan of classic horror. We love this idea, it is one of our favorites!
30. Scary Pumpkin and Scarecrow
The next idea will definitely creep everyone out this Halloween! Here we have a scarecrow and a pumpkin. The makeup is amazing and once it is dark, the pumpkin will look especially scary. Makeup like this will take practice but it is quite easy to do. You can recreate this or make the scarecrow look even more terrifying. Either way, you both will look awesome.