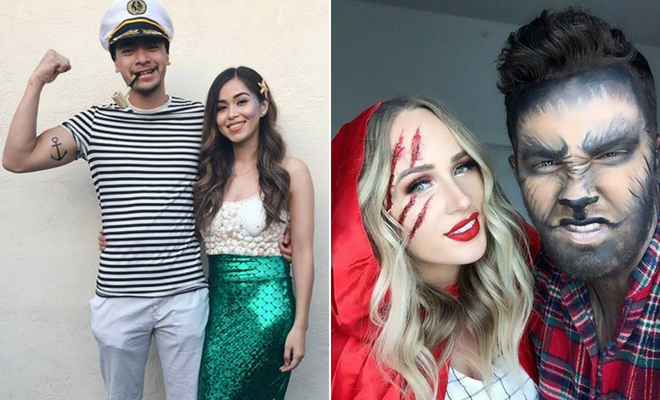 Instagram
Lifestyle
65 Genius Couples Halloween Costumes
By
|
11. Deer and Hunter
Deer makeup has been very popular for a few Halloweens because it's cute and easy to create. These two have turned the deer makeup into a creative and unique couple's costume. One is the deer complete with a cute outfit and the other is a hunter complete with a camouflage suit. A costume like this would be great for a party.
12. Cookie Monster and Cookie
Next, we have a cute and funny couple's costume idea. These two are dressed as the cookie monster and a cookie. It is a unique idea and it will make everyone laugh. Something like this is great for the couples that want to wear a costume but don't want to be scary.
13. Joker and Harley Quinn
Our next couple have used popular costumes, the Joker and Harley Quinn, but added their own little twist. Instead of the guy being the Joker and the girl being Harley Quinn, they have swapped roles. This is a fun idea that will make your costumes be remembered! Is your partner willing to put some makeup on? We bet he will be thrilled!
14. Gumball Machine and Money
The next couple featured have created a quirky Halloween costume of a gumball machine and money. This is so cute and would be a great DIY project. Something like this would be perfect for any Halloween celebrations, from parties with friends to parties with the family.
15. IT Inspired Couples Halloween Costumes
IT is a story about a clown that has terrified many people! This couple have put a unique twist on the characters from the story. One is wearing an outfit inspired by IT the clown while the other's costume is inspired by the character Georgie. Outfits like these are perfect for parties and Halloween nights out.
16. Funny Couples Halloween Costumes
Our next idea is unique, bold and different. It is perfect for the couples who like to laugh and be daring. These two are dressed as flashers. They are wearing long coats and when they open the coat, they are wearing nothing except pixels, which keep them decent. A costume like this is fun and will be remembered.
17. Mermaid and Sailor
Next, we have a cute Halloween costume idea for couples. One is dressed as a sailor and the other is dressed as a mermaid. Costumes like these are quite easy to put together. You can go for a look similar to this one or try other mermaid and sailor costumes.
18. The Joy of Painting
This next couple have unique and fun costumes. Their costume was inspired by a TV show called The Joy of Painting which aired during the 80's and 90's. The girl is dressed as presenter Bob Ross and the guy is dressed as the painting. We love this quirky costume idea!
19. Popeye and Olive Oyl
Looking for a cute couples Halloween costume that everyone will know? Then this is for you. Here we have costumes inspired by Popeye and Olive Oyl. Costumes like these are perfect for parties and great if you both want to dress up without being scary.
20. Scooby Doo and Shaggy
Scooby Doo is a classic cartoon. It is all about monsters, ghosts and more so it is perfect as inspiration for Halloween costumes. This couple have dressed up as Shaggy and Scooby Doo. These two go together like salt and pepper, so it is a great costume for the inseparable couples. It is a fun choice for Halloween.