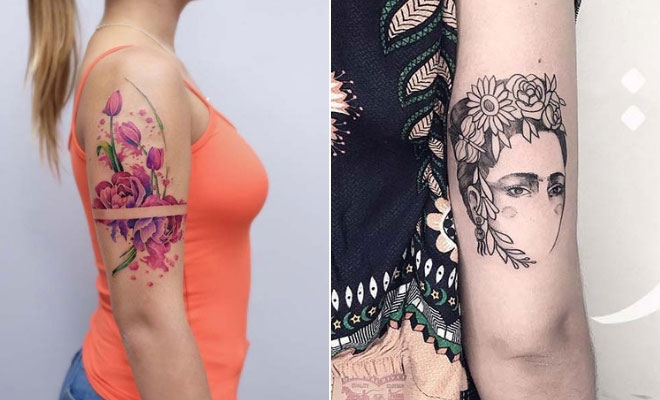 Instagram
Lifestyle
43 Cool Tattoos for Women You'll Be Obsessed With
By
|
21. Watercolor Flower Spine Tattoo
Next, we have another floral back tattoo. This one has a design that goes down the spine – right from the neck to the lower back. It is a large and bold piece of body art so it is perfect for the ladies who want a tattoo that makes a statement. You can try beautiful pink flowers like these or choose a design with flowers of your choice.
22. Botanical Skull
Earlier in our list of cool tattoos for women we shared a skull tattoo. If you loved that design, then you may like this one too. This tattoo features a skull that is tattooed on the arm. The skull is surrounded by flowers and beautiful green leaves. It is like a smaller version of the back tattoo and it will look amazing on anyone.
23. Edgy Flower Tattoo
The last tattoo we have to show you has an edgy flower design. It is a beautiful pink peony flower that is tattooed on the wrist and it is finished off with black lines that create a trendy framed look. This is a creative and unusual tattoo and you can recreate it or try the design with a different flower.
24. Beautiful Dream Catcher Tattoo
Next, we have a beautiful dream catcher tattoo. It is a very delicate and pretty dream catcher and flowers have been added to the design too. A tattoo like this will suit everyone. You can recreate this or you can try a different dream catcher, maybe a smaller one. Different flowers can be used too.
25. Floral Moon Design
Looking for a stylish and unique tattoo? If so, this could be perfect for you. Here we have a floral half moon tattoo. The flowers look beautiful and this design is more creative and unusual compared to other popular moon tattoos. Try a similar tattoo to this or you can use different flowers.
26. Cool Rainbow Tattoo
Rainbows are colorful, are a sign of luck and can be a symbol of positivity too. This next idea features a cool and cute rainbow tattoo. The rainbow is tattooed on the ribs and it has little clouds at each end. It is a vibrant and magical tattoo. Recreate this or you could even add a unicorn to the design.
27. Patterned Elephant Tattoo Idea
Another popular and cool tattoo is an elephant. Here we have a cute elephant design covered in gorgeous mandala patterns. We love this creative version of an elephant. You can create a similar tattoo to this or you can add different patterns. If you want a bolder tattoo, you can also add some color.
28. Watercolor Flamingo
The next idea features a bright and beautiful flamingo. The flamingo is tattooed on the thigh and it has a floral watercolor design. It is a stunning tattoo that will suit everyone. Recreate this or you can try a smaller version. You can also choose a more classic flamingo tattoo instead of the floral design. Either way, it will look gorgeous!
29. Mermaid Inspired Tattoo
Love mermaids? If so, you need to check out this next idea. Here we have a mermaid inspired sternum tattoo. The design features a colorful shell, seaweed and delicate dangling charms. It is a stunning tattoo and it will look mermazing! We love this tattoo, it is one of our favorites!
30. Stylish Hand and Arm Tattoos
Next, we have a stylish tattoo idea to show you. There is a beautiful mandala pattern on the arm and there are two tattoos on the fingers too. We love this idea, it would look amazing on anyone. You can recreate this or you can try a different mandala pattern. Also, if this is too bold, then you can just have either the arm or finger tattoos instead of both.