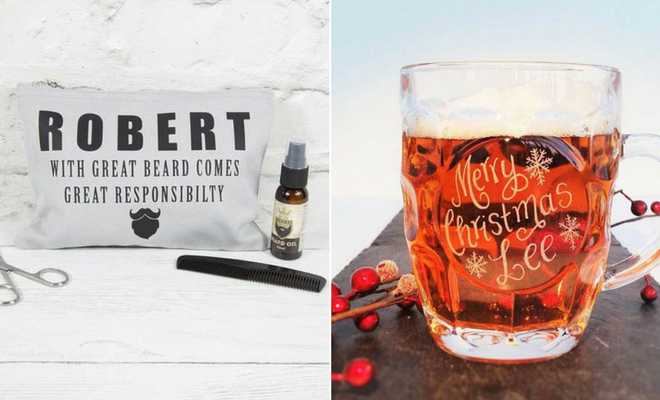 Etsy
Lifestyle
23 Cool Christmas Gift Ideas for Your Boyfriend
By
|
Looking for Christmas gift ideas for your boyfriend? Then you are in the right place! We have found 23 cool gifts that your boyfriend will love. We have something for everyone whether they are a Stars Wars fan, like fashion or enjoy a drink of beer.
1. Personalized Beer Tankard
First up we have this personalized beer tankard. This is a great gift idea because it can be used and it can be kept as a reminder of the special day. Any guy would love to drink a Christmas beer out of their very own glass. This glass can be personalized so it can say whatever you like.
2. Shave Kit
Next we have this cool shaving kit. The kit includes shave soap, shave bowl, a horsehair shave brush and a bar of facial soap. All the products come in a box. This is a great gift idea for the guys who like to have a traditional wet shave.
3. Vinyl Record Clock
Does your guy like vinyl records and music? Then this vinyl record clock could be the perfect gift. The clock is unique, cool and would look awesome on any wall. The shop featured have a wide variety of record clocks available to suit every music taste.
4. Recycled Skateboard Cufflinks
Our next idea are these super cool cufflinks. The cufflinks are made from recycled skateboards. A gift like this is a great idea for the skateboarding guys who like to look smart. These are one of a kind and could be worn for work and any occasions that require formal attire.
5. Novelty Beard Baubles Christmas Gift
Want a funny, novelty gift? Then these beard bell baubles could be just the thing you are looking for. The baubles come in a variety of colors and jingle to. Any guy will look very festive while wearing these. These would be perfect for the guy who likes a joke and making people laugh.
6. Star Wars Posters
Is your boyfriend a Star Wars fan? If so you need to check out our next idea. This Christmas gift features four art prints of the popular Star Wars characters. These prints are super cool because they are different. The characters have had a funky makeover and are printed on dictionary paper. A gift like this would awesome in an office.
7. Beard Oil Trio
Your boyfriend got a beard? Then this idea could be for him. This gift features a trio of beard oils in Bay Rum and Tequila, Highland Whisky and Cinnamon and Ginger. Beard oils will condition the beard and moisturize the skin under the beard. Not only that but the beard will smell great to!
8. Personalized Drumsticks
Our next idea is perfect for any drummers. The gift is personalized drumsticks. This is such a cool idea because your boyfriend will have a unique set of drumsticks that he can use or keep as a memory. You can have any message put on these.
9. Game of Thrones Wooden Beer Mug
Is your guy a fan of Game of Thrones? Then he will love our next idea which is a Game of Thrones wooden mug. This is a super cool gift idea that is a must-have for any fan of the show. The mug is made from natural wood and can even be personalized.
10. Personalized Wallet
Next we have a trendy wallet that will suit any guy's style. Not only that but the wallet can be personalized. It is genuine leather and you can choose the wallet color, monogram color and you can choose the font. With all these options your boyfriend will have a unique wallet.