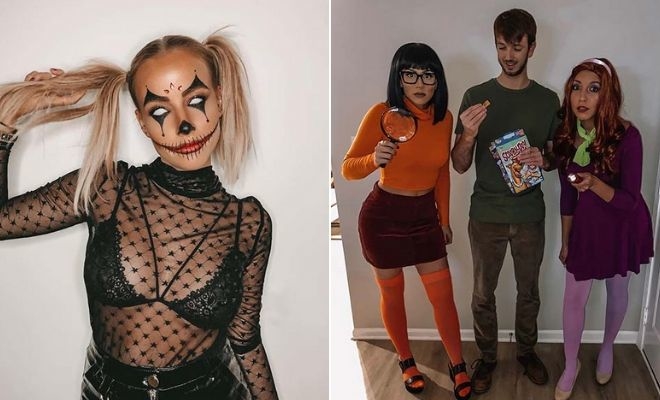 Instagram
Lifestyle
23 College Halloween Costumes and Ideas
By
|
11. Creepy Clown
Next, we have another creepy clown to show you. This time she has more classic clown makeup with added rhinestones and white contact lenses. The makeup is scary and it can be worn with any outfit. There are clown makeup tutorials similar to this one. You can buy rhinestones for your face and white contact lenses online.
12. Sexy Nun Halloween Costume
Another popular costume is based on a nun. We have seen more of this type of costume after the movie The Nun. However, if that scary demonic look is not for you, then you could try something like this. This one is more fun and it is better suited to a party. You can buy nun costumes online in all different styles.
13. Halloween Bunnies
If you want to stand out from the crowd this Halloween, then this costume idea is for you. Here we have two Halloween bunnies. Now these are not the cute and fluffy kind, these are fierce. One has a black costume and the other red and both have bats and blood. Recreate these college Halloween costumes with your best friend or choose one color and be a solo bunny.
14. Scooby-Doo Gang
This next costume is one of our favorites! These friends have dressed up as the Scooby Gang. This version features Velma, Daphne and Shaggy. If there are more of you, you can also add Fred. This is a fun costume idea and it is perfect for fans of the show and movies. You can buy complete costumes online or you can DIY it.
15. Venom Costume Ideas for Women
Love the movie Venom? If so, this idea is for you. These two have dressed up as Venom in two different colors. This is a unique and fun idea that is perfect for fans of the franchise. Venom costumes can be bought online. You could even choose one black venom costume and the other could dress up as the Eddie Brock.
16. Black Angels
Next, we have a dark version of angels. Both are wearing a black outfit with a black dripping face illusion. The look is complete with black wings. Something like this is great if you want to show off your dark side this Halloween. You can buy wings online and you will find dripping makeup tutorials online.
17. Sexy Clown Costume Idea
The next costume features another clown. This one is simple and spooky. She is wearing classic clown makeup with a bold costume. This is a creepy idea and it is perfect for parties. Something like this great for last minute events. You could even make the costume yourself.
18. Sun and Moon Goddesses
Looking for a unique costume idea? If so, this is for you. Here we have costumes that will make you look like a sun or moon goddess. As you can see, one uses bright orange and red tones with a rhinestone sun. While the other uses cool blue makeup with a rhinestone moon. This is a pretty, bold and spiritual makeup idea and you will stand out from the spooky crowd.
19. The Purge College Halloween Costumes
If you liked The Purge costumes from earlier, then you need to see these too. Again, they are wearing matching outfits but this time they are wearing light up masks. These masks look very sinister and scary, so are perfect for Halloween. Create a group costume like this or go solo. You can buy light up masks like these online.
20. Ring Master and Clown
Next, we have another circus costume idea. This time we have one clown and one ring master. These are such cool costumes and they are great for those who like the creepy circus theme. You can buy complete costumes or you could DIY both. Recreate something similar or go all out scary and add contact lenses, fake blood and more.
21. Scary Red Riding Hood
This next costume is based on Red Riding Hood. She is wearing the classic red cape with beautiful makeup. However, there is a Halloween twist because she has red, bloody claw marks off the wolf. This is a cute and creative idea. It gives you the best of both worlds as you can look pretty but also spooky for Halloween.
22. School Girl Costume
The next costume is another popular one. This costume features a school girl look with a tartan skirt and white shirt. If you don't want to be scary at all but want to dress up in a fun costume for a party, then this is great for you. You can buy costumes like these online but there are different styles and there are less revealing ones if this is too much.
23. Black and White Spider Queens
Last on our list of college Halloween costumes is this unique black and white look. As you can see, one is wearing all white and the other black. Both have decorations on their face which are either pearls or rhinestones. They both have webs on their faces as well. This is a unique idea and it allows you to show off your light or dark side this Halloween.
We hope you have been inspired by these amazing college Halloween costumes.