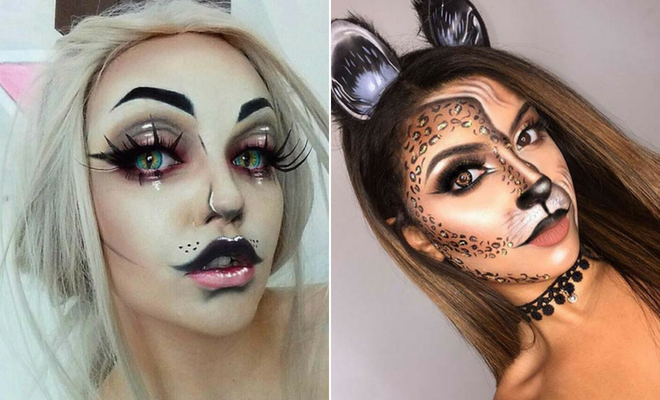 Instagram
Lifestyle
41 Easy Cat Makeup Ideas for Halloween
By
|
21. Vibrant Glitter Cat
The next makeup idea on our list is this vibrant glitter cat. The artist has created glitter whiskers and has matched them to her cat ears and other accessory. Her eye makeup is super glam to. We love this makeup idea, you can recreate it or use it as inspiration and use different colors.
To achieve the look, just follow Aurora's YouTube tutorial! It's actually super simple.
22. Cat Halloween Makeup with Sparkle
Next, we have a glam and sparkly makeup idea! The eyes are beautiful and smokey with a feline flick. The look also features red lips, a black nose and whiskers and the makeup is finished off with glitter and rhinestones. It is a stunning makeup idea and it would be perfect for a party.
23. Beautiful Cat Makeup
If you want to dress up for Halloween and look gorgeous at the same time, then this idea could be perfect for you. Her eye makeup is stunning and has the feline flick and her look is complete with a black nose and cute cat ears. Makeup like this is beautiful and would be great for a last minute costume. The look was created with Anastasia Beverly Hills Ebony Brow Powder Duo, ABH Soft Glam palette and NYX Cosmetics Black Liquid Liner.
24. Cheshire Makeup
Looking for a makeup idea that is more unique? Then consider choosing Cheshire makeup look! The Cheshire Cat is the mischievous feline from Alice in Wonderland. This is such a cool version of the makeup because an illusion has been used to give her the wide grin that the cat is well known for. This look is one of our favorites!
25. Fierce Halloween Makeup
Maybe you want a more fierce look this Halloween? If so, check this out! This makeup artist has created bold eye makeup with a feline flick. She has also created a glittery cat nose, whiskers and mouth. The look is finished off with awesome contact lenses. This is a great makeup idea that will be quite simple to recreate. Wear with a black dress and you'll look amazing for the Halloween celebrations.
26. Kitty with Blue Lips
Another way that you can make your makeup look unique is by choosing a cool lip color. Here is a great example. This makeup features the classic cat eyes, nose and whiskers. The lips are a beautiful blue shade. As you can see, the blue color is stylish and different. This will make your cat makeup stand out from the rest.
27. Half Cat, Half Glam
Next, we have another half makeup look. This one has glam makeup on one side and wild leopard makeup on the other. With makeup like this, you get the best of both. You can look ready for Halloween but also look gorgeous and stylish too. This is a super cool look that will suit everyone. You can check out the products used to create the makeup on the page below.
28. Simple Makeup Idea
Need simple makeup that looks cute? If so, this is for you. For this look, the eye makeup has the classic eyeliner flick and she has a black cat nose and whiskers. This is easy to recreate and it is perfect if you need a last minute costume. Wear cat ears and a black outfit and your cat costume will be complete.
29. Leopard Print Kitty
The next idea is quirky and cute. Her eyes are glam with a feline flick and she has a black nose and mouth. What makes this cat makeup different is the leopard print along the forehead. We love this design because the makeup is a combination of a classic Halloween cat and a wild leopard.
30. Pretty Cat Makeup
Next, we have a pretty makeup look to show you. For this look, she has beautiful eye makeup with a bold cat nose, mouth and whiskers. The makeup is finished off with cute cat ears and a collar. This is a stylish and easy to wear look. Wear similar makeup and accessories with a black dress and you will wow at any Halloween celebration.