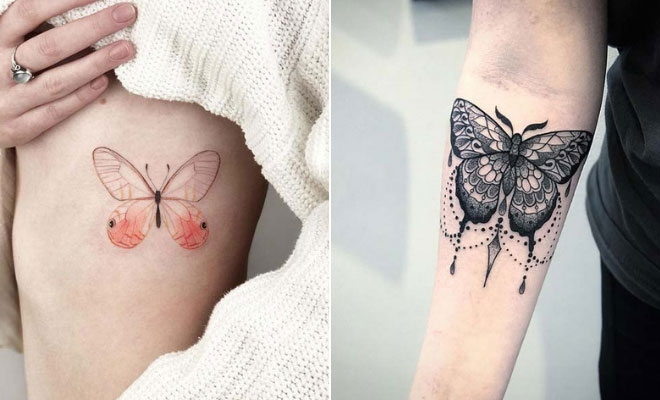 Instagram
Lifestyle
61 Pretty Butterfly Tattoo Designs and Placement Ideas
By
|
51. Unique Rose Design with Butterfly Wings
We love this next tattoo! Here we have a large tattoo that features a stunning pink rose. The rose is just gorgeous and the pink shade is so vivid and bright. Not all the petals are pink though, some have a butterfly wing pattern! It is such a unique idea to have butterfly wings as some of the petals and it looks amazing. If you want a tattoo that makes you stand out from the crowd, then this is it.
52. Small Shoulder Tattoo
Next, we have a small shoulder tattoo. This one features two small butterflies. It is a cute and pretty design that will suit everyone. This is perfect as a first time tattoo or for someone who wants something more subtle. Recreate this or you can have one butterfly instead of two. For a bolder piece of body art, you can add a pop of color.
53. Butterfly with Roses
The next tattoo has another rose and butterfly theme. This design features a pretty black ink butterfly and one of the wings is made of two roses. It is such a beautiful and unique idea. You can recreate the rose look with any color rose. Or you can use any type of flower for this design. A butterfly like this can be placed anywhere.
54. Stunning Rib Tattoo
Earlier in the post we shared a butterfly rib tattoo. If you loved that idea, then take a look at this one too. Here we have a delicate and pretty butterfly that is tattooed on the ribs. This one has no bright colors just black and it looks amazing. A tattoo like this will look great on everyone and it is timeless so it will never go out of style.
55. Delicate Butterfly Body Art
We love this next tattoo. Here we have a dainty and delicate butterfly that has been tattooed on the arm. This butterfly is one of our favorites because a different style of wings has been used compared to what we usually see. The light purple color is also stunning and the overall tattoo just looks magical.
56. Two Small Butterflies
If you love the two butterfly designs ,then you need to see this one too. Here we have another version. So, this time we have two small butterflies on the lower arm. It is a cute and simple idea that will suit everyone. You can recreate the arm tattoo or put the butterflies elsewhere such as the ankle, leg or even the back.
57. Pretty Leg Tattoo Idea
Next, we have another pretty leg tattoo to show you. This one features a patterned butterfly that is tattooed just below the knee. It is an elegant and beautiful butterfly but the unique placement gives the tattoo an edge. This is a statement make piece of body art. Recreate this or you can add more butterflies going up the thigh.
58. Trendy Butterfly Tattoo
The next tattoo is trendy and unique. This is a back tattoo with a classic butterfly. Behind the butterfly there is also a leafy design and a stylish shape too. The leaves and geometric design create a more quirky and unusual butterfly. Try a similar tattoo or add some color for a bolder look.
59. Unique Butterfly and Elephant Design
This next tattoo is another quirky one. The design features an elephant with a larger butterfly sitting on the back of it. We haven't seen a tattoo like this before and it looks so unique. A tattoo like this is perfect for those who love animals. Recreate something similar or choose a different animal to pair with the butterfly.
60. Butterfly Back of the Neck Tattoo
Next, we have another back of the neck tattoo. This one is classic butterfly and the wings have the beautiful patterns that butterflies are known for. It is a pretty and easy to wear tattoo. This is also great for those who want a tattoo that can be covered up or shown off when they choose. Try something similar or for a more statement making tattoo you can add color to the wings.
61. Statement Making Body Art
Looking for a statement making piece of body art? If so, this could be perfect! Here we have an upper arm tattoo that features lots of different butterflies and flowers. It is such a pretty and bold idea. You can recreate this or take the pattern all the way down the arm for a full sleeve look.
We hope you have found a beautiful butterfly tattoo to try!