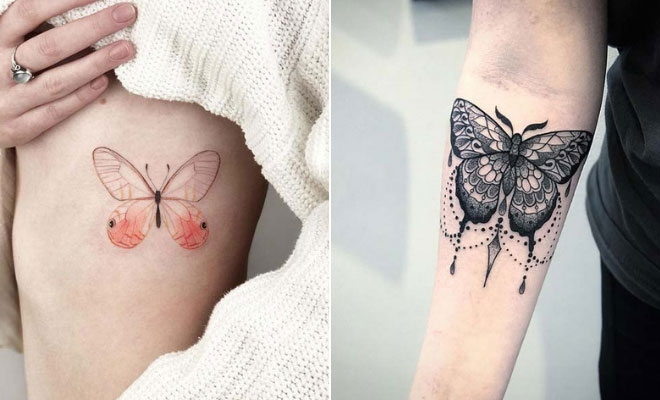 Instagram
Lifestyle
61 Pretty Butterfly Tattoo Designs and Placement Ideas
By
|
41. Bright Butterfly Design
Next, we have another bright butterfly tattoo design to show you. Here we have a vibrant butterfly and it is super cute and stylish. We love this one because the butterfly has shading underneath so it looks 3D and like it has landed onto the skin. This is a gorgeous design and it will suit anyone.
42. Large Thigh Tattoo
Next, we have a large thigh tattoo to show you. The design features lots of beautiful black ink flowers with a butterfly in the center. It is a stunning and statement making piece of body art that is perfect for those looking for a larger tattoo. Recreate this or add some color, watercolor will look amazing.
43. Beautiful Red Butterflies and Roses
If you are looking for a pretty and colorful tattoo, then this is for you. Here we have a small collar bone tattoo that features red roses and two red butterflies. We love this unusual design because the red is so striking and beautiful. Try a similar design or choose your favorite flower instead of the rose. You can also color match the butterfly to the flower. So, if it was a sunflower, the butterfly will be yellow.
44. Matching Butterfly Tattoos
Matching tattoos have become very popular. So, if you want to get a matching design with a friend or loved one, then this could be perfect. These tattoos have been put in the same place on the arm. The tattoos are the same and feature a butterfly with one floral wing. It is a stunning tattoo design and it will look great matching and individually.
45. Dainty and Pretty Design
The next tattoo is so pretty and dainty! This design is placed on the arm and features a blue rose, yellow flower and two butterflies. We love the colors and the tattoo technique. All the lines and colors are soft which creates an elegant and delicate tattoo. A design like this can be placed elsewhere such as the leg or back.
46. Mystical Blue Butterfly
Give your tattoo a magical vibe with a design like this. Here we have a large blue butterfly which is decorated with stars, the sun and the moon. The color is gorgeous and the celestial designs give the butterfly a mystical vibe. This statement making piece can be tattooed anywhere. Try the blue version or try a different color. Purple would look amazing.
47. Small Finger Tattoo
Maybe you are looking for a smaller tattoo? If so, this is for you. This tattoo features a small blue butterfly that has been tattooed on the finger. It is such a cute and pretty design idea. This is a tiny tattoo but it will make a statement because of where it is placed. Recreate the blue butterfly or you can try any colored butterfly on the finger.
48. Patterned Butterfly Design
Next, we have a unique butterfly to show you. This larger design is placed on the back of the neck and features a black ink butterfly. We love this because the butterfly wings have beautiful patterns. The patterns are created with different shapes and line thicknesses. It is such an unusual and pretty design that will look amazing on everyone.
49. Pretty Purple Butterfly
The next tattoo is so pretty and it is another one of our favorites. Here we have a delicate butterfly that is tattooed on the top of the arm near the shoulder. The butterfly has dainty wings that are a stunning purple shade. It is a gorgeous design and it can be placed anywhere on the body. We adore the color on this, it just looks amazing on those dainty butterfly wings.
50. Butterfly with Tribal Wings
Love the more unique butterflies? If so, you need to see this. This tattoo features a beautiful black ink butterfly that is on the arm. Instead of delicate patterns and colors, these butterfly wings are decorated with tribal patterns. It is a gorgeous idea and this type of pattern looks amazing as wings. Recreate this or try a different pattern on the wings.