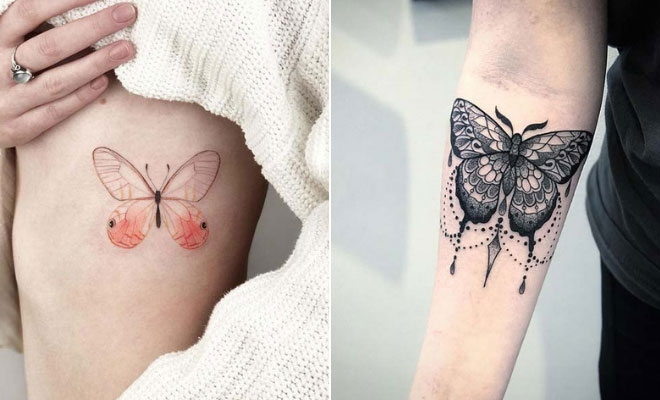 Instagram
Lifestyle
41 Pretty Butterfly Tattoo Designs and Placement Ideas
By
|
11. Decorative Design
Next, we have a beautiful and decorative tattoo. This tattoo features a patterned butterfly with a jewelry design. It is such an ornate and unique tattoo and it will definitely make you stand out from the crowd. You can recreate this or try a different pattern, the design possibilities are endless. Make it even more unique by adding some color too.
12. Butterfly Upper Arm Tattoo
Upper arm tattoos look very trendy and here is a great example. This butterfly has been tattooed on the back of the upper arm. A tattoo like this is perfect for someone who loves the beauty and elegance of a butterfly, but they want a stylish edge too. You can recreate with any butterfly species.
13. Quote and Butterfly
Make your butterfly tattoo unique to you by adding a quote. The beautiful tattoo below features a butterfly with a quote above. You can create tattoo with any quote and any butterfly. A design like this would be perfect for a memorial, to represent family and friends, or it is just a gorgeous way to wear your favorite quote.
14. Stylish Rib Tattoo
Next, we have a stunning rib tattoo to show you. This tattoo features a black ink butterfly. It is simpler than some of the others because it does not have an intricate wing pattern. So, a similar design would be great for someone who wants a subtler tattoo. You can choose any butterfly for your tattoo but be mindful that rib tattoos are said to be painful. It will be worth it!
15. Butterfly Wings and Flower
Our next tattoo is unusual and is perfect for anyone who wants a design different to the rest. Here we have butterfly wings with a flower in the center and it does not have a butterfly body. We love this design because it gives you the beauty of butterflies and flowers, but in a trendy and unique way. You can recreate this or try patterned wings. Any flower can be used and you can add color too.
16. Beautiful Blue Butterfly
Morpho butterflies are known for their beautiful blue color and this next tattoo has been inspired by this. This wrist tattoo features a small butterfly that looks like a Morpho butterfly and it has that vibrant blue color. It is a gorgeous tattoo and will look amazing on anyone. Recreate the wrist tattoo or you can try a similar butterfly elsewhere, the ankle would look gorgeous.
17. Butterfly with Unique Wings
Next, we have a very quirky butterfly design. Here we have a black ink butterfly with patterned wings. The wings are decorated with flowers, patterns and eyes. The eyes are very unique and create a one of a kind tattoo. Take inspiration from this and recreate something similar or create your own patterned wings. You can add anything you like, from flowers to geometric shapes.
18. Cute, Small Butterfly Tattoo
If you are looking for a cute tattoo, then this idea is for you. This is a small design that has been tattooed on the arm. It is a stylish piece of body art that has a classic butterfly design. You can have a butterfly like this tattooed anywhere. For a bolder tattoo, you can add some color too.
19. Rose and Butterfly Tattoo
Our next tattoo is another one with a floral design. Here we have a beautiful butterfly with two roses, one on each wing. It is a gorgeous tattoo that is perfect for someone who wants a pretty and feminine piece of body art. Try a design like this or add in your favorite flowers instead of the roses.
20. Bold Butterfly Tattoo Idea
Butterflies are versatile and can be added to any other design. This butterfly has been tattooed with lots of different patterns. As you can see, the combination creates a bold and unique tattoo. You can put a butterfly with any other design from mandalas to botanical patterns. Experiment and create a tattoo that is one of a kind.