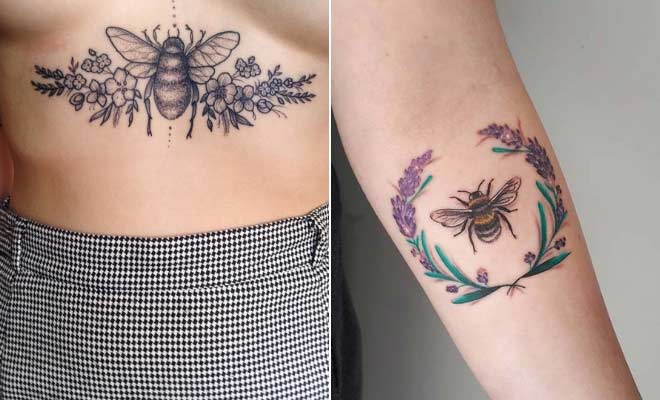 Instagram
Lifestyle
41 Cute Bumble Bee Tattoo Ideas for Girls
By
|
11. Small and Cute Bumble Bee Tattoo
Next, we have another small bee tattoo. This one is little but it is more detailed. It is a cute design that would be great as a first tattoo. You can have a similar design to this one, or add in your own unique style by giving it color or by changing the shape of the bee. Either way, you have will have a stylish but subtle tattoo.
12. Lavender Wreath and a Bee
If you like floral tattoos, the next design is for you. Here we have a bumble bee that has been tattooed with a floral wreath. The wreath is vibrant and the purple compliments the colors in the bee beautifully. You can take inspiration from this and add your favorite flowers to the wreath to make the design unique to you. Lavender tattoo can symbolize serenity, purity or caution.
13. Cute Back Tattoo
Our next idea is a cute back tattoo. The tattoo features a bee that looks like an illustration. A tattoo like this will suit everyone and can be placed anywhere. You can always add some color, but as it looks like a drawing, you may want to keep the ink black. We love this one!
14. Be Kind
Earlier we featured a tattoo with a positive message, here is another one. This design is so fun, quirky and unique. It features a bee with the message 'kind' underneath. So, the tattoo reads bee kind or be kind. You can recreate this or have the words kind with your very own bee design.
15. Flowers and Bee Hip Tattoo Idea
Next, we have a flowers and bee tattoo idea. This is a thigh tattoo that features stunning, bold flowers with a bumble bee above. It is such a statement making piece. For your own tattoo, you can change the design so that it has your favorite flowers. A hip tattoo like this will look amazing.
16. Honeycomb Heart and a Bee
Earlier in the post we featured a bee with a honeycomb heart. If you liked that idea then you may like this similar heart design too. This one is a black ink design that features a bumble bee, honeycomb heart and a floral outline. It is such a pretty design. You can add color to this, but we think the black ink keeps it looking more artistic and striking.
17. Pretty Floral Bee Tattoo Idea
Our next idea is a pretty, floral design. This tattoo features a bee with colorful flowers surrounding it. The bee in this design is so cute and the wings are gorgeous too. A tattoo like this will suit anyone and you can use this as inspiration and change the bee and flowers to suit your own style.
18. Vibrant Sunflower and Bee Design
Summer flowers, just like sunflowers, will usually have bumble bees buzzing around them and our next tattoo is inspired by this. It features a vibrant sunflower with a bee flying above it. This tattoo is beautiful and is perfect for anyone who loves summer, flowers and bees.
19. Geometric Bee Tattoo
Next, we have another geometric bee tattoo idea. This one features more shapes as it has triangles, circles and it uses honeycomb hexagons too. There is a beautiful bee in the center that has two watercolor lines in the background. This is an artistic and creative design that can be recreated with any colors and shapes of your choice.
20. Cute Small Bee Tattoo
This bee design is a little different to the vibrant, round bees. The bee in this tattoo looks more like an insect as it doesn't have very vibrant colors. Even though it isn't like the fluffy yellow bees, it still looks cute. It is a great tattoo choice for someone who is looking for a unique design. You can make the tattoo more vibrant though if that is what you prefer.