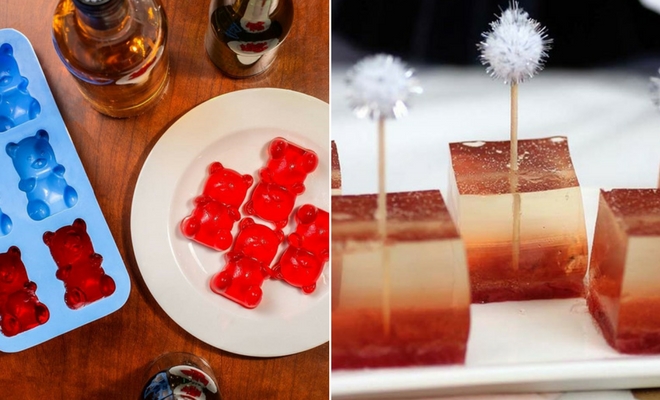 Instagram
Lifestyle
21 Best Jello Shot Ideas for a Party
By
|
Planning a party? Then you need to check out these awesome shots. We have put together a list of the best jello shot ideas for parties. Jello shots are delicious, can be made with any alcohol, are unique and all your guests will love them. Have a look at these recipes to find your perfect party treat.
1. Champagne Jello Shots
First up we have these champagne and strawberry jello shots. The jello has a strawberry layer and a champagne layer. These would be perfect for a NYE party or for a very special occasion. To make these you will need: gelatin, water, strawberries, sugar, champagne and ginger ale. Quantities and instructions can be found on the page featured.
2. Chic Jello Shot
Jello shots can be classy! This next idea features a jello shot in a fancy glass. The glass has been garnished with fruit. You could recreate this look with any jello recipe. These are great for anyone who wants jello shots but wants to be chic to.
3. Lemon Wedge Jello Shots
Prefer something tangier? Then this next idea is for you! These jello shots have been served in a lemon wedge. The jello was made with lemon juice, gelatin, sugar and vodka. We love this idea because it is unique. You could do something similar with orange wedges to.
4. Small Jello Pots
If you want simple jello shots that guests can help themselves to then this idea is for you. These shots have been served in cute little pots. You could serve any jello recipe in these. Place them in a bowl and everyone can just grab one. You can make these in advance to.
5. Vibrant Rainbow Shots
Your shots don't have to be one color, you could try rainbow shots like these! You will need to consider flavors and colors, but this type of shots lets you make your own creation. There are plenty recipes and instructions online to help you created the layered jello.
6. Vodka Infused Gummy Bears
Gummy bears that have been infused with alcohol are very popular. These are easy to make, don't cost a lot and lots can be made in advance. You can soak gummy bears in vodka, but this creative blogger made her own. With geltain and vodka you could make your own from scratch. These will be a hit at any party. Check out the page featured for instructions.
7. Cherry Jello Shots
You can jazz up your jello shots with fruit and garnishes. These champagne shots have cherries inside and are finished off with edible star sprinkles. The extra touches make the jello shot special. You could recreate something similar or add your own fruit and garnishes.
8. Jello Cake
If you are looking for a unique jello shot idea, then this next pick is for you. You should try a jello cake! You make the recipe as you would normally put pour into a cake mold. This one was made with vodka, champagne, blackberry liqueur, raspberries and edible glitter. You could recreate this with any recipe there are tutorials online.
9. Rainbow Shots
Liked the rainbow layered shots from earlier in the post. Then you may like this idea to. These shots are in rainbow layers but have been served in a pretty glass. The shots show you that you do not need straight layers you can be creative. They have fruit and jello fruit. This is an awesome idea for any party.
10. Iced Jello Shots
Our next idea features a jello shot with an extra special treat. These shots have been iced with alcohol infused frosting. This will be an awesome surprise for anyone who tastes the shots. There are tutorials online to help you with this. We love this idea!