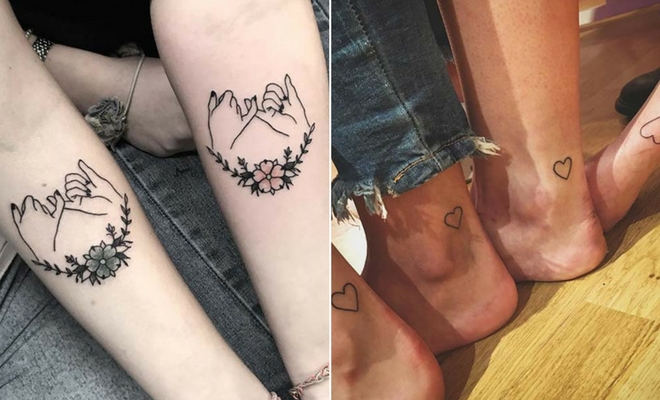 Instagram
Lifestyle
63 Cute Best Friend Tattoos for You and Your BFF
By
|
The tattoo you choose can be a symbol of how much someone means to you. That is why many people decide to have a tattoo to celebrate their best friend. You can have matching tattoos or maybe have a special design created that means something to you both. So, if you have an amazing best friend and want to get a new tattoo, you are in the right place. We have found 63 of the most awesome best friend tattoos.
1. Pinky Promise Tattoo Idea
A pinky promise is sacred between friends and cannot be broken. So, it is no surprise that this promise has become a popular tattoo. It can be a symbol of the commitment of being friends and that you won't break promises to each other. It is a fun and unique tattoo that you both can have.
2. Cute Best Friend Tattoos
Our next tattoo idea is so cute! Each friend has an illustration of a girl listening into a tin can phone. It shows that the friends are always there to listen and talk to each other whenever each other needs it. We love how the tattoos match up to make one whole design.
3. Heart Outlines
You don't have to have a big tattoo to show you care. Maybe try a small tattoo like the black outline heart featured. Each friend can have this tattoo as it will suit everyone and it is subtle. A design like this is great as a first tattoo too. You could even have some color added to the heart.
4. Together Forever BFFs Tattoo
A meaningful quote always makes a great tattoo. Here we have two best friends that each have half a quote tattooed. It reads "Together forever, never apart. Maybe in distance but not in heart". This is a beautiful quote that shows they will always be friends no matter what.
5. Matching Anchor Tattoos
Small tattoos are very trendy right now. These BFFs opted for this cute and small anchor tattoo design. Anchor tattoo is the representation of stability and loyalty.
6. Beautiful Rose Tattoos
Next, we have a beautiful rose tattoo idea. Each friend has had a rose tattooed with an infinity design. It shows that they will be friends forever. If roses are not your thing you could have any flower tattooed. Maybe each other's favourite.
7. Elephant Tattoo Idea
Our next tattoo idea features matching elephants. Elephants are symbols of honor, strength, protection, patience and more. This meaning makes elephants a great choice for best friend tattoos. As the tattoos match, you both have a meaningful tattoo but it looks great as a single tattoo too.
8. Lotus Tattoo Idea
Lotus tattoos are beautiful. You can have a matching lotus design with your friend. You both can decide on the design and colors together to create a lotus unique to the both of you. These enlightening tattoos will look awesome on anyone.
9. Soul Sisters Tattoo Idea
Next, we have a soul sister tattoo idea. Soul sisters are the women we look to for advice, the friends that accept us and the people who have similar souls and attitudes. These two have had matching soul sister tattoos designed. These are cute tattoos and we love the idea.
10. Cute and Quirky Peanut Butter and Jelly Tattoo
Some people cannot have peanut butter without jelly. The same can be said for friends. These two have had a cute and quirky tattoo designed. One has a peanut butter bread and the other has a jelly bread. Both together makes the perfect sandwich. It is a symbol that you can't have one without the other and that the two friends are best together.