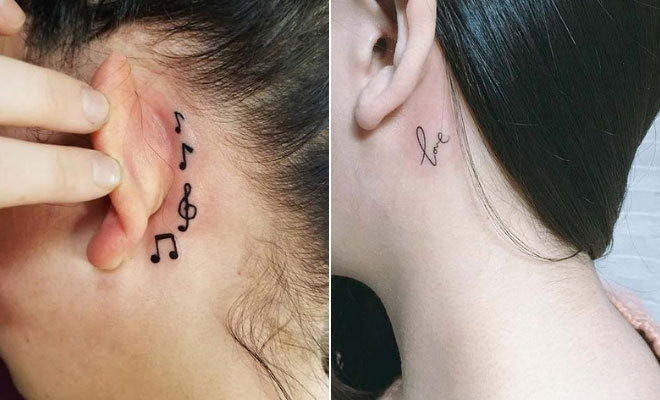 Instagram
Lifestyle
41 Cool Behind the Ear Tattoos for Women
By
|
11. Statement Floral Tattoo Design
Next, we have a stylish floral tattoo idea. Here we have a design that features beautiful flowers. There are some chandelier style charms dangling from some of the flowers too. It is a beautiful tattoo that reminds us of a piece of jewelry. Recreate this look or try adding some color to the flowers. You can also try different types of flowers too.
12. Small Blue Flower Tattoo
Our next tattoo idea features a beautiful blue flower. This is a small flower but the color really makes it stand out. It is a pretty tattoo that will look amazing on everyone. You can try a similar flower to this or you can use a different type. Your birth month flower would look cool.
13. Elegant Behind the Ear Tattoo Idea
Like small and cute tattoos? If so, check out this next idea. This tattoo features an elegant swirly design with a flower on the top. It is so pretty and subtle. A tattoo like this is great for those who like minimal designs. You can recreate this or use a different color for the small flower.
14. Tropical Waves
If you love the ocean, then this tattoo is perfect for you. Here we have a behind the ear design that features bright, blue waves. There is also a small paper boat on the waves too. It is a unique design and it makes us think of beautiful tropical waves. A tattoo like this is also great for the art lovers as the waves remind us of the print The Great Wave off Kanagawa. You could also get a design inspired by that print if you want to.
15. Vibrant Rose Tattoo
The next tattoo features another rose. This one is vibrant and vivid but it is also delicate too. The design has just the head of the rose with three dark green leaves. This is a pretty and stylish design. You can recreate this or try the rose in a different color as the petal colors symbolize different things. You can check out all the different meanings online. Red is for love.
16. Lavender Tattoo Idea
Lavender is a beautiful plant that is well known for its scent that calms and soothes. Not only is it gorgeous in real life, but the plant also looks stunning as a tattoo too. Here is an example. Here we have a delicate lavender plant that is tattooed behind the ear. As you can see, it looks very stylish and the purple flowers really make a statement. This is a must-have for anyone who loves lavender.
17. Unique Behind the Ear Tattoo
Lotus flowers are another must-have tattoo and this next idea shows a unique way to have a lotus design. Here we have a beautiful black ink lotus that is tattooed behind the ear. The lotus also has gorgeous jewelry charms dangling from it. It is a stylish and unusual idea and you can recreate this or add some color.
18. Pretty Floral Design
This next tattoo is pretty, simple and stylish. Here we have a delicate floral design. There is a stem with leaves and two flowers. We love the dainty, black ink design. A tattoo like this will suit everyone and it is perfect for those who like subtler body art. If you do like more statement making tattoos, then you could make the design larger or add color. Watercolor would look beautiful.
19. Delicate Star Tattoo
Stars are popular tattoos and with designs like this one we can see why. Here we have a stunning star tattoo. The design features delicate black ink lines that create a large star that looks like it would shine bright in the night sky. It looks like a magical star that would make your wishes come true.
20. Single Red Rose
If you love the rose tattoo ideas, then you need to check out this design. Here we have another rose but this one is facing a different way and it has a delicate stem with gorgeous red petals. We love how one petal is falling as it is giving us Beauty and the Beast vibes. This is a beautiful tattoo that will look stunning on anyone.