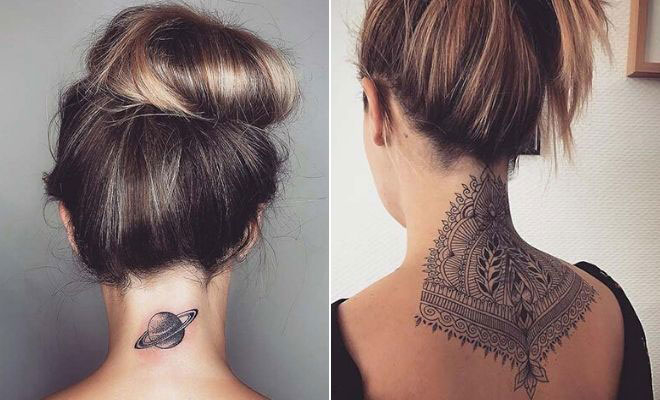 Instagram
Lifestyle
23 Edgy Back of Neck Tattoos for Women
By
|
11. Out of This World Tattoo
This next tattoo is out of this world. Here we have a planet on the back of the neck. As the planet has rings, we can assume it is Saturn but you can have any planet tattooed. A tattoo like this perfect for those who love space. You can even have smaller planets so you can have more than one tattooed.
12. Cute Crown Tattoo Design
Feel like a Queen with a tattoo like this one. This tattoo features a small crown. It is such a cute crown and it will look amazing on everyone. You can recreate a very regal crown like this or try a princess style Disney crown. Whichever crown you choose, it will look gorgeous!
13. Small Lotus Design
Next, we have another lotus to show you. This time the lotus is quite small and the petals are beautifully patterned. The lotus is a pretty tattoo but it is also a message of empowerment, so it is a great tattoo choice for women. Recreate this or you can choose a more realistic lotus and even add some color.
14. Rosary Tattoo
If you are a spiritual person and would like a tattoo that represents your faith, then this could be for you. Here we have a tattoo inspired by rosary beads. The beads with a cross have been placed on the back of the neck. It is a beautiful and meaningful design. You can try something similar or maybe just have the cross without the beads.
15. Elegant Sunflower
The next tattoo features an elegant sunflower. So, the sunflower is tattooed down the center of the back of the neck. It also looks like there is a quote or a name at the end of the stem. We love the sunflower because these flowers are pretty and have a positive message as they represent joy and more. Recreate this or try a colorful sunflower. You can recreate the design with or without the quote.
16. Neck, Back and Shoulder Tattoo
Next, we have another neck and back tattoo but this one extends onto the shoulders too. The design features many intricate patterns with a v shape. It is a very unique and beautiful idea, this design really makes statement. Try a similar tattoo or you can use different patterns. Something like this perfect for those who want bold body art.
17. Stunning Sun Tattoo with Charms
Love the sun tattoos? If so, check this out. Here we have matching sun tattoos. One person has the design on the arm and the other on the back of the neck. The tattoo features a large sun with dangling charms and intricate patterns. It is a beautiful sun tattoo and you can try the matching look or have the sun as an individual piece of body art.
18. Pretty Back of the Neck Tattoo
This next design is pretty, elegant and unique. The tattoo features a gorgeous and patterned design that sits perfectly on the back of the neck. It is just a beautiful tattoo that will never go out of style. This is another great first tattoo as it is not too big and the pattern will suit everyone.
19. Small Moon Tattoo
Next, we have a mystical moon tattoo. The design features a small and shaded crescent moon with a tiny star above. It is a very pretty and stylish tattoo. Something like this is perfect for those who love the moon and the night sky. A mystical tattoo like this will look amazing on everyone. Recreate this or you can try a different moon phase.
20. Large Rose
Roses are another popular tattoo and here is a gorgeous tattooed version. Here we have a large black ink rose that covers the back of the neck. It is a stunning tattoo and the rose really makes a statement. You can keep it black ink or you can add some color to the rose. Red is a classic color but you can check out the meaning of flowers and choose a color that represents you. For example, you could have yellow for joy and happiness.
21. Chinese Tattoo
Many people choose to have a quote or meaningful phrase tattooed in another language. It is usually a language they speak or have an attachment to. This one features a quote in Chinese. As you can see, it makes the tattoo look so unique and  also personal as people won't know what it means unless they speak the language. You can have any quote tattooed in any language.
22. Patterned Tattoo Idea
Next, we have another patterned tattoo to show you. The design covers the back of the neck and back. It features beautiful and intricate patterns. The design just shows another way to wear a tattoo like this and it looks amazing. This is another bold and statement making piece of body art.
23. Long Quote Tattoo
The last tattoo features another quote. Instead going down the back of the neck, this one sits across. So,the quote follows the shape of the hair on the back of the neck. We love this because it is so unique and the placement looks amazing. Again, you can use any quote when recreating a tattoo like this. This is great for those who want a subtle tattoo as it can be covered by your hair.
We hope you found inspiration from these amazing back of neck tattoos!