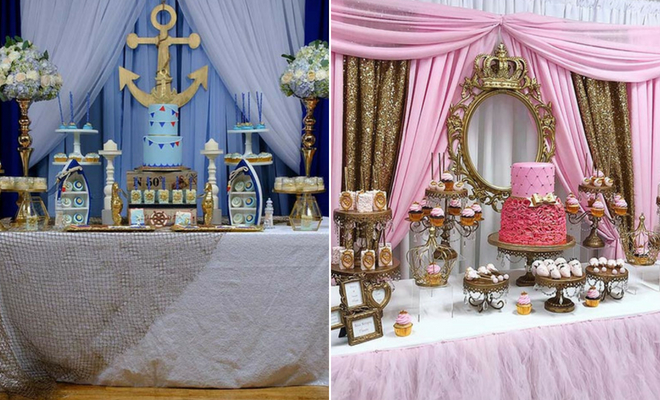 Instagram
Lifestyle
23 Creative Baby Shower Themes for Girls
By
|
Planning a baby shower but need a theme? Then this is the blog post for you! We have put together 23 of the most creative baby shower themes for girls. We have something for everyone – from unicorns to fairy tales and more. Any of these themes will create an epic baby shower that the mom-to-be will never forget.
1. Storybook Baby Shower Theme
The first baby shower idea would like to share with you is a storybook theme. For this baby shower the room and table was decorated with items from children's classic storybooks. Peter Rabbit is there as well as Mother Goose and there is references to nursery rhymes like Hey Diddle Diddle. You can recreate a shower like this with any books and fairy tales.
2. Pretty Ballerina Baby Shower
Planning a baby shower for a mom who is expecting a baby girl? Then this ballerina theme could be perfect. The shower is pink, gold and glam and has been decorated with ballerinas. We love the ballet cake too! A baby shower like this is great for anyone who loves ballet, the color pink or both. You can take inspiration from this and use your own color palette too.
3. Spring Shower Theme
If you are having a spring baby shower, then consider a theme like this! This shower has a neutral color palette with a baby in bloom sign. There is also plants and treats too. Using neutral colors is great if the shower will reveal the gender. You can add color though for a baby girl, maybe some pink flowers.
4. Princess Baby Shower
Expecting a little princess? Then check out this princess baby shower theme. Most of the decor is pink and gold and looks very regal. The crown is also a great decoration idea. You can recreate something like this and you could even have little crowns on the tables.
5. Nautical Baby Shower Idea
A popular baby shower theme is nautical. Nautical themes are great because they suit both boys and girls. You can also be very creative with the decor. Here is an awesome nautical baby shower example. It is fun, cute and stylish. Take inspiration from this!
6. Quirky Candyland Theme
Our next idea is unique, creative and sweet. This theme is called candyland. It is a shower theme full of color, candy and other delicious treats. You can have so much fun decorating for this theme and everyone will love it. It will suit a shower for boy, girls and even if the gender of the baby is unknown.
7. Outdoor Baby Shower Idea
Make the most of the weather in spring or summer with an outdoor baby shower. Here is a great example of how to decorate a baby shower in the garden. It is chic, white and has beautiful floral blooms. All the guests and the mom-to-be will love a baby shower like this. For spring use light flowers and for summer use vibrant floral arrangements.
8. Fairy Tale Baby Shower Idea
Next, we have a beautiful fairy tale theme to share with you. The shower featured below is for twins so it has prince and princess on the storybook. If you are just expecting a girl then you can have princess. It is a beautiful example of a baby shower and you can even use the mom-to-be's favorite fairy tale for the special day.
9. Cute Woodland Theme
Woodland themes have become very popular and we can see why! This baby shower features super cute animals and has tasty treats. You can take inspiration from this to create your own woodland theme and you can even do something like this outside.
10. Floral Baby Shower Idea
Our next baby shower idea is a floral theme. A flower theme creates a pretty, elegant and beautiful shower that mom and the guests will love. You can go for something pink like this or you could even use the mom-to-be's favorite flowers.