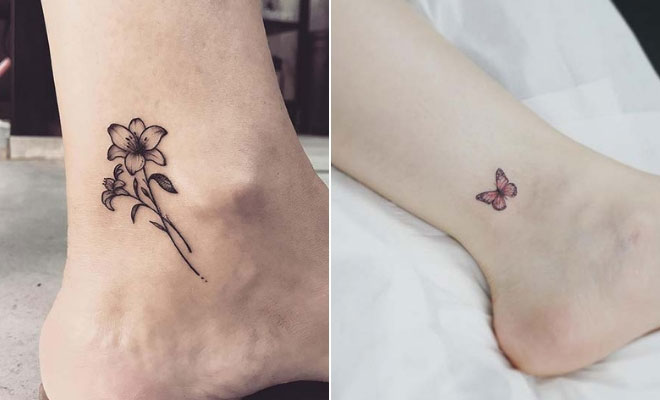 Instagram
Lifestyle
43 Pretty Ankle Tattoos Every Woman Would Want
By
|
21. Pink Flower
Looking for a cute flower tattoo? Then this is for you. This design features two pink flowers, one is open and one is closed. It is a beautiful piece of body art and it can be recreated in any color. Maybe choose your favorite color for the flower petals so the design is unique to you.
22. Butterfly Ankle Tattoo
Butterflies are very popular tattoo designs. Not only are they beautiful but they also represent freedom, love and faith. Here is a gorgeous example of a butterfly tattoo. It is small and stunning design that will look amazing on anyone. You can recreate any of the butterfly species or use any colors for the wings.
23. Beautiful Flower Design
The last ankle tattoo we have to show you is this beautiful flower design. It looks like a pink lotus flower on the water. This is a stunning tattoo and it is a unique take on lotus flower designs. Create a similar tattoo or try the flower without the water. Either way, it will look gorgeous.
24. Beautiful Flower Tattoo
Next, we have this beautiful floral ankle tattoo. The tattoo starts on one side of the ankle and the flower design wraps all the around until it meets where it started. We love this idea because it is a tattoo, but it also looks like an elegant ankle bracelet too. So, you kind of get two in one. The floral design is stunning, you can recreate it or try different flowers. You could add some color too.
25. Adorable Dog Tattoo Idea
If you have a pet or if you had a pet that passed away, then this next tattoo could be perfect for you. Here we have a super cute ankle tattoo that features an adorable dog. This is such a unique idea because you can have any dog breed created. Recreate the tattoo with your pet dog to celebrate your bond or to remember a dog you once owned. If you had another pet such as cat, then you can have that added also!
26. Cool Snake Tattoo
Looking for an edgy and cool tattoo? If so, check this out. Here we have a stylish snake tattoo that is placed on the front area of the ankle. The snake is black ink and features funky patterns. This is such an unusual tattoo and it will make a statement with your summer sandals. Try a similar tattoo to this or you can choose a snake with a different pattern or you can add color.
27. Cute Cactus
The next tattoo idea is perfect for anyone who likes plants or for those who like fun and cute tattoos. This design features a small cactus in a pot. We love this tattoo because it is quite small and it is stylish too. A tattoo like this will suit everyone and it would look amazing with splash of green color.
28. Stylish Ankle Bracelet Tattoo
Next, we have a very stylish ankle bracelet tattoo to show you. A small dotted pattern has been tattooed around the ankle to create a bracelet look. There are two of these and they also have gorgeous charms dangling from them. This is a chic and unique design because it is a tattoo, but it also acts as jewelry. Recreate this or you can try just one bracelet. You can choose different charms that mean something to you.
29. Stunning Dream Catcher Tattoo
Dream catcher designs are very popular and this is no surprise because amazing tattoos like this are being created. Here we have a large black ink dream catcher that is placed on the ankle. It has a classic design with a beautiful web and dangling feathers. This is a bold piece of body art and it will look amazing on everyone. Try a similar tattoo to this or you can go for a smaller version.
30. Delicate Floral Ankle Tattoo
Looking for a floral tattoo design? If so, you need to see this next idea. Three small, pretty and delicate cherry blossom flowers have been tattooed just near the ankle bone. The design features the three stages of life. First we have a small flower that is growing, then the second flower is open and beautiful and finally, the last flower is closed and wilted. It is an unusual tattoo and we love the stages of growth. You can recreate this or choose just one cherry blossom, or you can create a similar idea with a different flower.