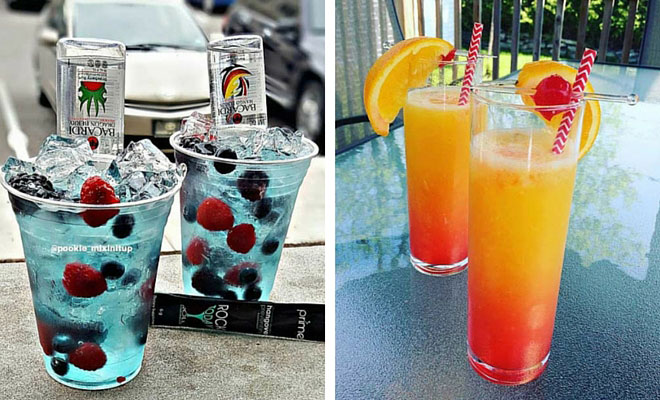 Instagram
Lifestyle
15 Alcoholic Drinks for Summertime Parties
By
|
Summer time is all about having fun in the sun and a party isn't a party without a few cocktails!  If you are planning on throwing a house party or have been invited to a house party, these drinks will be perfect for you.  They are fun and simple to make.
We have come up with 15 of the best alcoholic drinks for you to try.
1. Malibu Sunset
A gorgeous summer drink with a splash of rum and pineapple juice.
Ingredients:
1 oz.  Malibu Coconut Rum
4 oz. Pineapple Juice
Splash of grenadine (a sweet syrup made from pomegranates)
Ice
Grab a glass and some ice.  Pour the Malibu rum over the ice and then add the pineapple juice.  To top it off, add a splash of grenadine and serve.
2. Sweet Pea Sour
This is summer in a jar.
Ingredients:
2 oz. Sprite
1 oz. Viniq Ruby
1 oz. Sweet N Sour
Smirnoff Raspberry Mini Bottle
Made up of Sprite, Viniq Ruby, Sweet N Sour and Smirnoff Raspberry flavour.  Add a slice of lemon or lime to serve.
When making this drink, ensure you have a few mason jars.  They will add to the effect.
3. Pina Colada
A pina colada is a sweet cocktail and it looks amazing!
Ingredients:
1 oz. White Rum
3 oz. Fresh Pineapple Juice
1 oz. Coconut Cream
5 Chunks of Pineapple
Ice
Made up of ice, white rum, fresh pineapple juice, coconut cream and chunks of fresh pineapple.  You can make it look so good with a pineapple wedge on the side of the glass.
Just the name, Hippie Juice makes you want to make the drink!
Ingredients:
4 ½ oz. (135 ml) Smirnoff Watermelon Vodka
3 oz. (90 ml) Malibu Coconut Rum
3 oz. (90 ml) Triple Sec
Fruit: strawberries, raspberries and lemon pieces
Top off with pink lemonade
This is a cocktail that is also made up with coconut rum.  Mix Smirnoff watermelon vodka, Malibu coconut rum, triple sec and to finish, pink lemonade.  Add a few fresh fruits of your choice.
5. Rum Sunset
The perfect summer looking drink to watch the sunset go down.
Ingredients:
3 oz. Rum
12 oz. Fresh Orange Juice
1 oz. grenadine (a sweet syrup made from pomegranates)
6.Watermelon Vodka
You can't beat this drink for summer presentation!
Ingredients:
Lime Juice
Blended watermelon
Vodka
Ice
Serving this drink in the half watermelon, looks fab!
7. Blue Lagoon
Do you fancy a smurf drink?
Ingredients:
1 oz. Vodka
Lemonade
1 oz. Blue Curacao
Ice + Cherry
Try this vodka, ice, lemonade, blue curacao (for the colour) and to finish a cherry on top.
8. Blueberry Mojito
Have a selection of fruity drinks to add colour and to spice things up a little.
Ingredients:
Fresh or frozen blueberries
1 oz. Fresh lime juice
2 oz. blueberry vodka
.5 oz. Simple Syrup (syrup made of water and white sugar)
Mint Leaves + Ice
9. Watermelon Surprise
The drink even looks like a watermelon!
Ingredients:
Green Apple Vodka
Melon Liqueur
Lemonade
Malibu Coconut Rum
Watermelon Mixer
Always serve with a slice of watermelon on the side.
10. Mojito
You can't have a party without having Mojitos on the menu!
Ingredients:
White Rum
Sparkling Water
Fresh Lime Juice
Mint Leaves + Sugar
11. Blue Margarita
Blue Margarita's are great to look at and taste good.
Ingredients:
1.5 oz. Silver Tequila
.5 oz. Blue Curacao
.5 oz. Triple Sec
4 oz. Sweet and Sour
12. 4th of July Drinks – Blue and Red Margarita
Are you having a themed party, maybe Independence Day?
Ingredients:
Simple Syrup
1 cup sugar
1 cup water
Red Cocktail
¼ cup cranberry juice cocktail
2 tablespoons (1oz) silver tequila (clear)
2 tablespoons (1oz) orange-flavoured liqueur
1 tablespoon simple syrup
1 tablespoon fresh lemon juice
Ice
Lemon wedge
Coloured sugar
Take at look at these drinks to get you in the mood.
13. Raspberry Cocktail
Everyone needs to try this.
Ingredients:
2 oz. Fresh Raspberry Juice
1 oz. Vodka
1.5 oz. Limoncello
2 oz. Club Soda
.5 oz. Simple Syrup
Fresh raspberries + Ice
It is fresh, fun and looks scrumptious!
14. Fruity Mojito
Will this count for your fruit intake for the day?  We think so!
Ingredients:
Fresh mint leaves
1 lime, quartered
1 cup of Simply Fruit Punch
½ cup of white rum
½ cup of club soda
Fresh strawberries
Fresh sliced pitaya
15. Sky Berries
The best thing about cocktails is the presentation!
Ingredients:
Burnett's Blue Raspberry Vodka
Lime Juice
Bacardi Dragonberry Rum
Blueberries + Blackberries + Raspberries
Impress your friends by serving this drink like the photo!
I'm sure you will be having many more house parties after serving these drinks, everyone will love them!