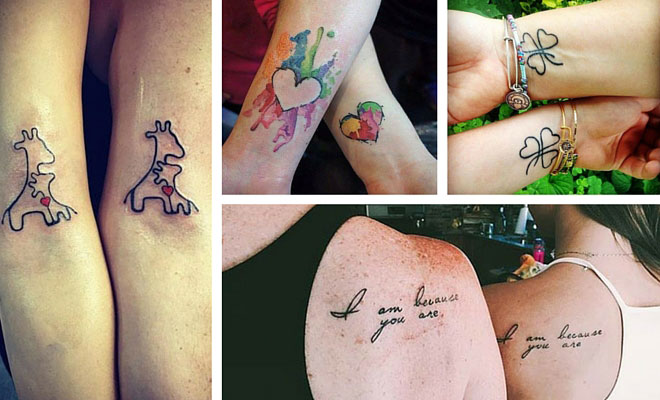 Instagram
Lifestyle
86 Amazing Mother Daughter Tattoos
By
|
71. Half Tattoo
Our next idea is this half tattoo. These tattoos are unusual and involve two people having one half of a tattoo design. When the two people are together, the tattoo is complete. This is perfect for mothers and daughters! Recreate something similar or choose your own beautiful pattern or design.
72. World Map Tattoos
This next tattoo features world maps. A map of the world is the perfect design for anyone who loves to travel. It can be a symbol of that no matter where you are in the world that the two of you will always have a special bond. Also, it can be a reminder of home, if you are off on your travels. Not only is it meaningful, but these make great matching and individual tattoos too.
73. Lioness and Cub Tattoo Idea
Do both of you love animals? Then this next tattoo is for you! Here we have a design that features a lioness and her cub. It captures the bond between a mother and daughter perfectly. A lioness is also a symbol of protection and bravery because she will protect her family no matter what. We love this tattoo idea, you can both get a matching design like this.
74. Two Moons
Next, we have a colorful tattoo idea. These two have chosen to have matching moon tattoos. Moon tattoos are stylish and will suit everyone. Another great thing about a tattoo like this is that it can easily be covered up, too. Choose the the same color moon or choose two different vibrant colors.
75. Matching Botanical Tattoos
Another subtle idea are these botanical tattoos. Each person has got a small leaf design tattooed. This is a cool and stylish way to have a matching tattoo and they also look great as individual ones, too. You can recreate something like this or choose your own leafy design.
76. Tiny Pink Hearts
Our next idea features another heart design. These ones are small, pink heart tattoos. We love these because they are so cute and pretty. You can have matching hearts designed in any color and you can place them anywhere on the body. These would be great as first tattoos, too.
77. Always On Your Side
Next, we have another beautiful quote. These two have chosen the quote 'always on your side'. This is a lovely tattoo and reminder that you both will always be there for each other. You can recreate tattoos like these in any font and have them placed anywhere.
78. Beautiful Flower Heart Tattoos
Earlier in the post we featured a floral heart tattoo. Here is another beautiful design idea for this type of tattoo. This design is a little bolder than the previous one and it is a little larger too. It is a stunning tattoo idea for any mother and daughter. Recreate this or a heart with your favorite flowers.
79. Star Sign Tattoos
Star signs are popular and stylish tattoos. These are also a great idea for mothers and daughters. You both could have each others star sign tattooed or your own star sign with a design that matches. It is a cool and trendy idea that will suit everyone.
80. Cute and Unique Family Portrait
Next, we have another family picture idea! This one uses a different style to the one we featured earlier. It is a beautiful black ink design that is so unique. You can use any picture for a tattoo like this. Maybe choose your favorite memory together. Have matching tattoos or have your own individual ones, but make sure that both designs feature the two of you.