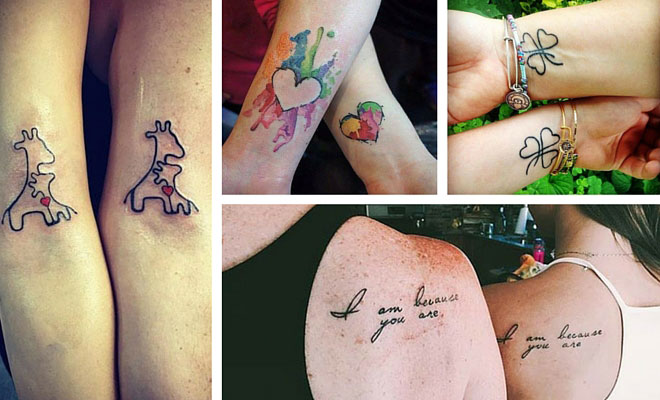 Instagram
Lifestyle
86 Amazing Mother Daughter Tattoos
By
|
41. As long as I'm Living… My Baby You'll Be
As long as I'm living, my baby you'll be. How sweet is this!  They have added their special touch by adding their role, their birth-date and initials.
42. You and I Wrist Tattoos
You and I!  It is you and your mum against the world in your eyes. You are there for one another through thick and thin.  No matter what happens, you will always be there to support and love each other. 'You and I' have a beautiful meaning and you can always add a heart outline like the photo below.
43. Mama & Baby Elephant
This is so cute! This mama and baby elephant outline tattoo is amazing.  It tells a story and you don't need any words.  The mother is leading her baby elephant and this is true to life.
44. Be Brave
Brave. This is a strong and powerful word.  Maybe you have both been through rough times in your lives and you have both been brave.  Be brave shows that both, you and your mother, have come out of a situation stronger than ever.  Celebrate with this tattoo and show the world that you are both strong and brave people.
45. XO Tattoos
If you both want a tattoo but are scared of doing so, this is the basic of all tattoos.  It's basic but the meaning behind it means a lot more than most huge tattoos out there. XO has a deep and loving meaning.  X stand for kisses, and the O means hugs.
46. Feather Tattoos
Feather tattoos look striking and amazing. Adding a vibrant colour to yours will definitely make it stand out.  Feather tattoos have lots of different meanings behind them.  It all depends on what you want yours to represent. Feather can signify birth, luck or freedom.  The idea of having a feather tattoo has been around for many years and we guess they will be around for many more to come.
47. Mother And Daughter Symbol
This symbol shows the emotion and love involved. The mother and daughter symbol is unique.  They have teamed the symbol with flowers.  This is a great way to make the design slightly different to your mum or daughter.  The layout can slightly change as well as the type of flowers you like.  Maybe your mum or daughter likes roses but you like carnations.  This is when you bring your personality into your tattoo. As you can see from the photo, these two have opted for the same type of flowers but in different colours and are opposite to one another. Great idea!  They haven't chosen to use bright colours for the mother and daughter symbol, only grey shading.  They also haven't chosen to have the tattoo on the same part of the body.  One has opted for the stomach and the other, the ankle.  This is entirely down to you.
48. Clover Tattoos
Mother and daughter can both be lucky with these matching clover tattoos. You can choose to have a small, medium or large clover tattoo.  We think this is a good size and works well on the wrist.  The hearts are intertwined with a clover which will give you both luck.  No colour is needed, just the outline and a lovely girly curvy lines to finish the design.
49. Celtic Symbol
This Celtic symbol is specifically designed for mother and child. Opt for a curvy and twisty Celtic motherhood symbol.  It embraces your relationship whilst creating a stunning design.  It is joint with a trinity knot, which represents the everlasting bond between mother and daughter. As you can see, the Celtic symbol looks great with other tattoos too.  This person has lots of other designs leading up her arm and the Celtic symbol, complements the other designs.
50. Two Bodies, One Soul
Do you love elephants?  Who doesn't! This is a gorgeous elephant design with 'Two bodies, one soul' quote beneath it.  The elephant trunks are intertwined, which link you both together.  Just because you have two bodies, doesn't mean you don't have the same soul!  You are best friends as well as family and when spending time with someone, especially your mum or daughter, you become more like one another.  If this sounds like you and your mum or daughter, have this tattoo.  If you are put off due to the size, have a smaller version tattooed on a discreet part of your body.