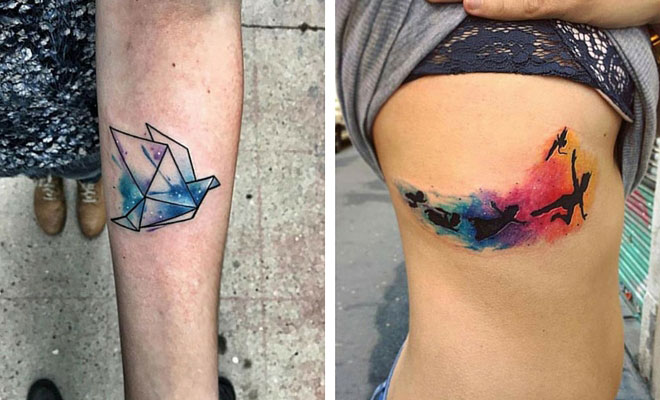 Instagram
Lifestyle
51 Watercolor Tattoo Ideas for Women
By
|
11. Disney Wrist Tattoo
Any Disney lover will love this Disney themed Mickey and Minnie mouse watercolor tattoo. Stunningly simple – all the best things.
12. Abstract Watercolor Tattoo
Abstract tattoos give you the freedom to go a little crazier with your ideas and we love this swirling, birded wonder.
13. Brush Strokes Rib Tattoo
If you have a keen passion in art and design, this brush strokes rib tattoo is genius. You could have those colors replaced with any that mean something to you too. Perhaps your favourite color and also the the favorites of your children too? A great one that can be added to over the years.
14. Disney Little Mermaid Tattoo
Who wouldn't want to be part of our world when you can have a great tattoo like this one. We think it's mermaid-tastic.
15. Small Elephant Wrist Tattoo
Symbolising peace, power and strength, this wrist elephant tattoo is not only discreet, but easily customisable too.
16. Watercolor Music Tattoo
Music soothes the soul and why not show that off with this stunning reddish-purple design?
17. Watercolor Heart
The pink could represent you and the blue could represent him. We love this little watercolor heart.
18. Origami Boat on Water
Ships and nautical themed tattoos are all the rage these days but we love the modern look of this origami ship. A smooth sea did not a skilled sailor make…
19. Cute Panda Tattoo
Symbolic to the Asian culture, this panda tattoo is simply adorable and also a symbol of serenity and peace.
20. Wrist Tree Tattoo
This humble wrist tree tattoo could be a sign of something long-lasting and resilient.