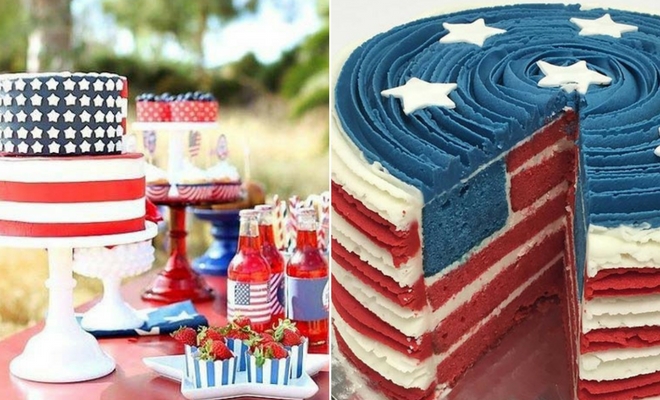 21 Fun and Patriotic 4th of July Party Ideas
Having a party to celebrate Independence Day? Then you need to check out 4th of July party ideas! We have found 21 of best simple, creative and patriotic picks. Our selection will cover everything from food to décor. There is something for everyone red, white and blue drinks to stars and stripes cakes to funky decorations you could make yourself. Any of these will help you have the best party of the year.
1. USA Cookies
We are starting off these with awesome cookies. Each cookie has been created with a patriotic design and features the iconic landmark the Statue of Liberty. These would be a hit with all your guests. You could try and bake these or create your own design, maybe just the stars or maybe a flag.
2. 4th of July Balloon
Balloons are such an easy way to decorate a party, balloons do not cost a lot and the designs and colors available is endless. You could choose a balloon like this is features the traditional red, white and blue with happy 4th of July. A few of these would look great at any party. You could even have some lettered balloons to spell out USA.
3. Stars and Stripes Flag Cake
A party isn't a party without cake! There are so many cake designs for this occasion, when we saw this amazing cake we just had to share. This one features the classic stars and stripes with a little surprise. When the cake is cut, the American flag is inside! A cake like this will wow, if you love baking try and create this yourself, there are tutorials available online.
4. Invites
If you are having an event like a party or BBQ then you need invitations. An invitation like this would be a great choice. It features the patriotic colors, with fireworks and a funky font. All your family and friends will love receiving a cool invitation like this. You could use this as inspiration to create your own.
5. Mason Jar Cocktails
Having a BBQ or outdoor party? Then you need to check out these jar cocktails. This cocktail is red and blue with a flag straw. As these are in a jar it just gives the overall look a rustic, country feel that would be perfect for your outdoor events. You could put any cocktail in a jar. There are many recipes available and plenty red, white and blue.
6. Firework 4th of July Party Ideas
Fireworks are very popular for the 4th of July. If you can't have fireworks or don't want the responsibility of them then consider a unique "firework" station like this. The jars feature sparklers and party snaps. The sparklers give you the beautiful sparkle and the snaps are loud so these are a fun way to recreate the sound. Something like this would be great at any party, it is fun for all the family.
7. 4th of July Party Table
Decoration is important at a party. When guests are coming, you want everything to look its best. If you are having food consider creating an awesome table like this. It features all the patriotic colors with fun napkins and part of the national anthem on a sign. A table setting like this would be perfect for a BBQ.
8. Photo Booth Props
Photo booths are fun for the whole party across all ages. All you need is a camera and props. For the 4th of July, you could have a photo booth with American props like these. This selection feature iconic American symbols and fun designs for summer. You will have fun pictures as a reminder of your epic party. If you like crafts and are creative you could have a go at making these yourself.
9. Fourth of July Cutlery
Jazz up your knives and forks for the special occasion with star decorations like these. You could go all out and have the red napkins and blue cutlery or just use the napkins and stars to decorate the silver ones. Something like this will make your tables look special and patriotic perfect for the occasion. 4th of July party ideas like this are simple and cheap to create.
10. 4th July Party Props
Guest of all ages will love 4th of July party ideas like these. There is something for everyone from flags to funky headbands. A table like this would be a fun addition to any party. Would also make a great photo opportunities, as you can get some funny and awesome pictures of everyone with something patriotic.