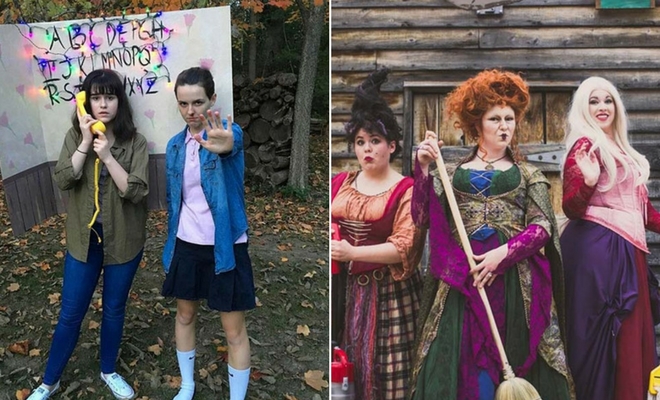 Instagram
Lifestyle
23 Halloween Costume Ideas for Women
By
|
Thinking about what to wear this Halloween? Then you are in the right place! We have found 23 Halloween costume ideas. There is a costume for everyone. Whether you are looking for something scary, spooky, cute, magical and more. These are fun and creative ideas that will make you have the best costume at any Halloween event.
1. Stranger Things Costumes
First up we have two costume ideas from horror sci-fi show Stranger Things. These two have dressed up as Joyce and Eleven. You could choose one or if you have a friend both dress up together. Either one would be quite simple to recreate and the Christmas light letters would be a great DIY project.
2. Magical Mermaid
You don't have to choose a Halloween costume that is super scary. You could also just have some fun with a costume and choose something cute and magical like a mermaid. A mermaid costume could be recreated in many ways. This is a great idea for the girls who want to dress up with a great costume but don't want to be scary.
3. Scary Skeleton Halloween Costume
If you are looking for a simple costume, then this next pick could be for you. This skeleton costume is just a one-piece suit with a skeleton print. The costume is finished off with skeleton makeup. This is a fun and spooky idea. A suit like this will look great in the dark as the black will blend in leaving just the bones visible.
4. Corpse Bride
Fan of Tim Burton and his movies? Then this next pick is for you! Here we have an awesome Corpse Bride costume. You can purchase the costume or have some fun and make it yourself. To make it yourself will take some effort but it will look amazing on the night. A wedding dress and blue makeup are must haves!
5. Morticia Addams
Our next pick is creepy, kooky, mysterious and spooky. She is of course Morticia Addams. This costume will be quite simple to recreate. You'll need a black dress, black wig (if you don't have black hair) and makeup. You will need the iconic red lips and pale skin. We love this look it is perfect for Halloween and you'll look gorgeous to!
6. Darla Finding Nemo Costume
Have fun this Halloween with a costume like this one! This costume idea is based on Darla from the movie Finding Nemo. An idea like this is great for the women who love Disney and don't want a scary costume. A Darla costume would be simple to recreate, is unique and would be great for a party.
7. Ninja Turtle Costumes
Want to dress up as a group? Then go for Ninja Turtles costumes. These are fun and will look great if there are four of you. Anyone male or female can dress up as a Ninja Turtle so just choose your favourite. This would also be a great idea for families.
8. Mummy Halloween Costume
Mummies are an iconic Halloween character. Not only are these scary but are also easy to recreate. You could go for an all-out terrifying mummy or something spooky and cute like this. All you need is some bandages, white clothing, fake blood and makeup.
9. Ghostbusters
Who you gonna call? Ghostbusters! This popular movie has been remade and has a new cast. This Halloween you could be a traditional Ghostbuster or take inspiration from these two and try the new Ghostbusters. You could choose either one of these costumes to create a fun and creative Halloween look.
10. Ancient Egyptian Costume
Walk like an Egyptian this Halloween and create an Ancient Egyptian costume. A costume like this will be easy to recreate and it would make a fun DIY project. You could make this into a group costume by having a costume like this and some mummy costumes.