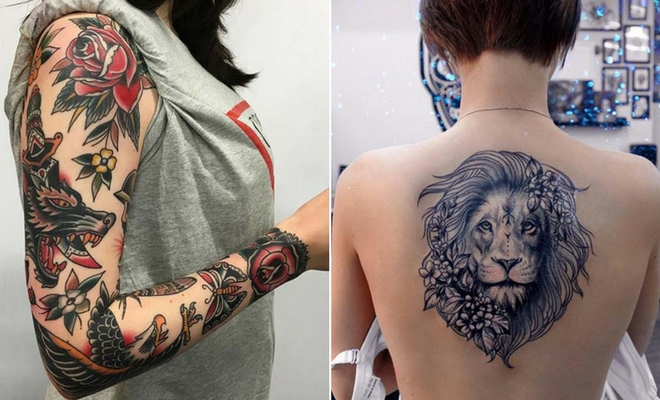 Instagram
Lifestyle
23 Badass Tattoo Ideas for Women
By
|
11. Traditional Style Badass Tattoo
Old school tattoos look amazing as you can see. The technique gives the tattoo a bold and vibrant look. You could have traditional looking tattoos created into a sleeve like this one. Each tattoo is different but because the colors and technique are similar it brings the tattoo together. You could have any images tattooed into a sleeve.
12. Creative Skull
Here is another way to create a skull for women. This one is very quirky and colorful. The colors soften the skull a little, making it great for women who want something badass but a little feminine to. You could add any shades you wanted into a design like this.
13. Floral Thigh Ink
This next design is actually body paint. Even though it is not permanent it shows the awesome thigh designs that can be created with florals. The black ink flower is bold. It would look amazing with shorts or a skirt. You could even add some color.
14. Head Tattoo
Our next pick is for the bold trendsetters. This badass woman has had a head tattoo and it looks awesome! It a unique tattoo and will make a statement. You will have to shave your hair but half hair shaves and other styles like it are bang on trend. With a tattoo like this you will have a badass hair do and tattoo.
15. Thigh Skull Tattoo
Here is a unique way to wear skull. It isn't the classic human skull but an animal one. This twist on the tattoo gives it a fresh look. You could have any flowers added and you could even have a touch of color. It looks great on the thigh but would look amazing in other places on the body.
16. Feathered Wing Sleeve
Wings and feathers have been popular tattoos for years. We love this ink because it has mixed up the design to create a winged half sleeve. The design looks like she has her own wings like a bird. Something like this is perfect for the free spirited badass.
17. Tiger Tattoo
Tigers are magnificent so it is no surprise they have inspired tattoo designs. This tiger tattoo is bold and the detail is very intricate. A  badass tattoo like this is perfect for the ladies who love nature and animals. It is the perfect symbol for a strong woman. You could have a tiger tattoo placed anywhere but this particular design looks great on the arm.
18. Bird Back Tattoo
Birds are beautiful but can be fierce to. The same can be said for women. This back tattoo is stunning and will wow everyone who sees it. It can be covered but would look awesome in the summer with a tank top or swimwear. You could have any bird placed here and you could even add some color.
19. Rose Tattoo
Here is another edgy rose tattoo. The whole design makes this a badass piece, the black ink, the style of the flowers and where the design has been placed. It is a gorgeous tattoo that has given us serious style envy. Make it personal to you and have your favourite flower designed.
20. Badass Foot Tattoo
This woman has had the word badass tattooed on her foot. It is a quirky tattoo that would suit anyone and as it is a small design it would be great as a first ink. You will have to be badass though because we heard foot tattoos are painful!
21. Floral Ink
Thigh inks are just badass. A floral design like this has the edge and the prettiness to. The detail on this design is stunning. This would look amazing with shorts or a skirt. You could choose any flowers to recreate a tattoo like this. Add some vibrant color for a bold look.
22. Watercolor Skull
Watercolor tattoos have become a must have. Combine this technique with a skull and you have one trendy tattoo. You could have any colors added to a skull as the dark ink goes with everything. Something like this would look cool as part of a sleeve.
23. Spider Neck Tattoo
Last on our list is this spider neck tattoo. It is a quirky and stylish design, that has a Gothic look to it. You could have any spider created in any color and have it tattooed anywhere on the body. We love the neck design because it looks like it has traveled down its web.
We hope you have found the perfect badass tattoo!