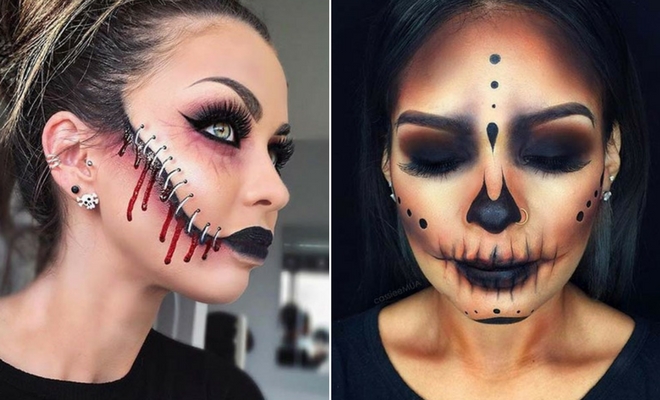 Instagram
Lifestyle
21 Creepy Halloween Makeup Ideas
By
|
Looking for scary Halloween makeup ideas? Then you're in the right place. We have found 21 creepy Halloween makeup ideas. There are frightening looks to suit everyone from spooky skeletons to spine chilling ghosts and zombies. Have a look to get inspiration for your Halloween costume.
1. Spooky Skeleton
First on our list is this scary skeleton. This is a great creepy Halloween makeup idea that with some practice can be done on yourself at home. A skeleton will suit everyone and is an iconic Halloween character. Skeleton outfits are a great choice for parties.
2. Creepy Clown
Clowns are scary! Our next pick shows just how creepy clowns can be. The red contacts, wounds and dark makeup create a spine chilling look. You could recreate this with a different color palette. You can also find tutorials online so you can create the blood and gore wounds easily at home.
3. Stitches Makeup Idea
Next, we have creepy Halloween makeup idea with stitches. These stitches have blood dripping down and are worn with dark makeup. The stitches are a good technique to learn as you can create many different scary looks, you could even create a Frankenstein look.
4. Creepy Crystal Skull
If you liked the skull idea then this next pick could be for you. This skull makeup is creepy and features sparkling gems and glitter. We love this look because it combines glam and scary together. It is the perfect combination for the girls who want to look both pretty and spooky.
5. Halloween Puppet
Dolls and puppets are very scary, making them a great costume choice for Halloween. This next pick has a combination of cute colors with creepy makeup. Something like this would be simple to recreate with practice. You could recreate puppet makeup like this in different colors.
6. Scary Fortune Teller
Our next pick is creepy and unique. It is a scary fortune teller. This image is a great place to get inspiration for your Halloween look. You could recreate this any way you like. We love this quirky idea and if you practice the makeup you will have one scary costume.
7. Dark Skull
Here is another skull idea, this one is uses dark colors and is quite simple. Something like this is great for the girls who want a creepy look that isn't too over the top. It would suit everyone and will be easy to recreate with practice. You could even use some different colors or add some glitter.
8. Zombie Flapper Girl
Zombies are a classic zombie character. This makeup idea has mixed up the zombie look to create a zombie flapper girl costume. Using a decade with your zombie makeup will make your costume unique. You could use any decade maybe even a zombie hippy.
9. Simple Halloween Skull
Next, we have a simple skull makeup idea. This idea has beautiful eye makeup with a skull nose and mouth. The mouth makes the makeup look very creepy. Something like this is great for the ladies who want to look scary in a subtle way.
10. Undead Bride
The undead are very creepy Halloween makeup choices. This makeup look is unique because it is a zombie bride. It is like a scarier version of the Corpse Bride. You could recreate your zombie bride however you like. The contacts would be perfect.