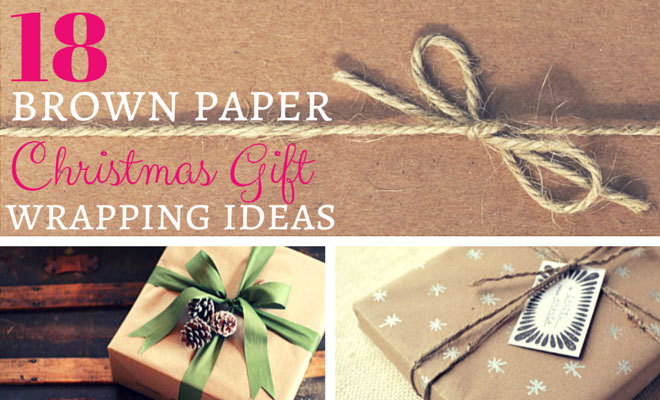 Lifestyle
18 Brown Paper Christmas Gift Wrapping Ideas
By
|
It's December which means that we have officially entered the season of gift wrapping. The exterior of the gift is just as important as what's inside, especially when it comes to Christmas gifts.
As much as we love Christmas patterned paper, it can get expensive. Brown paper is cheap and comes in big rolls. The best part about wrapping with brown paper is that you need to be creative to put everything together.
The possibilities for prettying up a brown, kraft paper package are almost endless. Paint, washi tape, ribbons, old photos and pine cones are the most popular options to make a Christmas gift even more special.
Check out our top 18 ideas for wrapping gifts with brown paper:
 1. Old photos + Brown Paper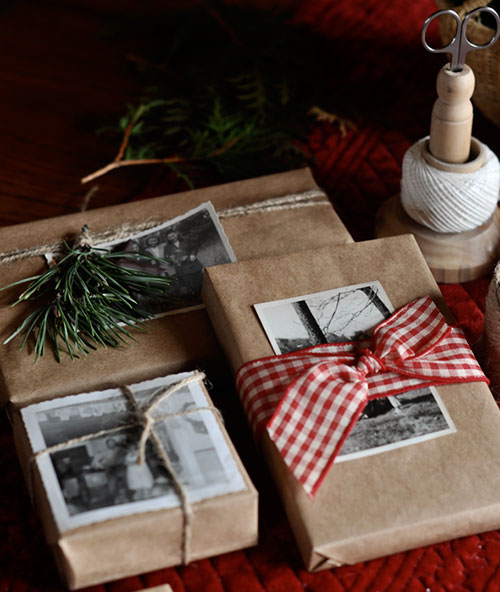 Brown paper and old photos are perfect combination! Wrapping needs to be simple because photos show themselves off. Ribbon, twine and seasonal greenery are great touch but photos make the gifts so much more personal and special.
Instead of photos, you can also use black and white postcards of a place that has a meaning to the recipient, perhaps a place somewhere you want to go or a place you visited together.
2. Snowflake Ornament + Brown Paper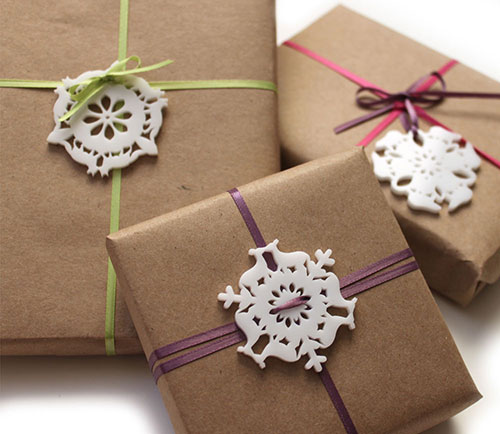 Snowflake ornaments are a beautiful and simple way to jazz up a gift.
3. Paint marker Snowflakes + Brown Paper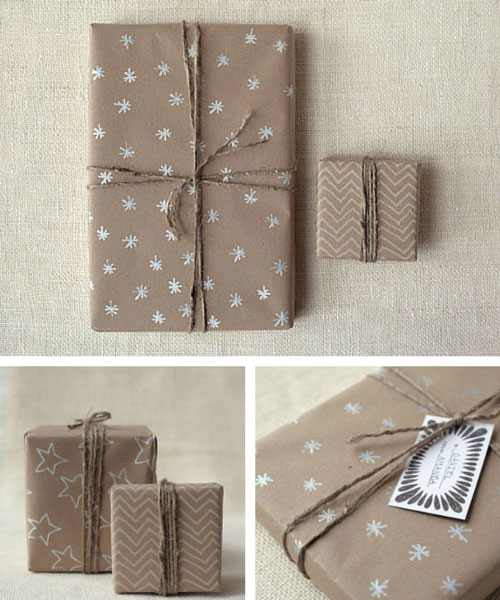 Silver paint pen can do wonders! Stars, snowflakes or simple geometrics with twine can completely transform brown paper package into a cute Christmas wrap.
4. Paint + Brown paper + Plant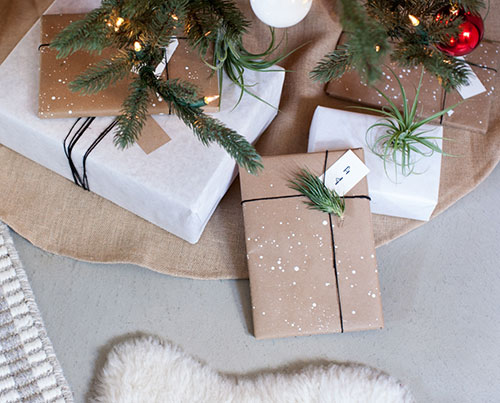 Splat the brown kraft paper with some white paint to  get the effect of snow. Top the present with some greenery and name tag.
5. Ribbon + Brown Paper + Cedar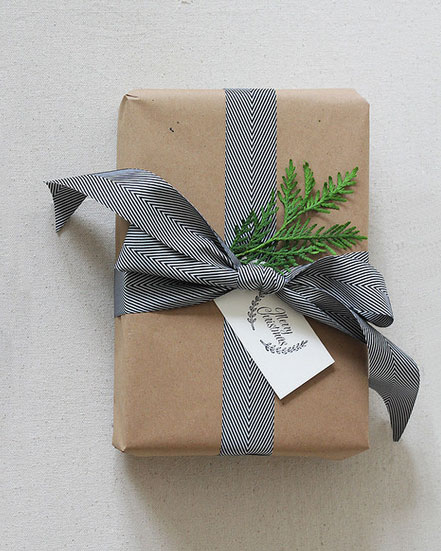 As you can see, a simple bow with cedar (or any other seasonal greenery) and handmade gift card can go a long way.
6. Gold Glitter Bow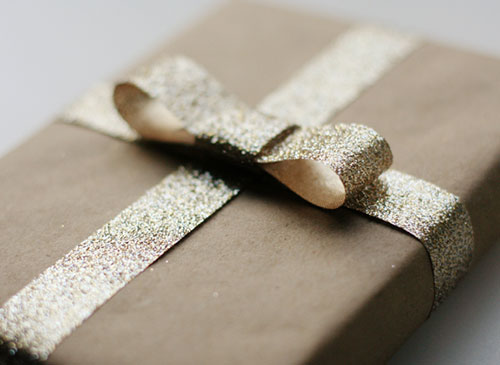 We absolutely love this contrast of old fashioned brown paper with glam gold glitter ribbon. It's super easy way to adorn your Christmas gifts and looks totally chic! Besides gold glitter ribbon, you can use silver, red, green or black one.
7. Handstamped Brown Paper + Red Lace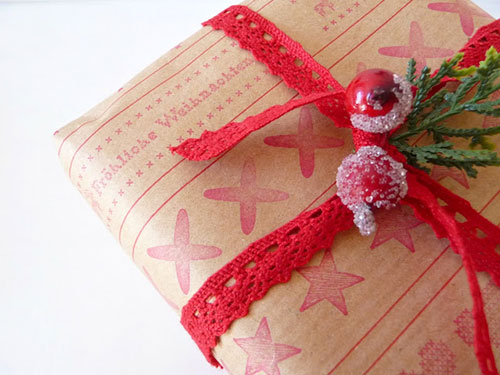 For this gift wrap you'll need patience and time but the result will be worth the effort.  The idea is to use holiday-themed rubber stamps to create your unique brown paper wrap.
8. White Paper Lace Doilies + Brown Paper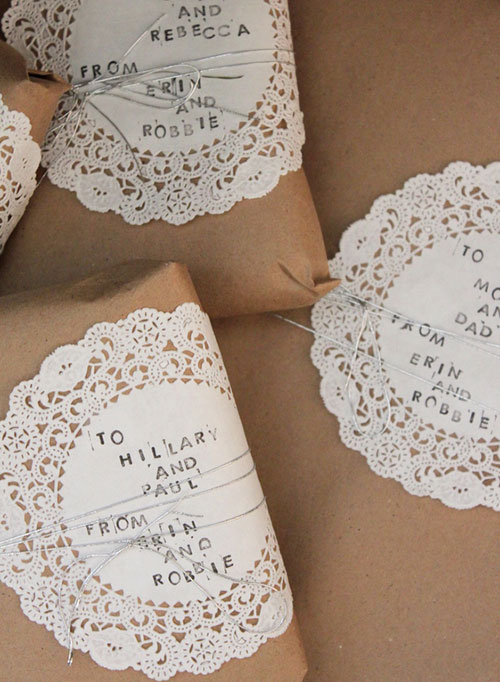 After wrapping the gift in brown kraft paper, tie or glue a paper doily on it. Write the name of recipient and you got the perfect feminine gift wrap. Lovely!
9. Pom Pom or Snowflake + Brown Paper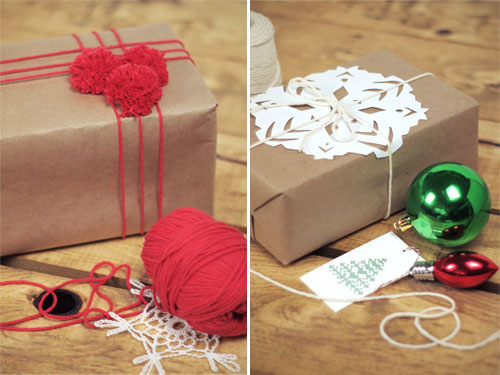 Cut the big white snowflake from a piece of paper and glue or tie it with twine. You probably used to make these snowflakes in elementary school. To make cute red pom-poms you'll need a yarn.
10. Paper Straw Snowflake + Brown paper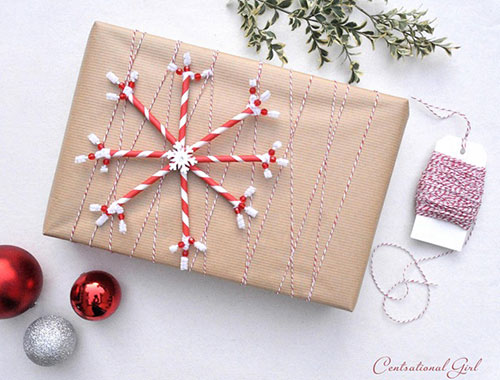 The rustic simplicity of brown paper can be refreshed with cute white and red snowflake. It might look complicated but this  snowflake  can be done within minutes.
11. Cedar + Pine Cones + Brown Paper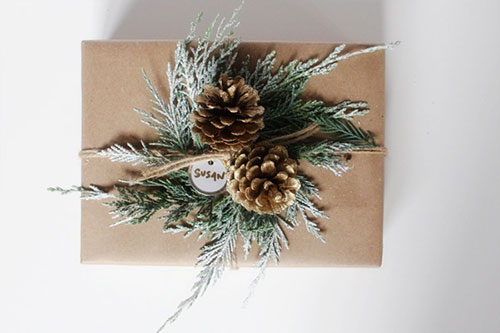 Pine cones and  seasonal greenery can be one of the most decorative and least expensive ways to dress up a Christmas gift.
12. Colorful Tape + Brown Paper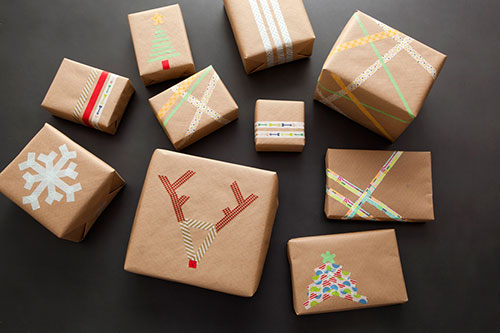 Simple and adorable gift wrapping can be achieved with washi tape. Few lines of washi tape can turn brown paper package into something to talk about. This is the perfect last minute gift wrap idea.
13. Tartan, Pine Cone + Brown Paper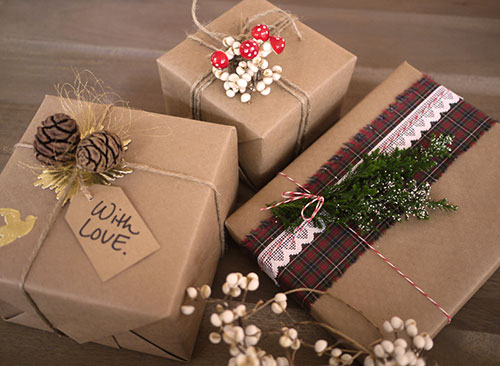 Layered with tartan material and lace, brown paper can look twice as nice.
14. Painted Christmas Trees + Baker's Twine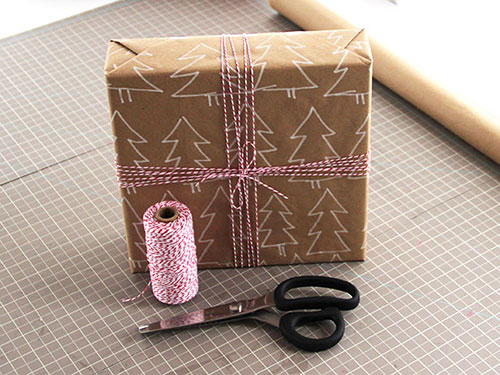 Use white paint marker to create your own pattern. Tie baker's twine around it to make a really cute package.
15. Spray Painted Brown Paper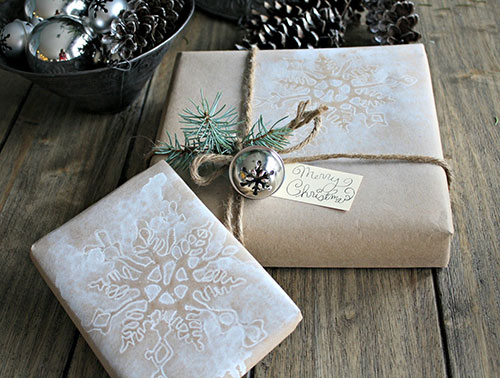 The hand-written tag is what stands out on this lovely gift. Add a silver jingle bell and greenery for instant glam.
16. Simple Pine Cone + Ribbon + Brown Paper Wrap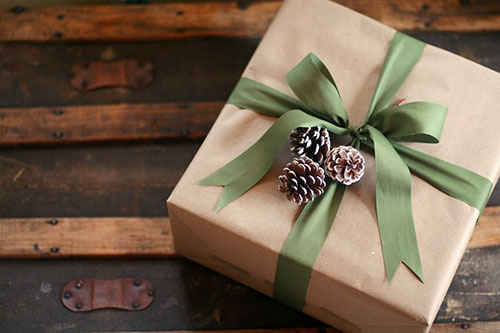 You can also keep things simple – a basic green bow and few cones can be all a brown paper package needs.
17. Sparkly Snowflake + Brown Paper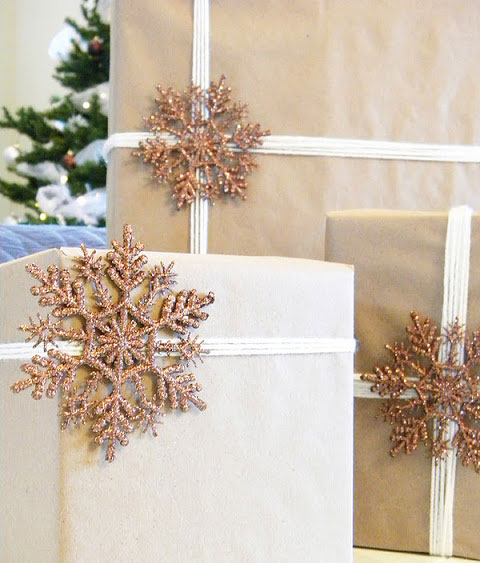 These sparkly snowflakes make a perfect holiday decoration for your room, Christmas tree and windows… so why don't use them for your gifts, too? This lovely decoration feels like a present on a present.
18.  Brown Paper + Gold & Silver Details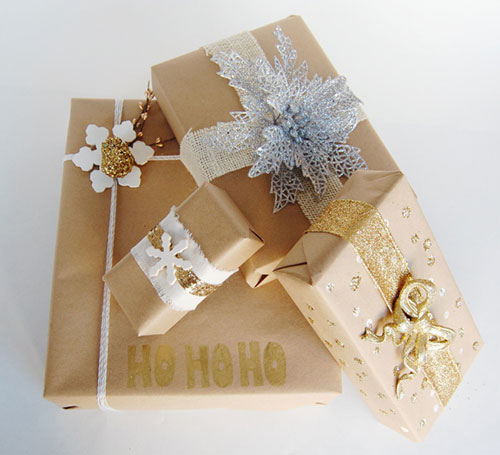 Gold details, glitter, snowflake ornaments, bows, twine and flowers can be used to create the perfect presents. These gifts are pure perfection, right?
We hope you got some lovely ideas from this list. Happy Christmas wrapping!