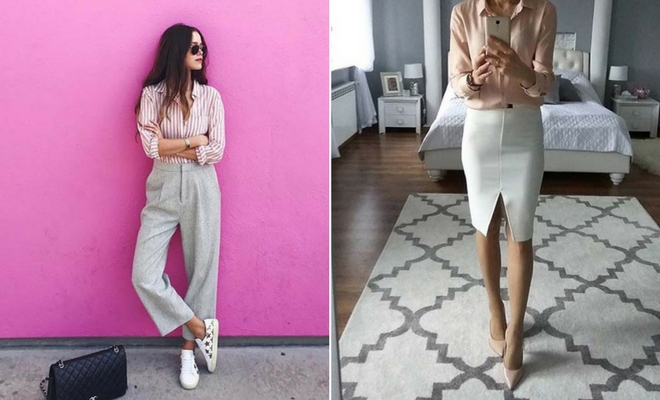 21 Easy & Trendy Work Outfits for Spring
Most of us spend a lot of time at work so the outfits we choose for the working week are important. Just as we do with our casual clothes, we should change our work clothes to match the season. Now spring has begun, new trends are here and our work outfits will become lighter and brighter. To give you some ideas on what you can wear this season we have found 21 of the best spring work outfits that will keep you looking stylish at the office.
1. Work Outfit for Spring
The first work outfit we want show you is this white shirt and neutral trousers combination. A fresh white shirt will instantly update your look for the season. You can wear a white shirt with anything from a black pencil skirt to tailored trousers, so it is a great piece to have in the wardrobe. As it is spring, try to wear your shirt with light trousers like these.
2. White Lace Dress
If you do not have a strict dress code for work but you still want to look smart, you could choose an outfit like this one. Here we have a beautiful white lace dress has been worn with a brown belt. This is a beautiful look that will suit anyone. You can wear an outfit like this right through the spring and summer.
3. Spring Culottes and Shirt
Spring is the perfect time to experiment with brighter colors and different styles. Our next outfit features light pink culottes worn with a blue shirt and heels. This is a super stylish look that would be a great choice for someone who should look professional and smart but can also wear what they like. You could wear culottes with a white shirt to and you could even wear an outfit like this for drinks after work.
4. Vibrant Spring Work Outfit Idea
Brighten up your working week with a colorful outfit like this one. This trendy lady is wearing a vibrant pink jacket with a white shirt and patterned trousers. There are so many printed trousers available to suit every style. If the pink jacket isn't for you, then choose a color used in the pattern on your trousers and choose a jacket in a similar shade. That way your outfit will be bright but coordinated.
5. Light Stripe Suit for Work
Blue and white stripe shirts are very popular during the spring and summer. Our next outfit idea has stepped up the style game and features a stripe suit. A blue and white stripe suit is smart, stylish and perfect for spring. You could wear with a T-shirt for a professional but relaxed look or wear with a blouse.
6. White Skirt and Light Blouse
Skirts are back in the spotlight for spring and summer. Here is an example of how to wear a skirt for work. The outfit features a light blouse with a white pencil skirt. This is a simple and chic outfit that would be perfect for the office. You could wear a white skirt with any blouse, you could even add a jacket too.
7. Elegant Neutral Work Outfit
During the spring and summer, you can ditch the long black trousers and choose pants like these instead. This outfit is made up of neutral ¾ length pants, neutral shoes and a grey lightweight jacket. You could wear ¾ length trousers in any color and with any top.
8. Cute Sweater and Skirt for Office
An easy way to update your work look is by changing your top. You can wear your usual black skirt or pants but with a cute patterned top. Our next outfit features a black skirt with a black and white sweater. This is a gorgeous look that will look great at the office.
9. Simple and Stylish White Jacket and Black Pants
If you want to look effortlessly chic at work, then this next outfit could be perfect. The outfit features a white jacket, white top, black pants and neutral shoes. You can get ready for work in a hurry with an outfit like this because you will know it looks stylish. Clothing like this can also be mix and matched with other items.
10. Chic White Dress Work Outfit
You should consider wearing a dress for work. Dresses are one piece that is easy to wear. A white dress is perfect for the spring and summer. You can wear it with heels or sandals, maybe even  with a smart blazer. You could think about dresses in other colors too.