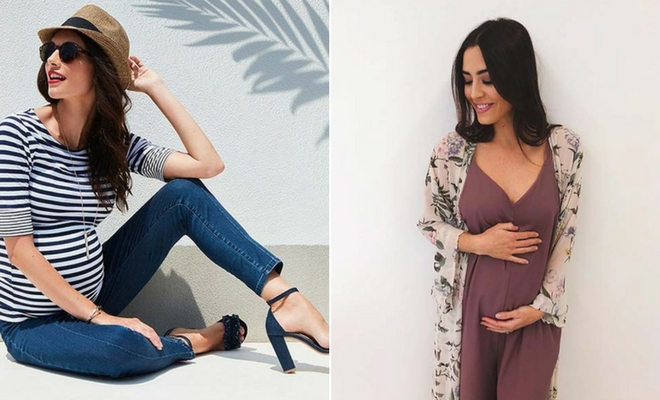 21 Stylish Maternity Outfits for Spring and Summer
Choosing maternity clothes isn't an easy task, especially in the spring and summer. During these seasons the weather is changing, and temperatures are on the rise. You will need maternity outfits that'll keep you cool, comfortable and stylish looking. To give you some ideas, we have found 21 maternity outfits for spring and summer. There is an outfit to suit any occasion and any style.
1. Light Dress and Kimono Maternity Outfit
First up we have this beautiful dress and kimono combination. Both items are light and floaty which is great for the warmer weather as they will keep you cool. You could wear an outfit like this for many occasions from a day out to your baby shower. This outfit was created by Pink Blush and you can find many other similar pieces on their website.
2. Stripe Tops and Jeans
Nautical stripes always come back into the style spotlight during spring and summer. Stripes can create a super cute maternity outfit. This outfit features a stripe top, jeans, hat, sunglasses and a necklace. All these elements create one trendy outfit. You can wear any other shoes that are comfortable for you. Maybe white sneakers.
3. Bohemian Maternity Outfit
Boho is another trend that comes back during the summer. The bohemian trend is easy to wear and will suit everyone. You could go for an outfit like this one, the key element is the long off the shoulder dress. It is light, floaty, stylish and will keep you cool. The rest is just accessories which you can choose yourself, just wear sunglasses, jewelry etc. that you like.
4. Cute Pearl Top and Jeans
Next, we have a cute pearl top and jeans. You could wear a pearl top like this with any jeans. Blue or white would be nice. If you can't find a pearl top you could make one yourself. Find a top that you like and sew the pearls on yourself. It would be a fun project and you will have a unique top.
5. Trendy Leopard Print Dress
If you want a fun spring/summer look then this next idea could be for you. This fashionista is wearing a cute leopard print dress. Dresses like this are easy to wear, will suit everyone and will keep you cool. You can wear with any shoes. Maybe try sneakers, flats or sandals.
6. Spring Denim Jacket
Even though the weather is getting sunnier, it still may be chilly on some days. For these days you will need a jacket. As it is spring, you don't want a heavy, dark jacket so the perfect solution is a denim jacket. Denim will go with everything, it will keep you warm and suits the spring and summer vibe.
7. Beautiful Lace Maternity Dress
If you have a special occasion coming up or if you want to dress up a little, then consider wearing a lace dress like this one. It is chic, classy and can be dressed up or down. As it is spring and summer, choose a light shade like this one. There are many lace dresses available so shop around and find the perfect one for you.
8. Summery Off the Shoulder Dress
Off the shoulder pieces are back for the spring and summer. We love off the shoulder tops and dresses because they instantly give you a summery look. Our next outfit idea is this beautiful off the shoulder dress. You could wear a dress like this right through the summer or even on vacation. There are many colors and prints available online.
9. Floaty Maxi Dress
Next, we have a trendy maxi dress to show you. The outfit features a long and floaty polka dot maxi dress that has been paired with a jacket and sandals. An outfit like this will look so stylish on anyone who wears it. There are so many beautiful maxi dresses that you could try in many different patterns and colors.
10. Cute Maternity Dungaree Outfit
If you want a cute and relaxed look, then dungarees could be what you need. Dungarees are easy to wear and are comfortable. You can mix and match them to suit the weather. On a spring day maybe wear with a light sweater and sneakers like featured. For a warm summer day, wear dungarees with a t-shirt and flip flops.
11. Chic Dress and Sandals
Our next idea is a chic dress and sandals. An outfit like this is perfect for ladies who need a maternity outfit for work or for a special event. When shopping for a dress yourself look for light fabric, long or ¾ sleeves and a drawstring style waist or belt.
12. Pretty Dress and Jacket Idea
Here is another outfit idea that features a denim jacket. This mom-to-be has worn her jacket with a beautiful white dress. Denim and white goes together perfectly. With a dress and jacket like this you will have an easy to wear but super stylish outfit. You can wear any shoe with this outfit.
13. Relaxed Maternity Outfit Idea
You will need a casual but stylish outfit. Our next outfit is perfect and features a stretchy stripe t-shirt, jacket, black pants and sneakers. You could wear leggings for this look. An outfit like this is great for running errands and days when you want to relax.
14. Glam Shirt Dress Maternity Outfit
If you do want to glam up your look, then a shirt dress could be what you need. A shirt dress is light, chic and comfortable. There are so many shirt dresses available to buy so shop around (or online) and find what suits you. You can be brave and wear it with heels or pair it with low wedges, sandals or flip flops. Wearing heels is hard, especially when you are pregnant so don't be uncomfortable and opt for comfy shoes instead.
15. Stylish White Jeans
White jeans are stylish and will instantly give you a summery look. You can wear white jeans with any top and any shoes. For a nautical look, which is on trend for the spring and summer, wear a stripe top. For a glam look wear with a blouse.
16. Summer Maternity Shorts
When the hot weather does arrive consider wearing shorts. Shorts look summery and will keep you cool. There are so many maternity shorts available to buy in all different colors and fabrics. You can buy a few pairs of shorts and mix and match them with different tops.
17. Stylish Stripe Dress
Love stripes? Then this idea is for you. This mom-to-be is wearing a stretch stripe dress. It looks so stylish with a denim jacket. You could wear this dress causally or glam it up for a special event. This style of dress can also be found online in different colors and prints.
18. Jacket and White Dress
White dresses are perfect for the spring and summer. This next outfit shows you how to wear a white dress in style. The look shows a white dress worn with a jacket, wedges and leopard print bag. It is a super cute outfit that would suit anyone.
19. Floral Cardigan and Jeans
An easy way to update jeans and tops you already have is with a cute cardigan. This mom-to-be is wearing a beautiful floral cardigan. A cardigan like this is perfect for chilly spring days. You can buy this cardigan from Pink Blush. They also have other designs available.
20. Trendy Off the Shoulder Top and White Jeans
Like the off-the-shoulder trend? Then you will love our next outfit. The look features an off-the-shoulder top with white jeans and a statement bag. This outfit is perfect for the spring and summer and will suit anyone. You can dress an outfit like this up or down to suit any occasion.
21. Casual Maternity Outfit
Last on our list is this casual white t-shirt and jeans idea. Even though the look is simple, it is very stylish. We can sometimes put too much thought into our outfits when looking good only needs minimal items. You can wear with any shoes, maybe sneakers or flip flops.
We hope you have found the perfect maternity outfit! We know we did.