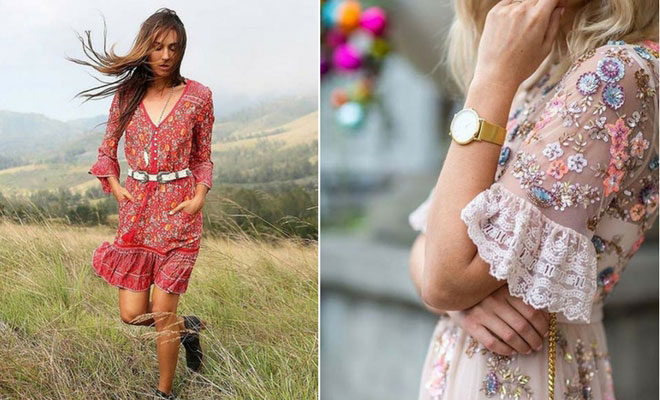 41 Cute Summer Outfits You'll Love This Season
Summer is coming so it's time to get some outfit inspiration. If you start now you can be ahead of the fashion pack when the warm weather arrives. There are so many new styles to choose from for the season. So, to make things a little easier we have put together 41 of the best summer outfits you'll love. Whether you like boho, want something for work, or are looking for a classy new style, we have you covered. There is an outfit for everyone.
1. Striped Shorts
Stripes are a big trend for the summer. There are many ways to wear but as you can see shorts is a stylish choice! You could wear shorts like these with a t-shirt or blouse and sneakers or sandals. The white and dark stripe make it a versatile print that will go with everything.
2. Floral Embellishment
Florals are always a summer favourite. To step up your style game choose an embellished floral instead of a print. The sequinned flowers just give the dress a chic and luxurious look. A dress like this is pretty, feminine and can be worn for any occasion.
3. Statement Ruffles
Our next pick has a must have multi-trend top. The top is off the shoulder, has statement ruffles and has a striped print. These three trends look fabulous separately but together create a chic, trendsetting piece. You could wear a top like this with jeans, skirts or trousers.
4. Boho Dress
This outfit is inspiration for the boho babes. The printed dress looks trendy with the belt, the dress and belt combo would work with any floaty dress. Pair with ankle boots and layered necklaces to finish off your look. You could even swap the boots for sandals or sneakers on a very hot day.
5. Pretty in Pink
Pink is a must have for summer. It's bright, bold and fun which is just what you need for the sunny season. Not only that, but pink goes with everything, no matter what shade you choose it will go with what you already have in the closet. For a summery look wear with white jeans like this.
6. Floaty and Feminine
Our next outfit can be worn in many ways. You could wear a floaty skirt and crop top together like this. This outfit would be perfect for a special date or occasion. You could wear the skirt with a causal tee or wear the crop top with jeans. Invest in a top and skirt like this and you'll have multiple outfits.
7. Floral Playsuit
It's a good idea to buy a playsuit for the summer. As you can wear it casually for the daytime with sneakers or sandals. You can also dress it up for a night out on the town and wear with wedges or heels. Playsuits are a versatile piece you will wear again and again. A floral suit would be a gorgeous choice.
8. Funky Cactus Print
Quirky prints have been a huge hit this spring and will continue to be in the summer. One of the popular designs has been the cactus. Designers have been creating funky cactus prints on bags, dresses and more. Here is an example of how to wear the cactus print in style! It is a cute dress that you can wear for any occasion.
9. Cute Pom Poms
Our next pick shows how pom poms can create a colorful and trendy look. This off the shoulder top looks extra special with the bold pom pom finish. It is a cute and quirky style that brings the fun of summer into fashion. Pom Poms can also be worn on shoes, bags and more.
10. Minimalist Dress
If you like minimal fashion then this next look is for you. This white dress has no fancy features or colors it just speaks for itself. The outfit is finished off beautifully with a necklace. You could recreate this outfit with any white dress or a simple dress in a different light color. An outfit like this would be great for any occasion from work to special events.
11. Boho Print
Going on vacation or to a festival? Then you need to check out this next look. This top and skirt have long flowing sleeves, tie detail and boho prints. Making it perfect for beach days or dancing the night away. If boho is your thing, then you need something like this in your summer wardrobe.
12. Striped Dress
Here is another way to wear stripes in the summer. This summer dress is chic and trendy. It's short enough to show off your tanned legs but is long enough to keep it classy. You could wear this day or night and even for work. This fashionista has paired her dress with statement earrings and a watch. Both these accessories give the outfit a pop of color.
13. Floral Long Kimono
Kimonos have been a summer favourite year after year. This pretty style is staying around for 2018. To mix up the style why not choose a long kimono like this. It makes your look unique and refreshes your summer style. You could wear something like this with shorts, jeans or a dress.
14. Simple and Stylish Dress
Sporty and relaxed fashion has been a huge hit this year. For summer try wearing a simple white dress like this with sneakers. It will give you a casual, summer ready look. On cooler days, you could wear a khaki jacket as it will be a trendy finishing touch.
15. Summer Waistcoat
Waistcoats are a trendy must have piece for the summer. You can wear one in a variety of ways depending on your personal style. If you like chic go for something tailored or if you like relaxed go for a boho style this like one. You could wear a waistcoat with any outfit for any occasion.
16. Chic Floral Skirt
Our next pick is for the chic fashionistas. The crisp white shirt and floral skirt are a stunning combination. An outfit like this is perfect for work and special occasions. Wear with heels, wedges or sandals to finish off your look. You'll give all the girls style envy with an outfit like this.
17. Trendy White Dress
Want a dress that will show off your tan? Then you need a white dress like this! The short and sleeveless dress is pretty and feminine. Not only that but it will show your sun kissed arms and legs at their best. A dress like this would be great for a vacation.
18. Denim Skirt
Denim skirts are a must have! These are trendy, will go with everything and there are styles to suit everyone. A button-down skirt like this will give you a vintage vibe. You could wear it with a casual tee or boho blouse. Finish off your look with sneakers.
19. Crop Top and Shorts
If you want to make a statement this summer then try wearing a crop top and shorts. An outfit like this will flash the flesh making it perfect for vacations and beach days. It is a great choice if you want to show off that tan. Wear with sneakers or sandals to finish off the look.
20. White Romper
Rompers are great for summer. These are just one piece that is easy to wear and you'll instantly look summer ready. White is a great choice as it will go with everything and can be worn for any occasion. We love this look. Wear with a big sun hat and sandals for a chic outfit.
21. Rock Tee
Our last pick is for the rock chicks. This rock music tee has a 70's vibe giving it a trendy vintage vibe. This would look amazing with high waist shorts or on cooler days try a flared jean. You could have a few of these and just mix match for an easy summer wardrobe.
22. Vibrant Yellow Jacket and Trousers
Look smart and stylish this summer with an outfit like this one. Here we have a vibrant yellow matching jacket and trousers. The look is finished off with a white top, black bag, black belt and white shoes. This is a sophisticated way to wear color and you can recreate the look or try a different bold color.
23. Chic Maxi Dress
Want a summer outfit that is easy to wear and comfortable? Then try a maxi dress like this one. The stripe pattern is very flattering and the color combo of black and white is so chic. A maxi dress like this is a great buy because you can dress it up or down to suit any occasion. You can buy maxi dresses in all different colors and prints so you can create so many different looks.
24. Cute Shirt and Denim Shorts
A summer must-have is denim shorts. Shorts look stylish and will keep you cool in the hot weather. You could wear your shorts with a cute shirt like this one. It is summery white with a bright print and looks lightweight too. An outfit like this is relaxed but trendy. You can wear shorts with any cool shirt.
25. Candy Stripes + Sneakers
Candy stripes are perfect for the summer! When clothing is candy striped it will usually have a light, plain color on the background like white with a vibrant shade used for the stripes. The dress below is a beautiful way to wear candy stripes for the summer season. We love the colors and the trendy style of the dress. You can find a candy stripe dress online or you could even go for a top in the print if dresses are not your thing.
26. Statement Summer Outfit
Need an outfit that will wow? Then check this out. Here we have a statement summer outfit. The look features a two piece jumpsuit with a beautiful, green leafy pattern. This can be dressed up or down to suit any occasion and it is perfect for the times where you want to look glam. There are jumpsuits like these available online and you can find out more about this one on the page below.
27. Yellow Skirt and T-Shirt
Next, we have a trendsetting summer outfit. The look is made up of a cool T-shirt with a vibrant yellow skirt. We love this idea because the skirt is chic and more formal while the t-shirt is relaxed and casual. The combination of the two is so stylish! You can recreate a similar look to this or try your own skirt and T-shirt combo.
28. Summery Top and Shorts
You definitely need a comfortable pair of shorts in your summer wardrobe. Denim shorts are great but sometimes you just want to be comfy and feel relaxed. An outfit like this is perfect for those times. Here we have a cute patterned top with casual shorts. It is such a gorgeous summer look. Shorts like these can be worn with any top to so you will wear them again and again. The top and shorts are available at the store below.
29. White Lace Dress with Bold Bag and Shoes
White is a must-have color for the summer and next we have a stunning outfit that shows how to wear white in style! This look features a beautiful white dress with a vibrant yellow bag and shoes. We love the bold accessories because they really jazz up the simple white dress. You can wear any white dress and pair it with any funky colored accessories!
30. Pretty Skirt and Denim Shirt
Next, we have a bright and stylish outfit to show you. Here we have a cute denim shirt that is worn with a pretty candy stripe skirt. The look is finished off with vibrant shoes and a bag. This is a gorgeous outfit that is perfect for the spring and summer! You will be able to find similar skirts and shirts to these online.
31. Polka Dot Dress with Edgy Jacket
Another cool pattern to try for the summer is polka dots. Polka dots are pretty, fun and stylish which is perfect for the season. The next look we have shows a trendy way to wear polka dots. This stylish lady is wearing a polka dot dress with a biker jacket. We love this combination because the jacket gives the cute polka dots an edgy look. It also glams the dress up a little too. You can wear any polka dot dress with any jacket.
32. Summery Yellow Dress
The next outfit we want to show you is beautiful! Here we have a long yellow dress with a belt. The yellow is so bright and it is perfect for the summer season. You can take inspiration and try to find a similar yellow dress or wear a dress of your choice. A yellow dress is just a stylish and vibrant look that is great for the summer.
33. Chic Shirt and Jeans
If all the bright colors and bold patterns are not your thing, then you can try a chic and classic outfit like this one. Here we have a stylish shirt with ankle grazer jeans and comfy shoes. This is an easy to wear look that you can wear anywhere. You can also wear the same jeans with a different shirt and the same shirt with other trousers s and skirts. So, an outfit like this will be an investment and you will wear it again and again.
34. Colorful Stripe Skirt
Want to make a statement this summer? Then an outfit like this is perfect for you. This look features a simple black top with a stunning striped skirt. The colors used on the skirt are summery, beautiful and bright! A vibrant skirt like this can be worn anywhere from a day out shopping, to a night on the town. You can find colorful striped skirts online.
35. Cute Denim Overalls
Another easy to wear look for the summer is overalls. Overalls are relaxed and will look different every time you change the top underneath. Here is a stylish way to wear overalls. It is a trendy outfit and similar version will suit everyone. You can buy overalls like these or you can choose a different denim color.
36. White Outfit with Vibrant Yellow Jacket
Next, we have another white outfit idea. The top and trousers are all white and a vibrant yellow jacket has been worn to finish off the look. By adding a bold piece of clothing, you just make the white outfit more statement making and unique. Recreate the top and trousers or you can wear a similar jacket with a white dress too.
37. Striped Shirt Dress
Dresses are great for the summer. It is just one piece so they are easy to wear. Most summer dresses are lightweight and you can keep cool. The next outfit we have to show you features a shirt dress. This dress is light, stylish and has a trendy striped pattern. A dress like this ticks all the summer boxes and can be purchased on the page below.
38. Floral Skirt
Floral patterns are very popular for the summer and with skirts like this one, we can see why! This skirt is a stunning blue color with a pink flower print on the top. The skirt is worn with a cute pink top, pink bag and nude shoes. An outfit like this would be perfect for a summer wedding or just if you want to glam up a little on a sunny day.
39. Patterned Summer Jumpsuit
If dresses are not for you then you can try a jumpsuit. Jumpsuits are one piece like a dress but it has trousers instead of a skirt. A jumpsuit like this would be perfect for hot summer days! It looks lightweight, has a beautiful pattern and the suit has summery colors. You can find out more about this suit on the page below, but there are also lots of other jumpsuits like it online.
40. Snake Print Trousers
The summer is the perfect time to be a little more daring with your fashion. A perfect way you can do this is with patterned trousers! The outfit below features a plain top with a cute jacket and trendy statement trousers. As you can see, the trousers make the outfit unique. Try similar trousers to these or pick a print of your choice.
41. White Shirt with Skirt
Next, we have another way to wear a chic shirt for the summer. This white shirt has been paired with a stylish, neutral skirt. It is a cool and trendy look. You can wear a similar shirt with any skirt of your choice. An outfit like this can also be dressed up or down to suit any occasion.
We hope you have found inspiration for your new summer look.