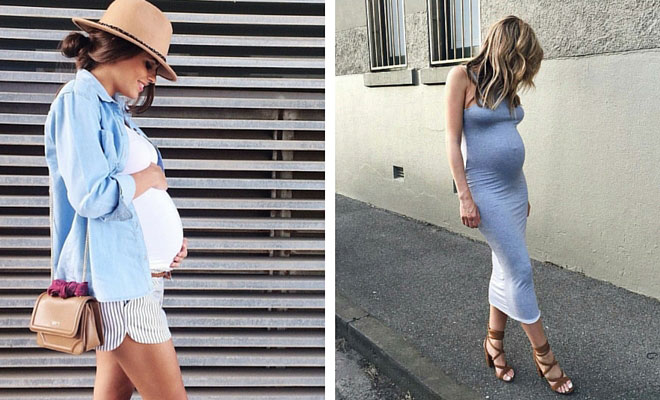 Fashion
25 Cute Pregnancy Outfits for Summer
By
|
11. Chic Black & White Outfit
A black and white outfit is timeless and chic. If you want to have a sleek and fashionable outfit, a black long dress with a white lacy over top will look elegant.  To wear for a party or an evening out, add a small gold colour belt just above your bump and a gorgeous statement necklace.
12. Pregnancy Outfit Idea for Special Occasions
If you have a friends birthday coming up or if you have been invited to a wedding, planning your pregnancy outfit is so much fun. Be sure to enhance your bump with a gorgeous tight fitting dress.
13. Little Black Dress + Flats
Not every pregnant woman likes to wear heels. Heels can be a killer at the best of times so why not opt for a simple and chic pair of flat sandals.  They will go with anything you wear, keep your feet cool and look stylish, especially with a black dress!
14. Off Shoulder Dress + Gladiator Sandals
Off the shoulder dresses are all the rage. Whether you are pregnant or not, make sure you have a gorgeous blue colour off-the-shoulder style dress in your pregnancy wardrobe.  It looks sexy and cute.  Wear high gladiator nude colour sandals to really set the outfit alive.
15. White & Nude Two Piece Outfit
Turn heads with this gorgeous white and nude two-piece outfit. Nude is a trending colour so why not team it with white to break it up a little.
16. Long Floral Dress
Go for a long floral dress. It will keep you cool, elegant and looks fab with flat sandals.  Try and go for a light colour and fabric.
17. Yellow Dress
Stand out in a yellow dress. Bright colours look feminine, sexy and chic.  Yellow is a great colour and it will instantly give you a natural buzz due to its bright and vibrant colour.
18. Black Overall Shorts + Stripes
We love stripes!  Stripes give off a classic style and will never go out of fashion. Kate Middleton is a fan of stripes and when she was pregnant with Price George and Princess Charlotte, she would wear stripes with anything and it looked fantastic.  Team with black overall shorts to create a chic, elegant and sophisticated look.
19. Pink Bodycon Dress for Summer Weddings
Summer is wedding season so don't be upset if you receive an invitation. With this sexy pink bodycon dress, you will look amazing.  The perfect colour for a wedding and even better if you know you're expecting a girl!
20. White Lace Dress + Flower Crown
We are feeling this boho vibe. This is innocent, girly and feminine.  A white laced dress with a flower hair crown looks stunning.  Who could resist looking like this?  Simple flip-flips will suffice.  Don't take the attention away from your lovely dress and hair.
21. Black Two Piece
They say black is a great colour to make you look slimmer. Try it and see!  You can't go wrong with a two-piece black outfit.  Ideal for the afternoon, turned evening occasions.
22. Pregnancy Work Outfit
Looking for a pregnancy outfit can be tricky. You want to feel comfortable and look stylish.  Wearing flat sandals, a baggy top and a skirt will give off a fashionable and gorgeous look.  It will make your feet and body happy by not being too tight.
23. Neon Orange Midi Dress
Neon orange is a lively and gorgeous colour to celebrate summer and your body. Summer alone has a great vibe but adding a energetic colour, makes you feel great even more so.  Orange and gold work well together.  Think about teaming your sexy neon dress with gold shimmering gladiator sandals.
24. Casual Chic Pregnancy Outfit
Staying chic whilst you are pregnant is not a hard thing to do. If you have the style and flare before you were pregnant, carry your fashionista side over and work your baby bump.  Have a look at this chic outfit.  It's just a simple black dress with a simple grey tee that has been tied in a knot to show off your style.  See, it's not hard so don't worry about looking fab, you will look amazing!
25. Denim Shorts + T-Shirt
Whether you are staying at home, going to the shops or just meeting a friend, this outfit works well for any occasion. Denim shorts and a casual tee looks so good and is so versatile.  This outfit looks casual but could be dressed up a little by adding a necklace or heels.  Whatever your plans are, you could wear a simple thin top to take the chill off.  Team with either flat casual shoes, trainers or sandals for the perfect casual look.