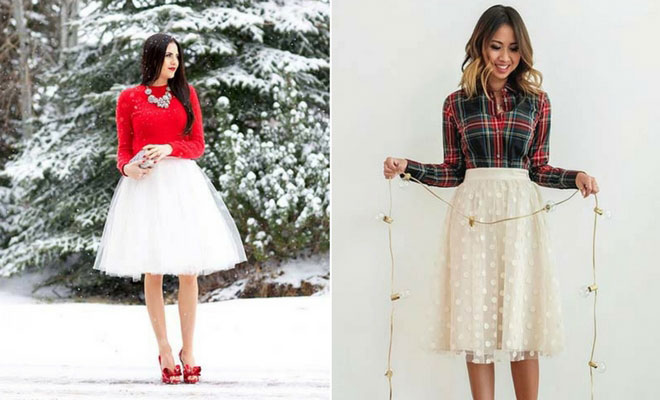 Instagram
Fashion
59 Cute Christmas Outfit Ideas
By
|
21. Skirt and Sequin Blazer
Sequins are a must-have for the holiday season. This next outfit shows how to wear sequins in a classy and chic way. The outfit includes a festive red skirt, black top and sequin blazer. A blazer like this is so stylish and can be worn in many different ways. Wear a similar outfit to this for nights out and parties. Try with jeans for a more relaxed look.
22. Tartan Shirt and Sparkly Skirt
A popular look to try for Christmas is a casual shirt with a sparkly skirt. Here is a great example. This outfit features a red tartan shirt with a silver sequin skirt. We love this idea because it combines two stylish looks – wintry tartan and sparkles.
23. Festive Skirt and Sweater
Going to a party? Then this outfit idea is for you. The look features a purple tulle skirt with a dark sweater. This is a chic and stylish way to wear a skirt like this. Wear with a sweater for a wintry look or try with a jazzy top for a party outfit.
24. Red Lace Dress
If you are looking for a glam Christmas outfit, you need to check out this next idea. Here we have a stunning red lace dress. This is like a festive version of the classic little black dress. It is a fun, vibrant and stylish look that is perfect for the holiday season.
25. Pretty Pleated Skirt
Another must-have look is pleats. Pleated skirts are chic, elegant and pretty. You can find many pleated skirts out there but one like this would be great for the holidays. It is a metallic color that is perfect for the glitz and glam of Christmas. Wear with a party top or with a sweater.
26. Casual Christmas Outfit Idea
If the glamour and sequins is not for you and you want to wear something comfy and relaxed, this next idea is for you. Here we have an outfit that includes a sweater and causal stripe pants. This is a trendy and easy to wear look that is perfect for Christmas day. Recreate this outfit or try any sweater and comfortable pants combination.
27. Cute Plaid Skirt
Fall is for plaid shirts, but winter is for cute plaid skirts like this! It is such a cute skirt that will look amazing for the festive season. A skirt like this will go with everything and you can dress it up or down. Wear an outfit like this to celebrate Christmas in style!
28. Glam Skirt and Shirt
Next, we have another sequin skirt and tartan shirt combo. This shirt is extra glam because it has a super cute bow. An outfit like this will be perfect for celebrating Christmas Day. You can recreate this or try a similar shirt with a skirt in a different color.
29. Christmas Sweater Outfit Idea
If you want to wear a Christmas sweater but don't want to go over the top with an ugly pattern, then this could be the solution. Here we have a stylish Christmas sweater. It has the red color and festive pattern but it looks very trendy. Wear with jeans or a glam, tulle skirt.
30. Sweater and Sequin Skirt
Looking for a party outfit? Then this idea could be perfect! It features a glam sweater with a sequin skirt. The sweater has a metallic look which is perfect for Christmas and the sequins are sparkly and stylish. Recreate this look or try a similar sweater with jeans.