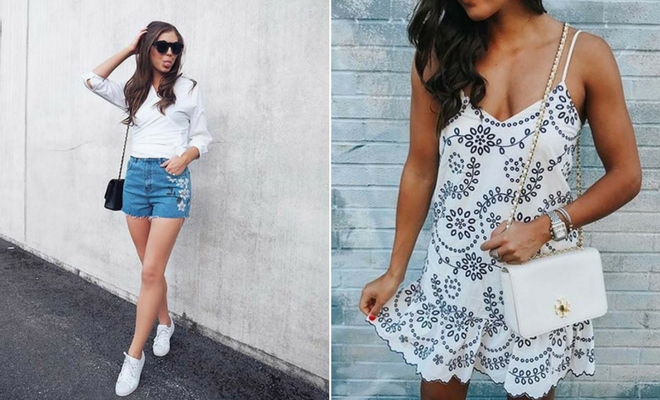 21 Cool and Casual Summer Outfits
Spring is almost over which means summer is coming! The new season will bring with it brand new trends and styles so it's time to start thinking about your summer wardrobe. It is out with the old and in with the new lighter and brighter pieces. To get you inspired for your new look we have put together 21 casual summer outfits that are must haves for the season.
1. Light Top and Jeans
First up we have this gorgeous light outfit. It features white jeans and a light peplum top. This combination is fresh, stylish and summer ready. These two items are great to have in the closet as you can mix and match these with anything. The white jeans will go with everything and a top like this would look great with blue jeans.
2. Cute Summer Dress
Simple, light dresses are perfect for creating casual summer outfits. A dress is easy to wear, will keep you cool and can be dressed up or down to suit day and night. White dresses like this are a great choice, white is a fresh color for summer and will show off your tan. Have a couple of these in the closet so you can be stylish for any occasion.
3. Easy to Wear Romper
Another easy to wear summer piece is a romper. It will keep you cool and is just one piece. You won't have to worry about matching it with a top or jeans. Not only that but you get a summer dress vibe with shorts. Rompers come in many colors and prints, a striped one like this is a trendy choice for the summer.
4. Statement Skirt
Summer is a great time to try something bold and new. This more adventurous side suits the fun summer vibe. An easy way to get an eye-catching style is with a statement skirt. You can pair it with a simple white top like this one to get a trendy look. Wear with sandals in the day and heels at night. There are lots of styles out there.
5. Flannel Shirt
If you want something both stylish and causal then a flannel shirt is the way to go. These shirts are not all dark colors and grunge, you can get some pretty and bright colors to like this blue one. A vibrant shirt will suit the summer mood. Try wearing with white jeans for a relaxed summery look.
6. Embroidered Denim Shorts
Shorts are a summer must have. This season shorts have had a makeover and have now got embroidered patterns. Floral shorts like these are so cute for the summer. You can wear with any top and shoe. A white blouse and sneakers will look gorgeous. There are many of these shorts out there to suit any style.
7. Shirt Dress
Shirt dresses are a chic way to have a tailored look while also keeping cool during the summer. These are smart and classy. The dresses come in a variety of colors and prints but stripes are bang on trend for the season. Wear with sandals or sneakers in the day and with heels or a wedge at night.
8. White Skirt
White is a fresh color that has become a summer staple. It goes with everything and makes clothes you already have summer ready. A white skirt like this is great to have in the closet. You can wear it with blouses, T-shirts and you can dress it up or down. It is an easy way to refresh your look for the new season.
9. Bright Print Dress
Inject some color into your look with a vibrant dress like this. This dress is bold and has a beautiful print. The main color green is perfect for the summer and will catch everyone's eye. You could get a block color dress in a bright color, go for something printed or have the best of both with a dress like this one.
10. Matching Two Piece for Casual Summer Outfits
Color coordinating your outfit will give you a chic look every time. This next outfit is a great way to do it. These light separates complement each other beautifully. Not only do these look gorgeous together, but will also look awesome with other things so you can have a few stylish casual summer outfits. We love this look!