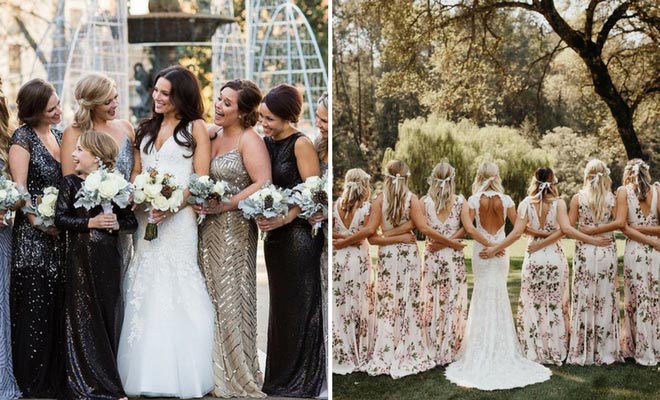 Instagram
Fashion
25 Most Beautiful Bridesmaid Dresses for Spring
By
|
11. Long, Sequin Dresses
Is it wrong that we kind of want a long, sequinned dress like this as an actual wedding dress? Yes? Okay, but we're still not changing our minds.
They're stunning. We can't stop looking at them. That back detail is so perfect, but just remember to tell your bridesmaids they'll need to wear their hair up. There's no point in covering up that stunning design.
12. White, Long Sleeved Dresses
How do you feel about long sleeves? For a winter wedding, this is a really good idea. A great way to ward off those goosebumps for when a jacket or throw just ruins the look.
They're simple, each slightly unique, and more than that, they're elegant. We'd be so proud to have bridesmaids like these. Wouldn't you?
13. Long, Blue Dresses
Sassy, sexy, and sultry – three words we'd use to describe these beautiful long, blue dresses, definitely one of the top ideas in beautiful bridesmaid dresses if you ask us.
That stunning long skirt is a wonderful addition – you could have miniature replicas of your own wedding train. In fact, you could have anything you want. It's YOUR big day.
14. Long, Neutral Dresses
When your circle of friends are so beautiful, they don't need a dress to highlight it, how about these long, neutral dresses? Everything about this look is sassy and simple, sophisticated too. And those are three S's we definitely love when it comes to beautiful bridesmaid dresses.
They're in varying lengths and styles, but all still long and flowing, so each bride gets a dress that is unique to her. We think it's a great idea. How about you?
15. Fall Burgundy Dresses
For a fall wedding, only the warmest tones will do. You won't get much warmer than these beautiful Burgandy dresses, an almost perfect match for the bride's red bouquet roses.
Brides are often scared of using red shades during their big day, mostly because of the "bad" traditions and myths. We say to scrap superstition. We LOVE this bridesmaids look!
16. Sexy, Lace Dresses
Most brides don't want their bridesmaids to be sassy and sexy on the biggest day of their life. But then again, you're not most brides. If you're proud of your sassy circle, show them off. These sassy and sexy little lace numbers are perfect for just that.
Sexy, but not too sexy. Just the right amount of flesh, but again, not too much. It's the perfect combination, and we're totally diggin' that navy blue shade too!
17. Long, Floral Dresses
You might already have a colour scheme in your head, but sometimes it pays to think a little outside the box. If one of your bridesmaids suggests a colour that you hadn't thought of, let her try the dress on and try it alongside your dress.
The new colour scheme may just work perfectly, and just because you don't see it in your original vision, doesn't mean it can't be the perfect finishing touches to your big day.
18. Long, Dark Grey Dresses
These dark grey dresses really are a work of art, and although darker shades might not be your first choice, they might end up being your last … We fell a little in love with everything about this wedding day shot.
Again, darker colours are always more flattering, so you have a higher chance of making everyone happy. That flowing fabric is also an excellent choice, and once again, flows over lumps and bumps rather than highlighting them. Definitely one you'll have success getting everyone on board with.
19. Neutral, Mismatched Dresses
One of the biggest problems faced with brides when shopping around for bridesmaids dresses is getting a range of garments that suit everyone in the party. The maid of honour might not like the colour scheme, or your best friend from high school might not like the length. There are a lot of things to consider when looking around for these gorgeous dresses, and the only way you're going to get anywhere near close to pleasing everyone is by asking plenty of questions.
Ask your bridesmaids to write down the things they definitely DON'T want in a dress, and then the things they would like in the dress. Then you can work out what might work across the board and go from there. Your other option is to let your bridesmaids pick out their own dresses from a similar colour scheme, just another tip for you.