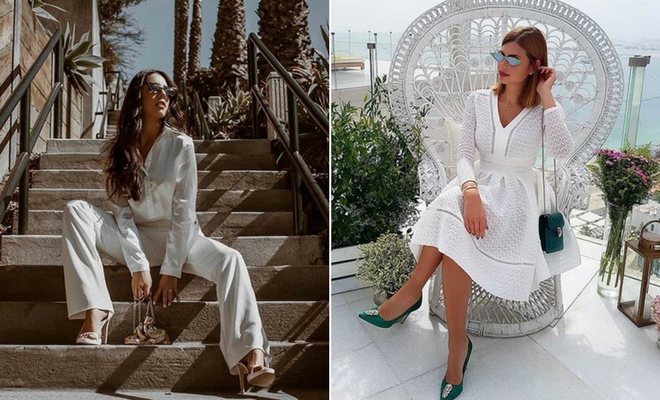 Instagram
Fashion
23 Stunning All White Party Outfits for Women
By
|
11. Crop Top and Pencil Skirt
Next, we have a crop top and pencil skirt outfit idea. We featured a similar outfit earlier in the post but we wanted to show how versatile a pencil skirt can be. It will go with a high neck crop top, bralette crop top and any other tops you have. To look really glam you can also drape the coat over the shoulders. The coat can be any color but for an all white event make sure the coat is white.
12. Lace Bodysuit and Trousers
White lace looks stunning so we had to feature it on our party outfit list! This next look features a white lace body suit worn with high waist trousers. An outfit like this will wow at any party or night out. If you want to cover up a little, you can find lace tops that don't show so much and these will look just as stylish.
13. Floaty White Dress
Our next pick is this gorgeous white dress. The dress is light, floaty and features a cute polka dot print. A dress like this would be great to have in the wardrobe as you can glam it up or tone it down. You can wear with heels and jewelry for a party or with sandals on a summer's day. Dresses like these can be worn again and again.
14. Plunge Lapel Playsuit
Playsuits are super stylish party outfits. This playsuit has lapels and a plunging neckline. The shorts also have a wrap style. There are so many different playsuits available so there is one to suit everyone. Wear with glam heels and jewelry for the perfect party outfit.
15. Dress and Statement Necklace Idea
You can jazz up your white dress for a party with a statement necklace. The long white dress featured was paired with a silver  statement necklace. As you can see, this makes the dress look trendy and unique. You can wear any white dress with any necklace. As it is a party outfit, you could choose a necklace with gemstones and sparkle.
16. Delicate Lace Top and Pants
Next, we have another way to wear lace. The outfit featured is a jumpsuit but you can achieve a similar look with a top and trousers. We love the top on this because it is elegant, stylish and classy. You could wear something like this to a formal event or to a nightclub.
17. Trendy Pleated Dress
Pleated skirts have been in the style spotlight for spring and summer. If you like this look as much as we do, then you will love our next pick. Here we have a trendy pleated dress. The light white fabric looks stunning pleated. You can search for similar dresses online. This is a beautiful party dress idea.
18. Elegant White Party Dress
If you have a formal party or event coming up, then this idea is for you. Next, we have a stunning and elegant white dress. The dress is close-fitting and has a beautiful peplum detail on the bottom. A dress like this is classy and will wow wherever you go. Wear a dress like this with glam jewelry and try an updo to show off the neckline.
19. Playsuit with Lace Overlay
Next, we have another playsuit idea. This one features a unique and very stylish lace overlay. An overlay will glam up the simplest of suits or dresses. You can buy a playsuit like this one or with a different overlay. One of these would look amazing at any party.
20. Pretty Maxi Dress
Looking for a summer party outfit? Then this idea could be for you. Here we have a white maxi dress with a pretty off the shoulder feature. A dress like this would look beautiful at any event. You could glam up your dress with heels and sparkly jewelry or give it a boho look with wedges and beads.
21. Party Jumpsuit Idea
We have featured formal and tailored jumpsuits. Now, we have a more daring jumpsuit choice that would be perfect for parties and nightclubs. As you can see the jumpsuit is tight fitting and trendy. This is for the ladies who want to make a statement. Wear a jumpsuit like this with gold, white or nude high heels.
22. Crossover Strap Dress
Forget the little black dress, next we have a little white dress. This gorgeous dress features thin straps that are in a stylish crossover. You can find many dresses like this one online. It is a simple style but it is beautiful and easy to wear. A dress like this will suit everyone.
23. Floaty Trousers and Top
Last on our list is this floaty trousers and top combo. The light pants are just amazing. You can wear trousers like these for any occasion from parties to beach vacations. For a party event, wear with a white top like the one in the image with gold, white or nude heels and sparkly accessories.
We hope you have found the perfect all white party outfit.