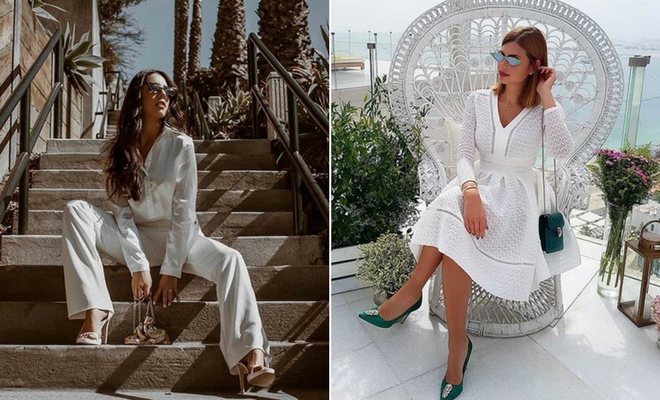 23 Stunning All White Party Outfits for Women
Been invited to a party with an all white dress code or maybe you want a light and chic outfit for a night out? If so, we are to help, we have found 23 of the best all white party outfits that can be worn for any party event during any season. We have dresses, jumpsuits, summery looks and more. Take a look to find your perfect all white party outfit!
1. Stunning White Blouse and Trousers
The first outfit we would like to share with you, is this stunning blouse and trouser combo. These two pieces look super stylish when worn together. You can wear any blouse and trousers, just make sure they fit well. As it is a party outfit, wear with glam accessories – gold would be a great choice.
2. Bralette Crop Top and Skirt
Next, we have an outfit that will wow at any party. The look features a bralette crop top and a pencil skirt. An outfit like this would be perfect for a night out or summer party. You can also mix and match the skirt and top to make different outfits for future events. Wear with heels or wedges for a glam look.
3. Bohemian Party Outfit Idea
Going to a beach or summer party? Then this next outfit is for you. Here we have a two piece all white look that includes pants with a split and a cute top. It is a stylish but more relaxed party outfit that is perfect for anyone who wants a bohemian look. You can glam it up with jewelry and other accessories. This outfit would be great for festivals too.
4. White Dress with Statement Shoes and Bag
White goes with everything. So, you can keep your outfit all white but you can add some color with accessories. Maybe try a beautiful white dress with a statement bag and shoes like the image featured. You can choose any color for this. If you are going to a party with an all white dress code then you can still make statement with white bags and shoes. Just choose a bag with a striking feature or unusual shape.
5. Chic Jumpsuit
If you are going to a party with a more formal dress code, then you could consider a jumpsuit like this one. As you can see the jumpsuit is tailored, fits well and has a beautiful bow feature. If you choose an outfit with a statement feature, keep your shoes and accessories simple for a chic look.
6. Summery Shorts and Top
Been invited to an outdoor summer party or going for a night on the town? Then this next outfit could be for you. The look features wrap shorts with a crop top. If the crop top isn't for you then you can wear similar shorts with a white blouse or sleeveless top. To make your legs look longer in shorts, wear heels.
7. Stylish Draped Coat and Trousers
A white jacket, top and trousers is easy to wear and stylish. However, if you want to mix it up then try draping the jacket over the shoulders. By doing this you will have a chic outfit that will give you an A-list party look. You can wear any white top under the jacket, lace would be a great choice.
8. Spaghetti Strap Dress
If you want a white outfit idea that is simple, effortless and glamorous, then this next pick is for you. Here we have a white dress with spaghetti straps. You can find similar dresses to this one online in different lengths and necklines. Wear with sparkly jewelry and nude or white high heels.
9. Cute Crop Top and Trousers
Next, we have another crop top outfit idea. This one sleeve crop top has been paired with high waist white trousers. We love these trousers as they have a slight flare. Cropped trousers would also look stylish too. Whichever pants you choose, you will have a gorgeous party outfit.
10. Smart White Jumpsuit
Jumpsuits are a chic one piece that is easy to wear. With that said it is no surprise that they are popular party outfits. Our next idea features a white jumpsuit with tailored trousers and high neck top. This is a stunning outfit that would suit any party event. You can even recreate a similar look with a top and trousers, just tuck the top in.