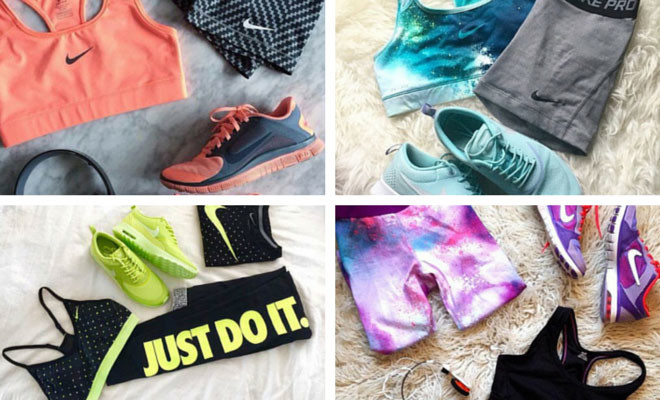 Fashion
32 Stylish Workout Outfit Ideas
By
|
21. Black & Yellow Outfit
The bright yellow sports bra is bringing sexy back and we love it!
22. Black & White Outfit
In this black and white outfit, you will feel confident and secure. The neon orange bag really pops.
23. Cute Outfit
Touch of a vibrant color will immediately boost your mood. Spring and summer days can still be chilly so make sure to have a comfy and warm jacket on hand.
24. Black & White with a pop of Yellow
Get the results while feeling and looking fantastic in this lovely Nike outfit.
25. Simple Nike Outfit
Wearing this comfy and stylish workout outfit, not only you will look chic on the outside, but you'll also feel great on the inside. We guarantee it!
26. Purple Galaxy Outfit
A fun, galaxy print is the perfect thing to get you in the mood for a warm-weather workout, especially if you pair it with purple sneakers and simple black top.
27. Perfect Outfit for Spring
Colorful and vibrant workout outfit will get you amped up for a workout the moment you put it on. Don't be afraid to mix the patterns.
28. Black & Grey Outfit
Another option for women who aren't into vibrant colors and prints. You can still look fly, even if you rock black and grey!
29. Grey Sweatpants + Purple Top
Purples and pinks are the instant mood-booster, especially if you pair them together.
30. Colorful Long Sleeve Outfit
Looking for some gym motivation? Freshen up your workout wardrobe with colorful and comfy pieces and you'll workout harder than ever.
31. White & Light Pink Workout
It's possible to work hard without sacrificing your style. This outfit proves it.
32. Light Blue & Grey Outfit
Colors are the key to a perfect workout outfit. The grey shorts are perfect for showing off your firm legs.