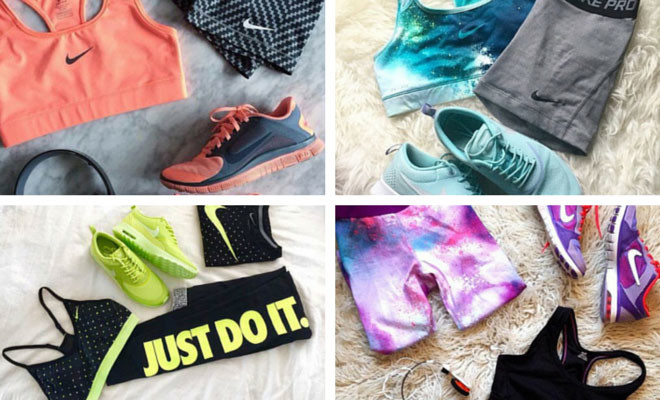 Fashion
32 Stylish Workout Outfit Ideas
By
|
Nothing motivates women to work out quite like a new and stylish workout outfit, right? Regardless of whether you run, do yoga, or train at the gym, you want your outfit to be comfortable and good looking. Also, any workout is less intimidating when cute clothes and sneakers are involved. It's just how women are.
This season, hit the gym in style with these 32 stylish workout outfits.
1. Grey & Neon Outfit
Look your best in grey training capris, neon orange sports bra and striped sneakers.
2. Grey + Black Outfit
Sport a breathable grey tank top and black yoga pants to move better and feel better.
3. Colorful Outfit
Long sleeve hoodie will keep your body warm and relaxed after your workout.
4. Neon Orange + Grey Outfit
Find your motivation to get in shape with this gorgeous grey and neon outfit combination. Neon colors look great on women of any complexion.
5. Black & White Outfit + Red Sneakers
Black and white workout outfit isn't complete without vibrant sneakers. Black is always a chic choice.
6. Pink Top + Print Leggings
The floral print is perfect for spring. Pair it with simple sports bra in pink or white color.
7. Pink & Grey Outfit
Sports bra is a must-have piece of workout gear for women who exercise regularly. We especially like the colorful ones.
8. Black & White + Lime Green Sneakers
Stand out in the gym with bright, lime green sneakers. Headphones and energizing playlist are a must-have for any workout.
9. Black & Orange Outfit
The neon orange sports bra paired with a black shorts is a bold way to enjoy the workout. Apparently, orange color evokes action.
10. Black, Grey & Neon Outfit
For a balanced look, pair dark workout top with vibrant leggings. This color combo is the perfect match!