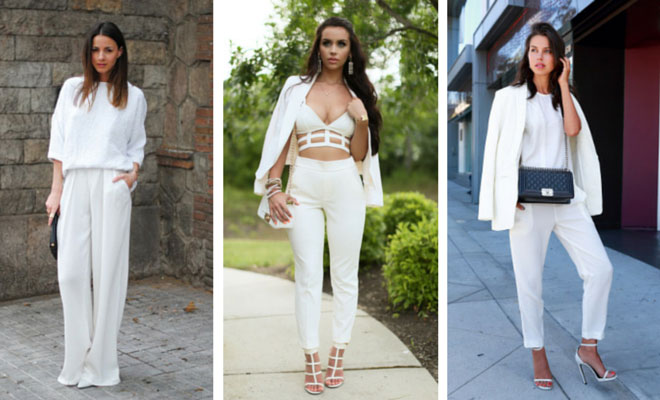 30 Fashionable All White Outfits for Any Season
Minimal, monochromatic outfit is always a winning look! There's no secret trick to wearing all-white outfit –  everyone can pull it off an and look absolutely gorgeous.
It's time to reach into the back of your closet for a white pieces and replace them with your classic black ones.
If you don't know how to style your white pieces, we've collected 30 all-white outfits that can work for multiple occasions and seasons.
1. White Skirt + Blazer
Head-to-toe white outfit looks clean, crisp and completely confident. Silver belt and jewelry add a beautiful contrast to the look, as well as blue nails. Cinching your blazer at the waist will give you an hour-glass shape.
2. Total White Look for Spring
If you like an effortless all-white look, this outfit is for you! We love the trend of kimono-style trench coats. They are so chic, versatile and ideal as transitional coats for spring. Do you love this updated trench style as much as we do?
3. White Suspender Jumpsuit Outfit
Embrace your tomboy side in a suspender jumpsuit and simple white blouse. The outfit is perfect for any occasion, just make sure to stay away from the ketchup and other similar sauces!
4. Beach Outfit
This cute white kimono will keep you stylish at the beach and warm after the sun goes down. Pair yours with a crochet crop top and white shorts for a perfect beach look!
5. Summer Party Outfit
This summer make a statement in a sexy crop top and white trousers. Style a white blazer over a bandage crop top for a less-revealing look. Lots of jewelry is a must for this look!
6. White Coat + White Pants
Team your white coat with a bell-bottom pants in the same color. Add elegance to the look with a white hat. Simple, fresh and clean!
7. White Blazer + White Jeans
Now that's how you rock all-white outfit! Delightful! Basic pieces are always a great choice for a monochromatic look. If you don't own white shoes, nude or beige ones can do the trick.
8. Formal Outfit
This fashion blogger proved that all-white outfits aren't only for brides. White pants are a staple piece for spring and summer, so make sure to have at least one pair in your wardrobe.
9. Boho Outfit
Here's another way to rock a stylish all-white beach outfit. White clothing pieces look even more beautiful against the colors of water and sand. Lovely!
10. Elegant Outfit + Gold Jewelry
Copy this look for a special occasions like summer wedding or an elegant night in the town. Chunky, gold jewelry creates an interesting contrast with the all-white outfit. So bomb!
11. White Heels + White Jumpsuit Outfit
White blazer, white blouse, white pants, white heels. This is an example of all-white outfit done right. We'll try to ignore the black bag.
12. White Maxi Skirt + T-Shirt
A stunning pair of nude wedges dresses up an all-white look beautifully. The whole outfit is very stylish but also seems comfortable to wear.
13. Cool Outfit
A black shades are the ultimate accessory for any white look. The big pearl ring adds a special touch to the whole look. We'll definitely copy this look!
14. Cute All White Outfit
A cute little dress in white paired with a lace-up heels will make you feel like a summer goddess. White look is easier to pull off than you think! Make sure your manicure is in the white, too.
15. White Jeans + White Blouse
Pair your white skinny jeans with a white blouse for a timeless all-white look. You literally can't go wrong with this outfit!
16. White Crop Top + White Pants + White Hat
Wearing white color is anything but boring! Dressing in all white looks really chic, especially if your outfit includes a crop top. In this outfit you will look and feel like a supermodel!
17. Casual Outfit
Here's a super casual idea for days when you want to stay comfortable but still look fashionable. The sneakers are from Zara and the shirtdress is from ASOS. We're looking forward to trying this look. You?
18. All White Outfit + Silver Details
The key to dressing in all-white? Layers, layers, layers! The more layers you include, the more interesting your outfit will be. Don't be afraid to experiment!
19. White Dress & Accessories
This fashion blogger made sure to keep her accessories and shoes in white, too. So trendy!
20. All White Lace Outfit
White and lace are the perfect summer match. This outfit will definitely make you stand out in a sea of boring black.
21. White Maxi Skirt + Blouse
This snowy lace maxi skirt is more eye-catching when paired with blouse and clutch in the same color. All-white outfit works even better when more than one kind of fabric is involved.
22. Party Outfit
The outfit is perfect for warm weather! White is always the 'it' color for the summer.
23. All White with a pop of Black
If you don't have all-white pieces in your wardrobe, feel free to punch up your outfit with a hit of black. So classy and chic!
24. White from Head to Toe
Nail the white monochrome trend in white skinny jeans and white blazer. Accessorize the look with a big white clutch and gold rings.
25. Skinny Jeans + Crop Top
A simple combo – a long sleeved crop top with high waisted skinny jeans – is bold and brings sophistication. The jeans are from Topshop and the top is from Zara.
26. Work/Business Outfit
In search for a stylish all-white office look? We got you covered! Pair your skinny jeans with a simple white shirt and long blazer/coat. Finish the look with comfortable heels and gold jewelry. Delicate and gorgeous, right?
27. White Two Piece + Coat
We recommend this look for all-white parties! At least you don't have to worry what to wear for your next night out. You're welcome.
28. White Sweater + Jeans
When in doubt, opt for all-white outfit! This outfit seems as a perfect fall style.  Slightly tuck in the front of the sweater to add polish to the look.
29. White Two Piece
For a simple yet absolutely gorgeous look, try a matching top-and-shorts set. Amp the outfit up with a gold statement necklace.
30. Linen Suit Outfit
Nothing says summer like a chic and stylish all-white outfit. Linen clothing pieces are irreplaceable in summer, especially if they are in white hue.