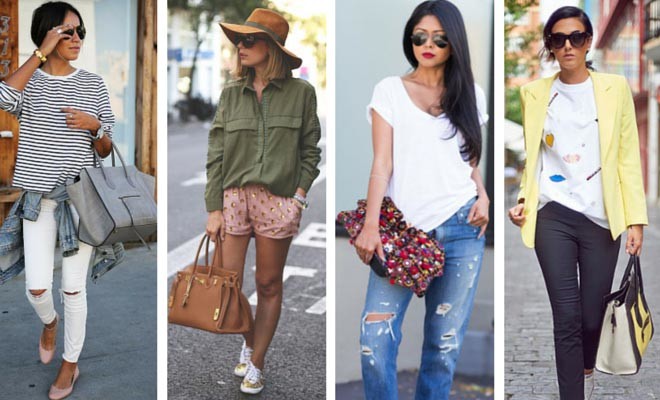 Fashion
25 Stylish Casual Outfits for Spring 2015
By
|
Getting dress can be difficult even if you just want a simple, casual look. We all probably own staples like a denim jacket and a white jeans in our closet, but unfortunately we all might not think to pair them together.
To give you some ideas on what to wear this spring, we've collected 25 totally casual outfits that will keep you comfortable and stylish. Because there's nothing better than an outfit that is stylish and actually comfortable, right?
1. Pink Pants + White Sneakers

Spring weather can be fickle so make sure to keep your leather jacket right on your shelve. Layering is an easy way to look super fashionable and stay warm during early spring days. If you opt for colored pants, make sure to keep your top neutral. White tee paired with white bag and sneakers will soften the look of black leather jacket and hat.
2. Maxi Dress + Converse Sneakers

A comfy  long-sleeved dress is essential for spring and, when worn with white sneakers, denim jacket, and colorful scarf, makes for a stylish and simple outfit. This whole outfit looks very comfy, right? Long-sleeved maxi dresses will surely keep you warm, comfy and cute. Make sure to have one in your closet because they can be rock during any season.
3. Black & White + Denim Jacket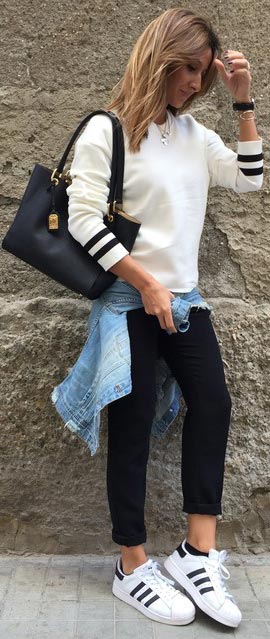 Sometimes, you just have to keep things casual and super-comfortable. These Adidas sneakers became fashion's hottest trend (again). We can see them everywhere – from street style to runways. No matter what your style is, they will make your entire wardrobe cooler. The denim jacket is timeless, classic and the ultimate winter-to-spring layering piece. Tie it around your waist and bring the '90s back!
4. High Jeans + Blouse

When you find yourself with nothing to wear, grab your favorite high-waisted jeans and pair them with a striped blouse. Finish the look with white sneakers. Most women feel the most comfortable and confident in the simplest of outfits. Show off a little bit of a skin by knotting a blouse at the waist for a sexier look.
5. Sweatshirt + Ripped Jeans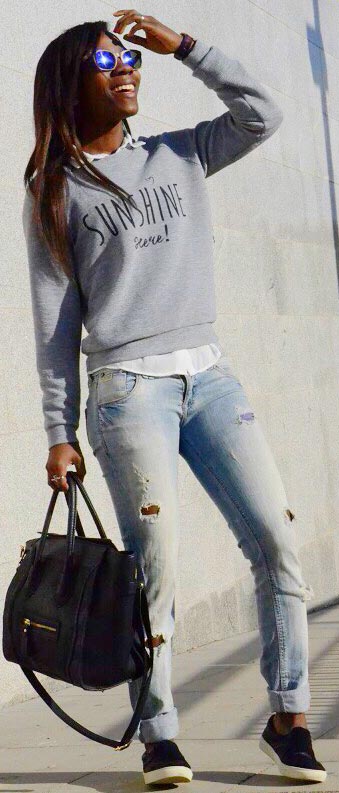 Spring is the best time to rock ripped-up jeans. Layer a button-down under a sweatshirt for extra warmth on a  chilly day. This look couldn't be easier and comfier! The top would look great front-tucked into a midi or skater skirt, too.
6. Stripes + White Skinny Jeans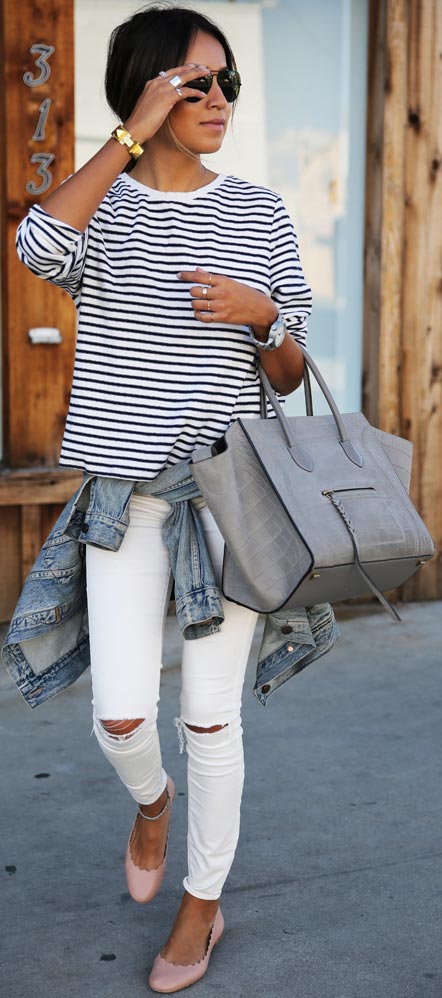 White jeans pairs perfectly with stripes, prints and denim. We can't think of a more perfect outfit for spring. It's fashionable, comfortable, and comprised of pieces we all probably own. Break up the white hue with a denim jacket tied up around your waist. Lovely!
7. Little Black Dress + Pink Sneakers

We love the idea of pairing little black dress with a pink sneakers. The leather jacket looks so fresh in pastel blue color – perfect for spring. This is such an easy outfit to switch from day to night. Just change into heels and you're ready to go!
8. Print + Denim

Denim is still trendy. No wonder since it was everywhere on the spring runways 2015. Denim shirt is a staple piece that can be worn at any time of the year. It's a great choice for transitioning between seasons. This fashion blogger paired hers with print pants, white Converse sneakers and cute heart-shaped bag in red color.
9. Tartan + Sneakers

Sometimes it's still freezing when spring arrives, so we made sure to include a casual and warm outfit, too. For cooler days choose your most lighter coat to get the feeling of a new, warmer season that's almost fully here.
10. All White Outfit

All-white outfit is clean, crisp and totally eye-catching. Choose all-white outfit if you need something to brighten up your day. It really helps. Brown belt creates an interesting contrast.
11. Black & Yellow Outfit

Say 'hello, spring' in this gorgeous black, white and yellow outfit. Blazers and bags are the easy way to add color to any outfit. Yellow hue is refreshingly versatile, as it can be worn formally or casually. This look is all about the details, we want to copy it right now!
12. White Jeans + Short Sleeve Denim Shirt

Short sleeved denim shirt looks amazingly cool when paired with spring staples like white skinny jeans and comfy espadrilles. We especially like the pop of the yellow. One bold, colorful clutch or piece of jewelry can do wonders!
13. Long Sleeves + Denim Shorts

Denim shorts, a colorful button-down and a pair of lace espadrilles create an on-point spring look. The blouse is unbuttoned just the right amount.
14. Black Blazer + Denim Shorts

Early spring is usually warm enough for bare legs but still cool enough to comfortably wear your favorite blazer, jacket or cardigan. Pair yours with simple T-shirt, short denim jeans, Converse sneakers and leopard print bag.
15. Suspender Jeans + Ankle Boots

Suspender jeans, a black T-shirt, and a hat makes for a perfect cool look. Instead of heels, flats, or sneakers, add a pair of ankle boots to the look. Suspender jeans are slowly but surely becoming this spring must have. Would you rock them?
16. Army Green + Sequins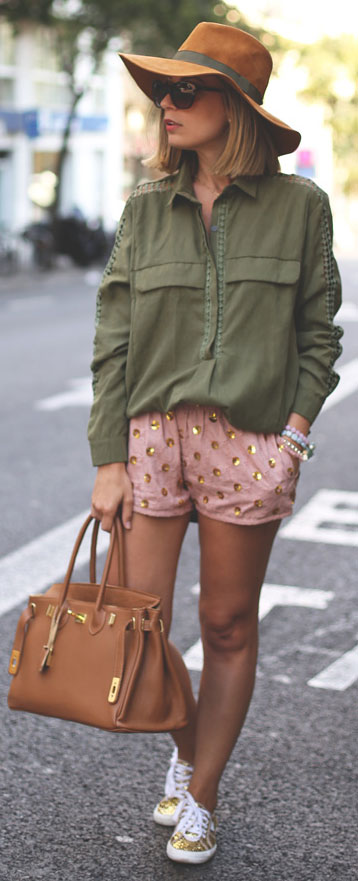 We can't get enough of this look! These shorts look great with an army green blouse and camel accessories. Punch up the outfit with a hit (or few!) of gold sequins. The blouse can be paired with a leather shorts or skirt and heels for an awesome night look. Army green has been all over the spring runways and we love it!
17. Long Trench Coat + Denim Shorts + Sneakers

When you pair a kimono-style trench coat with a pair of sneakers, you get a perfect combo of dressy and sporty staples. There's nothing about this look we don't love! This spring long, trench coats will be popping up everywhere. They are lightweight and slouchy which makes them perfect for warm weather.
18. Jeans + Espadrille Sneakers

White top with jeans is a classic and cool look. To make it less 'boring', brighten up the look with a vibrant clutch or bag and sensual red lips.
19. Grey Jeans + White Blazer

This blogger went for a simple yet very fashionable outfit. Replace the sandals with heels and you have a perfect night out look. So simple, yet so cool.
20. Camo Jeans + Black Blazer + Converse

Camouflage jeans will make you stand out in the crowd. Camo might seem too tough and masculine for spring but when styled right, it's a great addition to any look! Layer the outfit with black blazer to make it appropriate for cooler days.
21. Sporty Outfit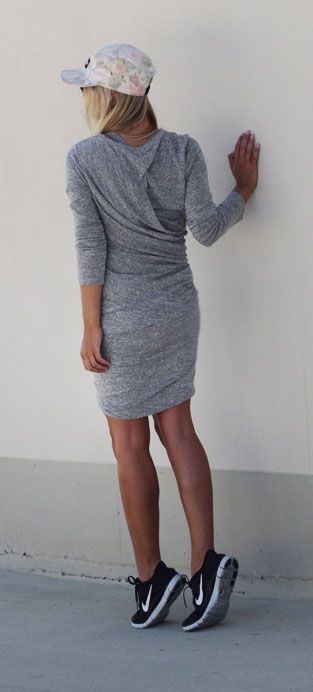 We love how cool this grey dress looks with Nike sneakers. If you're not quite ready to go bare-legged, we suggest black leather leggings or tights.
22. Stripes + Red Bag

There's something so easy and stylish about a pair of jeans, a simple striped tee, and a navy blue blazer. Red bag really brightens up the whole look.
23. Striped Blazer + Slip-on Sneakers

All it takes are shorts, simple T-shirt and striped blazer to create a beyond-cool spring look that's stylish and comfortable. If you're a fan of the monochromatic look, you're gonna love this outfit!
24. Leather Jacket + Denim Shorts

Classic look transforms into an edgy just by adding a black leather jacket. Nothing looks more casual than a pair of short jeans paired with a classic white T-shirt. Such an easy, stylish look!
25. Black Tee + Jeans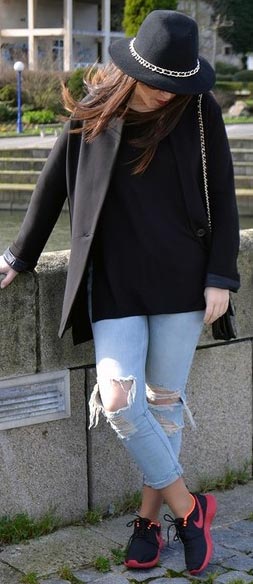 God news for our feet –  sneakers are an essential spring fashion trend. You can even pair them with your chicest outfits.