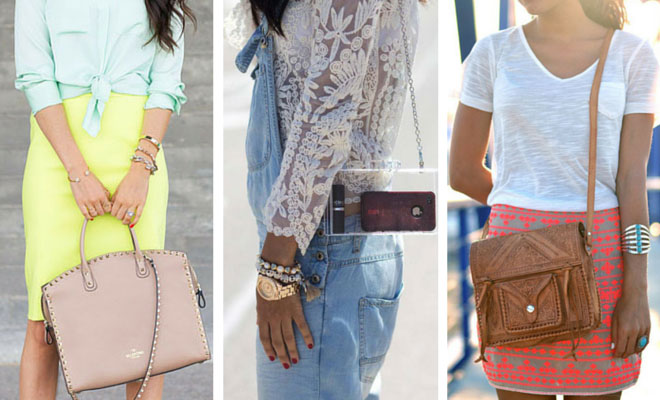 Fashion
21 Cute Outfits for Summer 2015
By
|
11. White Tee + Floral Skirt
This summer, a floral skirt, graphic tee and straw hat should be on your shopping list. Pink details add a nicely pop of the color to the whole outfit, making it more summer-ish. If you want something more comfortable than heels, you could also go with flats, sandals, or even your favorite sneakers in white or pink color.
12. Neon Pink Top + Denim Shorts
Need to run some errands, but still want to look effortlessly cute? Pair your softest denim shorts with an eye-catching top and comfortable flats and you're good to go! Such a sweet and girly outfit, right?
13. White Blouse + Studded Denim Shorts
We've been seeing turbans everywhere this season. Turbans have an ability to completely transform your look from the most casual one to something unique and fashion-forward. This fashion blogger managed to pull of this trend with effortless ease. Her long hair looks lovely with the turban, doesn't it? Add an accent of color to the outfit with a red clutch.
14. Two Piece + White Sneakers
Two piece paired with your favorite sneakers is the best way to nail a casual summer outfit. Two piece outfit is this season's coolest combo. It will make you forget about that morning dilemma of what to wear. We love everything about this look!
15. Denim Overalls + Lace Blouse
When in doubt what to wear, wear denim and lace. Overalls are a great way to switch up your summer style. White lace goes with just about anything, but we really love how good it looks when paired with light denim overalls. Great accessories and jewelry can instantly transform any outfit.
16. Classy & Elegant
This outfit is great if you aren't a fan of bright colors, even in the summer.  Yes, you can wear black and white during the summer. A striped skirt and a white T-shirt is the ultimate combination. Add an extra touch of class and elegance with black heels and bag.
17. Maxi Skirt + Crop Top
Our list of cute summer outfits can not be over without at least one maxi skirt outfit. Crop top paired with a tulle maxi skirt is the perfect elegant outfit that you can wear to a summer wedding. So simple, yet so beautiful! For more maxi skirt outfit ideas, make sure to check out our other article.
18. Floral Dress + Gladiator Sandals
To be perfectly on trend, invest in gladiator sandals. They are a must for casual days because they can make every outfit cooler. Pair yours with a floral shirt dress and a cute camel hat.
19. Nude Two Piece + Lace Up Sandals
This outfit is sure to impress! Her outfit looks like a dress, but actually, it's a two piece. Either way, it's absolutely stunning! Lace up sandals are as powerful as they are pretty.
20. Striped Shirt + Denim Shorts
Dress up your ripped denim shorts with striped shirt, red heels and leopard clutch.  If you're looking to add some freshness to your summer outfit, do it with some prints and patterns. Leopard and stripes? Yes, why not! This combo will make you feel and look comfy and stylish. Make sure to try it!
21. Gladiator Sandals + Denim Skirt
Another beautiful summer outfit that includes denim. Just like lace, denim will also be trendy forever. Pair a denim skirt with white blouse and nude gladiators for a casual day out.