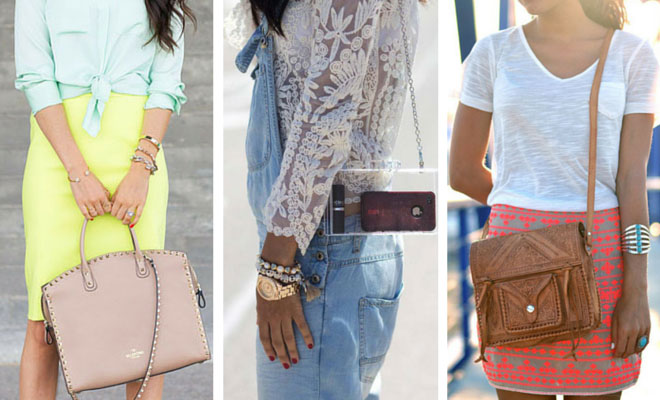 Fashion
21 Cute Outfits for Summer 2015
By
|
If you've got tired of the same few outfits you wear day after day, you're not alone. During summer, it's too hot to come up with some cute outfit ideas. We want to look stylish, but we also want to be comfortable and stay cool. Often, it's too hard to come up with an outfit that fulfills all these requirements.
Your favorite summer outfit is probably a bikini while living a careless summer relaxing on the beach or swimming pool… and drinking a cold cocktail, of course. If you aren't so lucky to spend the whole summer in a bikini, you will need some outfit ideas. We've collected 21 cute and comfortable outfits that will surely inspire your summer wardrobe. Check them out below!
1. White Top and Shorts
White is summer's hottest color. Many of us find hard to pull off 'white on white' in the cold season, but during spring and summer, we reach for white pieces more than we should. There's something about it that we can't resist.
Headwraps and turbans are one of our favorite summer accessories. Not only they look good, but they are ideal for taming frizzy summer hair. Also, they are an easy way to add a pop of color to a monochromatic look.
2. Neon Outfit + Nude Heels
A bright dress with an interesting design paired with a bag in the same color is one of the easiest combos for hot summer days, and yet, it looks absolutely jaw-dropping. Neon colors are perfect choice if you want to be noticed in the crowd. Pair your neon pieces with nude heels, sandals, or flats to avoid looking like a circus performer.
3. Grey Skirt + Crochet Top
If you still haven't, now is the perfect time to stock up your summer wardrobe with floral, gold, and neon pieces. What is summer without colors and fun outfits, right? Crop tops are still IN this season (hurray!) and we're loving this cute trend. When done right, they look sophisticated and sexy at the same time. Crochet tops are proving to be a big hit this summer. They are perfect for those hot, hot, hot days, because they are light and breezy.
4. Floral Pants + Neon Heels
Add a burst of neon to your summer outfit by coordinating your shoes to your purse. This easy trick will make any outfit pop. This whole outfit screams summer!
Floral pants are summer's staple. They are a good choice for any occasion but sometimes seem hard to style.  The best way to style them is with simple tops in neutral colors. You simply cannot go wrong with that!
5. White T-shirt + Neon Skirt
Pair your neon skirt with white or light-colored neutrals like peach or ivory. The contrast between these colors looks modern and fresh – perfect for summer! This neon coral shade looks amazing with a tan.
Statement jewelry is a must-have during  summer. Forget about your favorite gold pieces, this season is all about the tribal jewelry. This type of jewelry is really easy to wear, it  goes with casual and dressy attire.
6. Summer Business Outfit
We love the idea of wearing these gorgeous colors together. When worn separately, these pieces are subtly cool and refreshing, so it would be good to have something similar in your wardrobe. We totally urge you to copy this outfit for your next special occasion or a business meeting.
Tying your shirt into a knot can really change the look of the whole outfit. If you've got the abs, feel free to show some skin.
7. White Lace Dress + Straw Hat
If you still don't own a white lace dress, now is the right time to buy one. It's a necessary piece during summer because it's light, comfy and a perfect go-to for any occasion. You can pair it with flats, heels, flip-flops, gladiator sandals, etc. Actually, there are no fashion rules to follow when styling a white lace dress. You can style it whatever  you like!
8. Lace Romper + Blue & Brown Details
Rompers are a hot look this season. They are a perfect piece to beat the summer heat. Master the look wearing yours with brown and blue accessories. Brown sandals and belt add an ideal touch of rustic to this romantic look. Rompers are appropriate for literally every occasion, from music festivals to a night out in the town.
9. Denim Shorts + Lace Top
The look is cool, casual, and effortless. What we love the most about white lace is that it's so versatile and romantic. Also, lace has been trendy forever and probably will never get out of fashion. Lace tops look the best when paired with denim bottoms.
10. Lace Shorts + Denim Shirt
Put a denim shirt and lace shorts together and you are sure to have a super trendy and comfy outfit for hot summer nights. As we already said, denim paired with lace is a foolproof summer combo.  Channel the neon trend with a full arm of bright bracelets (so-called arm candy or arm party). They won't hurt any outfit.